Larry Nassar Claimed He Was Assaulted In Prison & Wants To Be Sentenced By A New Judge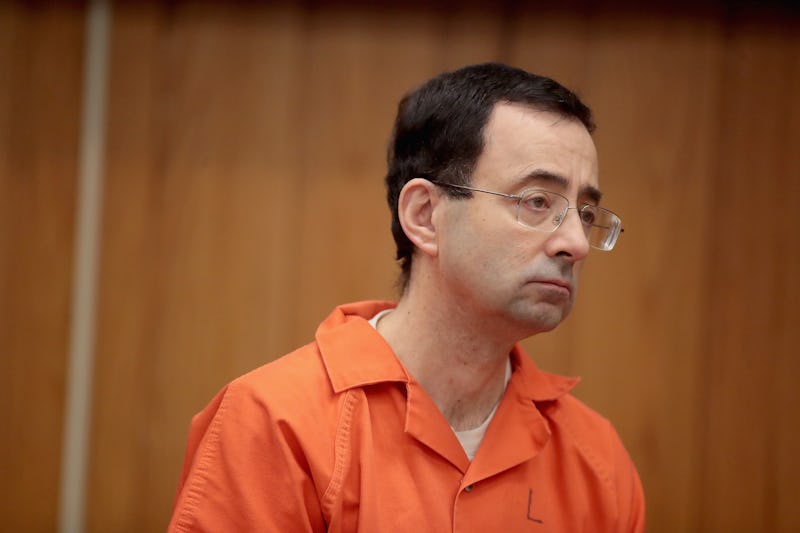 Scott Olson/Getty Images News/Getty Images
Earlier this year, a former Olympic gymnastics doctor's sexual crimes shook the international sporting community, and thousands listened as survivors detailed the traumas he inflicted upon them for years during his sentencing. Now, after claiming to have been assaulted in the general prison population, Larry Nassar is asking for a new sentence from a different judge. His legal team is arguing that the Judge Rosemarie Aquilina who sent him off to a de-facto life sentence, was biased from the start.
"Judge Aquilina made numerous statements throughout the proceedings indicating that she had already decided to impose the maximum allowed by the sentence agreement even before the sentencing hearing began," his lawyer, Jacqueline McCann of the State Appellate Defender's Office in Detroit, wrote in the filing, according to The Detroit News. "Thus, from the defendant's perspective the sentencing hearing was just a ritual.
Nassar's team is asking for a re-sentencing for his first molestation charge, NBC News reports. Nassar pleaded guilty to child pornography charges, as well as sexual assault charges. In total, he has been accused of sexually assaulting 265 women, which he carried out under the guise of conducting medical treatment.
In her filing, McCann argued that Judge Aquilina used Nassar's case to advocate for her own socio-political beliefs. She wrote:
Instead of a proceeding to assist the judge in reaching a fair and just sentencing decision, the judge used the nationally-televised proceeding as an opportunity to advance her own agenda, including to advocate for policy initiatives within the state as well as the federal legislatures, to push for broader cultural change regarding gender equity and sexual discrimination issues and seemingly as a type of group therapy for victims.
Court documents further argue that Nassar was "physically attacked" shortly after being released into the general prison population at the United States Penitentiary in Tucson, Arizona. Nassar and his team are blaming Judge Aquilina, who famously said she was signing his "death warrant," for fostering an environment which eventually led to him being assaulted while in prison.
Aquilina did make headlines during Nassar's sentencing, but much of the attention she received was positive. Supportive onlookers praised her for speaking bluntly to Nassar, and for giving a voice to his victims, dozens of whom delivered victim impact statements in her courtroom. At one point, Aquilina read a letter Nassar submitted to the court, in which he reportedly lamented that "hell hath no fury like a woman scorned."
"This letter tells me you have not yet owned what you did," Aquilina told Nassar after reading excerpts from the letter, The New York Times reported at the time. "You still think somehow you are right, you're a doctor, that you're entitled, so you don't have to listen. That you did 'treatment.' I wouldn't send my dogs to you, sir."
Nassar was sentenced to 60 years in federal prison for child pornography charges. He was sentenced to an additional 175 years in state prison for charges associated with molesting seven girls. The Detroit News reports that if he lives to see the end of his first sentence, he will have to serve out the rest of his time in a state prison in Michigan. It's not currently clear whether his request for a re-sentencing will move forward.