Larry Nassar Told A Judge "Hell Hath No Fury Like A Woman Scorned" Before He Apologized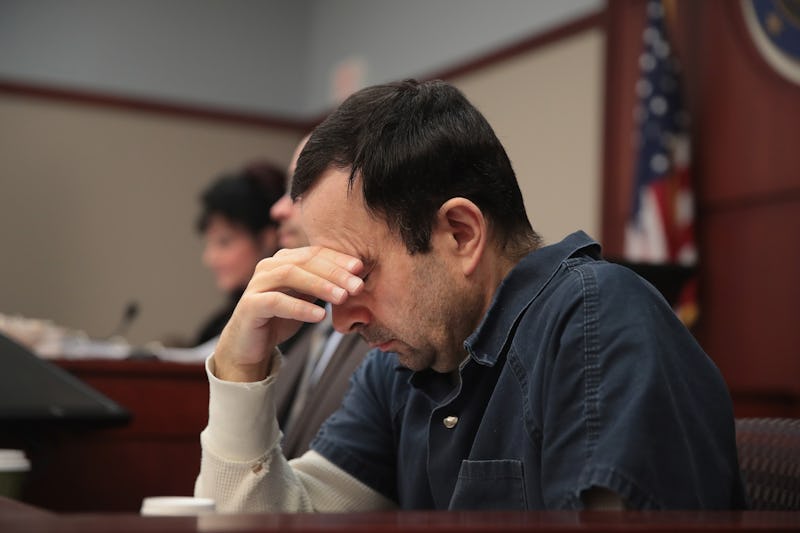 Scott Olson/Getty Images News/Getty Images
Following several days of testimony against the former USA Gymnastics doctor, Larry Nassar apologized to his victims from a Michigan courtroom on Wednesday just before receiving a sentence for up to 175 years in prison. Nassar was accused of molesting over a hundred young female athletes over multiple decades. But his statement of remorse was followed by the judge reading aloud a defensive letter he'd previously addressed to her.
"Your words these past several days have had a significant emotional effect on myself and has shaken me to my core," Nassar said in his apology.
There are no words that can describe the depth and breadth of how sorry I am for what has occurred. An acceptable apology to all of you is impossible to write and convey. I will carry your words with me for the rest of my days.
When Judge Rosemarie Aquilina read Nassar's sentence, she said that he did "not deserve to walk outside a prison ever again" and quoted a letter he'd recently written to her, in which he claimed:
The media convinced [the victims] that everything I did was wrong and bad. They feel I broke their trust. Hell hath no fury like a woman scorned.
The victims of Nassar's sexual abuse were not women. They were children.
Over the course of seven days, 169 impact statements were read in court, including 156 read by the victims themselves. Judge Aquilina decided to allow anyone who had been abused by Nassar to speak, despite the fact he faced only seven official counts of criminal sexual conduct at his current trial.
Although most of Nassar's victims were gymnasts, they came from an array of other sports, too, including dancing, rowing, running, softball, soccer, volleyball, and figure skating. Between 1988 and 2015, he abused these girls by penetrating them with his fingers and pretending that the violations were medically routine.
Many of the women's statements focused exclusively on Nassar, but some of the most recognizable athletes heaped blame on the adult enablers of his abuse — among those casting blame beyond Nassar was Olympic gold medalist Aly Raisman.
"Over those 30 years, when survivors came forward, adult after adult, many in positions of authority, protected you," said Raisman in her statement to the court, which she delivered on Friday. "Telling each survivor it was okay, that you weren't abusing them. In fact, many adults had you convince the survivors that they were being dramatic or had been mistaken. This is like being violated all over again."
Former gymnast Rachael Denhollander, aged 15 when Nassar molested her, was the first to publicly accuse him, and has also blamed others for enabling him.
"Today we heard the truth from Larry," she said after Nassar plead guilty to seven counts of criminal sex charges in November. "But we have yet to hear the truth from ... officials who kept Larry in power for decades."
Other women pointed to a lack of intervention from parental figures. Four even said that their parents had been present while the abuse occurred and had done nothing. As swimmer Marie Anderson said in her statement:
My parents, who had my best interest at heart, will forever have to live with the fact that they continually brought their daughter to a sexual predator, and were in the room as he assaulted me.
"I've just signed your death warrant," said Judge Rosemarie Aquilina as she delivered Nassar's sentence. "I find that you don't get it, that you're a danger. That you remain a danger." She promised the victims that Nassar, who is currently 54 years old, will never leave prison.