The Best 'It' Halloween Costumes That Will Terrify Your Friends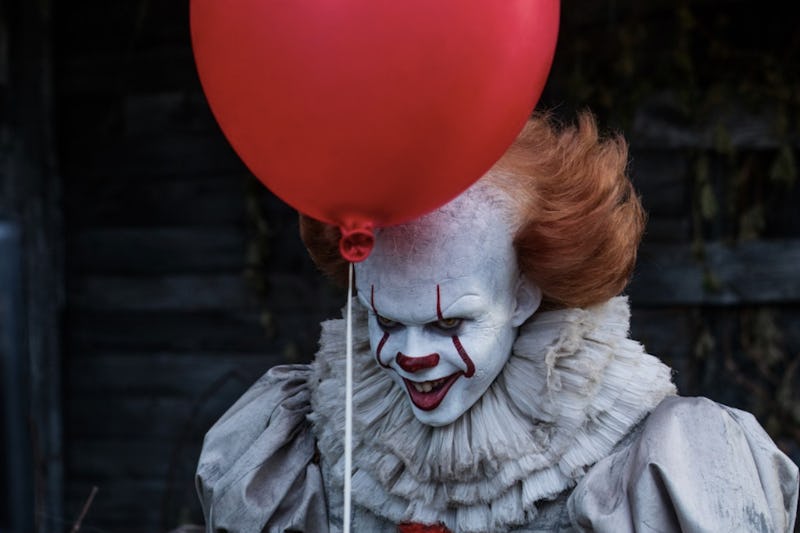 Warner Bros. Pictures
Love it or hate it, Stephen King's It is back in a big way this year thanks to the Warner Bros. remake of the classic film, and just in time for Halloween. Yay, more creepy, crazy looking dancing clowns rolling around. Can not wait. If you're into It and want to figure out some way you can incorporate a last-minute It Halloween costume idea into your life this year, keep reading — I made this list all for you. Even though it terrified me. The movie is based on the 1986 Stephen King novel of the same name, and is one part horror film one part coming of age story, making this a pretty solid costume choice not only in terms of relevance, but also affordability and ease.
While Pennywise, aka the titular "It" is the obvious costume choice and one that could be done as a standalone piece, if you don't feel like creeping everyone out (yourself included), this flick is also a pretty solid group ensemble outfit as well. The Losers Club, which includes characters Bill, Ben, Bev, Richie, Eddie, Mike and Stan all have an individual look and style that can be pulled off fairly easily, affordably, and most importantly, at the last-minute.
Here are a few of the best last-minute It Halloween costume ideas to get you started.
Check out the entire 'What's Up, Boo?' series and other videos on Facebook and the Bustle app across Apple TV, Roku, and Amazon Fire TV.
Pennywise, Aka "It"
One part Ronald McDonald another part Bozo the Clown, this outfit — which you can find in several locations — is the whole clown enchilada including jumpsuit, gloves and mask. This one, from Amazon.com for $38.66, is really all you need save for the single red balloon (which is an absolute must to complete this outfit).
You'll Need: Rubie's It The Movie Adult Pennywise Adult Deluxe Costume, $39.66, Amazon | Single Red Helium Balloon, $0.25, Party City
Beverly "Bev" Marsh
The lone girl of the Losers Club — and by far the clubs coolest, most fearless badass — Bev Marsh's costume is pretty killer because it includes a couple pieces you may already have in your wardrobe (aka, a brown belt or black boots). If you really want to go the extra mile, Bev has been known to wield a slingshot, which is an easy addition.
You'll Need: Pre-owned Mother Dropout Denim Overalls, $85, The Real Real | Skeleton Key Necklace Steampunk Key Necklace Choose Your Cord. $24, Etsy | Avenue Chambers Combat Boot $45, Avenue | Isabel Marant Kaylee perforated leather belt, $185, Net-A-Porter
Henry Bowers
The bully of the Losers Club, Henry Bowers does rock a pretty badass look — think mullet, bandana wrist bands, muscle tees. Once again, this outfit is pretty easy to pull off in the clutch, and you may already have a few of these items in your wardrobe. Bad bully attitude not included but is definitely necessary to pull this one off.
You'll Need: Yoins All-match T-shirt With Rolled Cuff Sleeve, $14, Yoins | Current/Elliott Fling Distressed Boyfriend Jeans, $305, Harvey Nichols | BCBGeneration Polka Dot Bandana (Deep Blue), $20, Zappos
Edward "Eddie" Kaspbrak
The devils in the details so they say and that's no exception when it comes to Eddie Kaspbrak. Must haves here are the fanny pack, inhaler and a cast which features the word loVer (in place of loder) written in bold letters on the side. Of course, you can always use gauze in lieu of an actual cast, which can be found at your local drug store.
You'll Need: Herschel Supply Co. Tour Fanny Pack $35, SHOPBOP.COM | Polo Ralph Lauren Red Slim Cotton T-shirt $60 HARVEYNICHOLS.COM | Casio Casual Black Digital Watch $36 URBANOUTFITTERS.COM | Hollister Low-Rise Chino Shorts $15 HOLLISTERCO.COM
Georgie Denbrough
Poor, sweet Georgie. He never stood a chance in the face of It. His costume is pretty cute though, and another great last-minute idea that's probably the easiest one too pull off. All you need is a yellow raincoat and rain boots. Not to be confused with April O' Neil of Teenage Mutant Ninja Turtles, additional props here include a newspaper sailboat with the words "S.S. Georgie" written on the side in black marker, and a limp arm.
You'll Need: Hunter Original Cotton Hunting Coat (Yellow) Women's Coat $325, ZAPPOS.COM | Sperry Pelican Rainboot $60 BELK.COM
Ben Hanscom
Ben Hanscom is the lovable nerd of the Losers Club, and can always be found rocking his walkman, baggy vintage t-shirt, jeans, and kicks all while listening to "Please Don't Go Girl" by New Kids On The Block. Other than the walkman, which you may be able to find at a vintage store or Urban Outfitters, is altogether pretty doable.
You'll Need: New Kids on the Block Tour Grey T-shirt Rokit, $35, ROKIT.CO.UK | Unravel Project baggy boyfriend jeans, $816, FARFETCH.COM, Sarah's Bag Walkman box clutch, $762, MATCHESFASHION.COM | Converse Chuck Taylor All Stars 70S, $78, BROWNSFASHION.COM