New Orleans Elected Its First Female Mayor & People Are So Overjoyed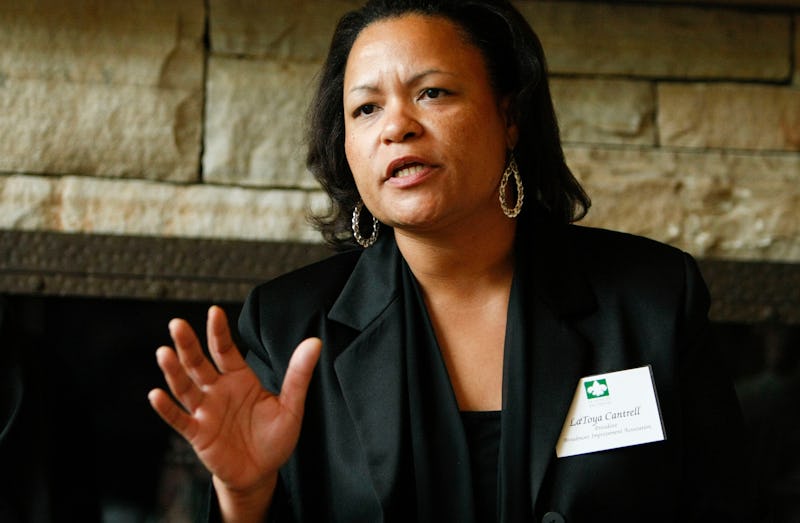 Riccardo S. Savi/WireImage/Getty Images
No matter the outcome, this week's mayoral election in New Orleans was set to be historic — the two frontrunners were both women. Now, after defeating Desirée Charbonnet, councilwoman LaToya Cantrell will become the first female mayor of New Orleans.
"LaToya built up an incredibly broad base of support," the campaign's communications director, David Winkler-Schmit, tells Bustle. "[Her] message was that she listens, she builds consensus, and she gets results. And she's demonstrated that throughout her career."
Cantrell, who is originally from Los Angeles, has served on New Orleans's city council since 2012, representing District B, which includes 10 of the city's wards. During her time as councilwoman, Cantrell served on the Road Home program recovery fund, during which she helped secure $1 million in funds for case managers to aid homeowners in resolving cases, and worked to pass an ordinance to prohibit smoking in most public spaces in New Orleans.
The councilwoman first earned praise for her work on Hurricane Katrina recovery efforts in the neighborhood of Broadmoor. As the president of the Broadmoor Improvement Association, she worked to keep residents in the neighborhood in the years following the devastating flood.
Now, Cantrell will make history as the first female mayor of New Orleans, succeeding Mitch Landrieu, who had reached his term limit in the role. In her victory speech, Cantrell told supporters, "Almost 300 years, my friends. And New Orleans, we're still making history," referring to the city's 300th year anniversary, which will occur next year. The community organizer campaigned on a platform for "a more equitable New Orleans," focusing on issues such as affordable housing, job growth, and criminal justice reform.
Cantrell will be the third African-American woman to hold a mayoral position in the state of Louisiana. The others are Sharon Weston-Broome, who became the mayor of Baton Rouge in January, and Ollie Tyler, who has served as mayor of Shreveport since 2014.
Although Cantrell was considered the election's frontrunner from early on, her campaign faced challenges along the way. Last month, the New Orleans Advocate reported that the candidate charged at least $8,950 on a taxpayer-funded credit card for personal and political expenses (she later paid back the city's office). Cantrell was criticized by her opponent, Charbonnet, for the spending — Charbonnet's spokesperson Kevin Stuart called the reimbursements "an admission of guilt." Some also complained that Cantrall wasn't an authentic New Orleans resident, as she's originally from California.
While Charbonnet ran as a Democrat, she received an endorsement from U.S. Majority Whip Steve Scalise in the days leading up to the election, as well as a number of other Republican groups.
Despite not being a New Orleans native, Cantrell bucked tradition by convincing voters that she had the commitment and experience necessary to fulfill the role. According to the New Orleans Advocate, Cantrell will be "the first mayor not born in the famously insular city since Victor Shiro was elected in the 1960s."
As Winkler-Schmit sees it, the fact that she was not born in New Orleans was hardly and issue for most voters. "Her soul found its home in New Orleans," he says. "And there are many of us who have made the city our home who are not from here originally."
Cantrell walked away with more than 60 percent of the vote, and her win was hailed a victory by political leaders and activists across the United States. Former DNC chairperson Donna Brazile, a native of New Orleans, congratulated Cantrell, as did civil rights activist Linda Sarsour.
Muriel Bowser, the mayor of DC, also tipped her hat off to Cantrell.
As did Ohio State Sen. Nina Turner.
A doctor expressed his excitement about the fact that now three black women hold mayoral positions in the three largest cities in Louisiana.
Journalist John Nichols congratulated the South for electing another "bold progressive mayor."
Now that Cantrell has secured office, she'll get to work addressing some of the most pertinent issues affecting the city, including crime and infrastructure. When the city faced heavy flooding after Hurricane Harvey back in August, New Orleans officials began to discuss options for improving infrastructure and evacuation plans throughout the city.
"We should have been able to handle that water," Winkler-Schmit says. In order to make the city better prepared to respond to flooding, Cantrell has said she'd like to improve coordination of storm management projects, as well as bring on inmates to clean clogged drains and perform minor repairs as part of a work release program.
While Cantrell will undoubtedly face challenges during her time as mayor, it was clear from her victory speech last night that she's up for them. Winkler-Schmit says that though Cantrell won't take office for five months, you can expect her to get right to work on delivering what she's promised as mayor. "No one can keep up with her," notes Winkler-Schmit. "She's indefatigable."