Why Jeb Bush Apparently Wasn't Invited To His Niece's Wedding Is Pretty Simple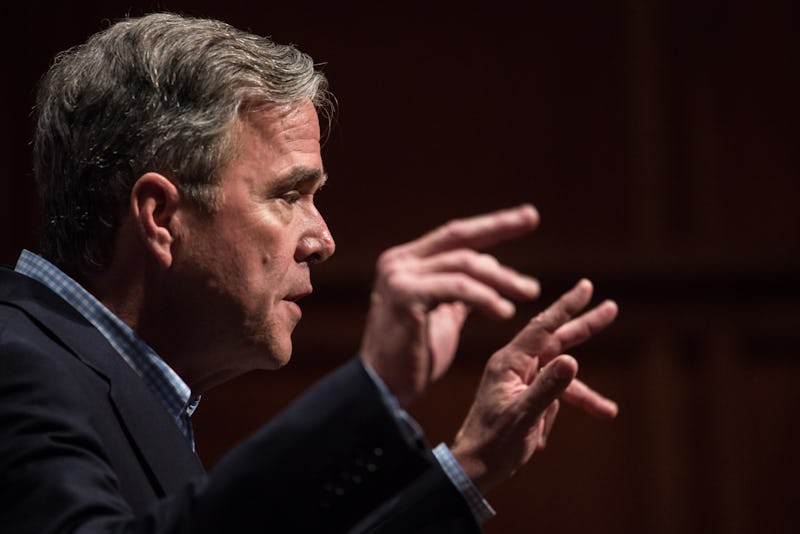 Sean Rayford/Getty Images News/Getty Images
In certain situations, you just have to draw the line. On Wednesday, while accepting an award from the National Archives Foundation, former First Lady Laura Bush said that Jeb Bush wasn't invited to her daughter Barbara's wedding on Sunday. But the decision not to invite him certainly doesn't mean the family singled him out.
In fact, from People magazine's exclusive coverage, it looks like only 20 people total were invited to the secret ceremony for Barbara and screenwriter Craig Coyne's wedding at the family home in Kennebunkport, Maine. "It was just our family and Craig's family," Laura told journalist Cokie Roberts at the National Archives Foundation gala, according to The New York Post. "And we didn't invite Jeb, or Neil, or any of those Bushes," she said, referring to her husband's brothers. Bustle has reached out to Laura Bush for comment on the report about who was and wasn't invited.
Even though Jeb, former governor of Florida and 2016 presidential candidate might have been left off the guest list, it appears that the celebration included other close members of the Bush family. "They wanted to get married [in Maine] because my grandfather is here," Barbara's twin sister Jenna Hager Bush told Today on Monday. "It was a very secret wedding, a little bit like my elusive sister. But also, just family in a place that means family love, and it was beautiful."
According to People, Dorothy "Doro" Bush Koch, Jeb's sister, officiated the small ceremony, and Jenna's two daughters, Margaret and Poppy, served as flower girls. "We've been excited to do such a small wedding with just our family," Barbara told the magazine.
The Bush estate in Kennebunkport also appears to hold special significance to Barbara. In addition to being the place where her father spent much of his childhood, it's also where Coyne proposed to her this summer, reports People. Notably, it's also where George Sr. proposed to her grandmother and namesake, Barbara Bush, almost 75 years ago.
The elder Barbara, a widely admired and outspoken figure in politics died last spring. The newlywed Barbara told People that she had been caught off guard by her grandmother's death. "Craig didn't get to meet my grandmother," she said. "I thought there would be plenty of time for that to happen." The couple instead decided to speed up the proceedings on their wedding to make sure that Barbara's grandfather George Sr. would be in attendance.
"We actually would have gotten married the next week if we could have," she told People. "We just thought, let's try to do it soon. We knew we wanted to be married — we'd already made that decision — so we didn't need months of an engagement."
The elder Barbara's legacy was present in the wedding ceremony with a bracelet the bride wore, a gift from George Sr. to his wife on their 70th anniversary, she told People. George Jr. also referenced the connection to his mother in an Instagram post following the wedding. "Barbara is named for a unique and strong woman," he wrote. "And rightly so, because she is unique and strong. @laurawbush and I are so proud of our compassionate, daring, fierce, kind, intelligent, loving daughter. And we're thrilled to welcome Craig Coyne to our family."