Laura Bush Penned An Op-Ed Against Separating Migrant Families & It Doesn't Mince Words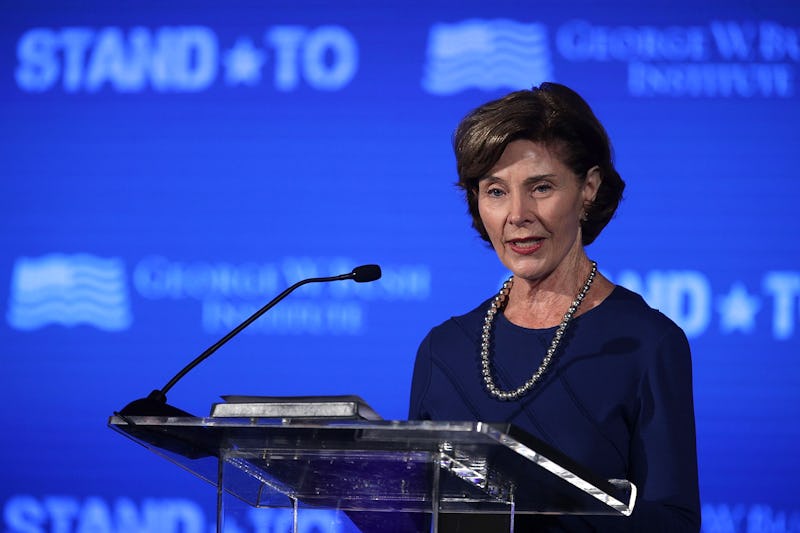 Alex Wong/Getty Images News/Getty Images
As the United States observed Father's Day on Sunday, some pointed out that, for many immigrant families, the day is not celebratory in nature. In fact, former First Lady Laura Bush's op-ed on Trump's immigration policy called out the administration for being "cruel" and un-American. Bush noted that the practice of separating families at the U.S. border "breaks her heart" and called on those in Washington to work to end this policy.
Bush's letter called into question the Trump administration's recently-implemented family separation policy, in which the administration has moved to criminally prosecute all undocumented immigrants seeking entry into the United States. As a result, children are often separated from their parents upon a family's arrival at the border, with parents being sent to jail and children being sent to detention centers.
Former First Lady Bush noted that she finds the family separation policy, which has resulted in the separation of more than 2,000 children from their parents in just six weeks, incredibly disconcerting. As Bush indicated:
On Sunday, a day we as a nation set aside to honor fathers and the bonds of family, I was among the millions of Americans who watched images of children who have been torn from their parents. ... The reason for these separations is a zero-tolerance policy for their parents, who are accused of illegally crossing our borders. ... I live in a border state. I appreciate the need to enforce and protect our international boundaries, but this zero-tolerance policy is cruel. It is immoral. And it breaks my heart.
Bush then went on to compare the separation of children from their families to the internment of Japanese Americans during World World II. Bush called internment one of "most shameful episodes in U.S. history" and cautioned that the United States could be on the road to perpetuating another highly shameful historic period with the family separation policy.
The former first lady then noted that she believes that it is the United States' "obligation" to reunite children who have been separated from their parents, if the country considers itself a "moral nation." As Bush described,
Americans pride ourselves on being a moral nation, on being the nation that sends humanitarian relief to places devastated by natural disasters or famine or war. We pride ourselves on believing that people should be seen for the content of their character, not the color of their skin. We pride ourselves on acceptance. If we are truly that country, then it is our obligation to reunite these detained children with their parents — and to stop separating parents and children in the first place.
While decrying the family separation policy, Bush did indicate that she knows that there are skilled people in government who she believes can create a far better alternate immigration policy. Indeed, she wrapped up her op-ed by noting that she remains hopeful that things will change for the better. "In 2018, can we not as a nation find a kinder, more compassionate and more moral answer to this current crisis?" Bush wrote. "I, for one, believe we can."
Many on social media commended Bush for her powerful op-ed — and indicated that Congress should take note. As Elise Jordan, an MSNBC/NBC political analyst, wrote, "Laura Bush isn't scared of being attacked by Donald Trump; she cares more about the well-being of children. GOP Congressional members, follow her lead."
Maggie Haberman of The New York Times also commended Bush for her op-ed, saying it was especially remarkable considering Bush's historic reluctance to comment on policies. "In powerful op-ed, Laura Bush, who rarely weighs in on policies of her husband's successors, calls the Trump family separation policy 'immoral,'" Haberman wrote.
It is clear that Bush felt compelled to take a stand against the family separation policy — and to call on those in Washington to act quickly to end it. It remains to be seen whether or not the Trump administration or members of Congress will respond to her impassioned request.