Laura Ingraham Apologized To David Hogg Because It's Holy Week & People Are Like... Nahhh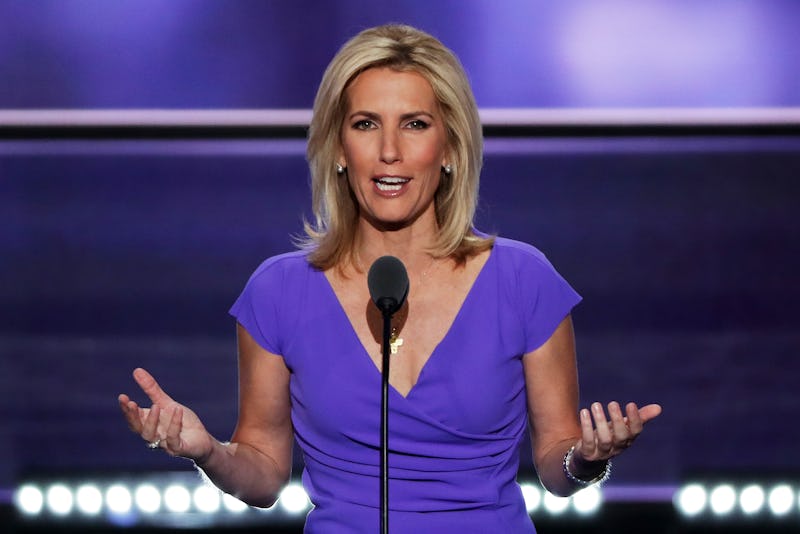 Alex Wong/Getty Images News/Getty Images
This week, Fox News host Laura Ingraham mocked Parkland survivor David Hogg and set off quite the firestorm. Enough so, in fact, that Ingraham apologized to Hogg, citing the "spirit of Holy Week." But many Twitter followers of the feud did not exactly buy Ingraham's contrition as genuine, partially due to her noting of Holy Week.
The first transgression (in keeping with the "spirit of Holy Week") occurred Wednesday morning when Ingraham mocked Hogg's rejection by several colleges. She tweeted triumphantly about his failure to be accepted at four universities and wrote he "whines" in response.
Hogg shot back on Twitter, tweeting a list of companies that advertise during Ingraham's show, and asking his supporters to call and urge them to stop giving her program any money. Several companies did just that — including Hulu, Nestle, TripAdvisor, and Hulu — dropping their ads during Ingraham's show.
Then on Thursday came Ingraham's apology. She wrote on Twitter, "Any student should be proud of a 4.2 GPA —incl. @DavidHogg111. On reflection, in the spirit of Holy Week, I apologize for any upset or hurt my tweet caused him or any of the brave victims of Parkland."
Some Twitter users saw plenty to dispute in that tweet, and lit up the social media platform afterward on a number of fronts.