This Woman Reportedly Tried To Avoid Arrest By Telling Police She's A "Clean" White Girl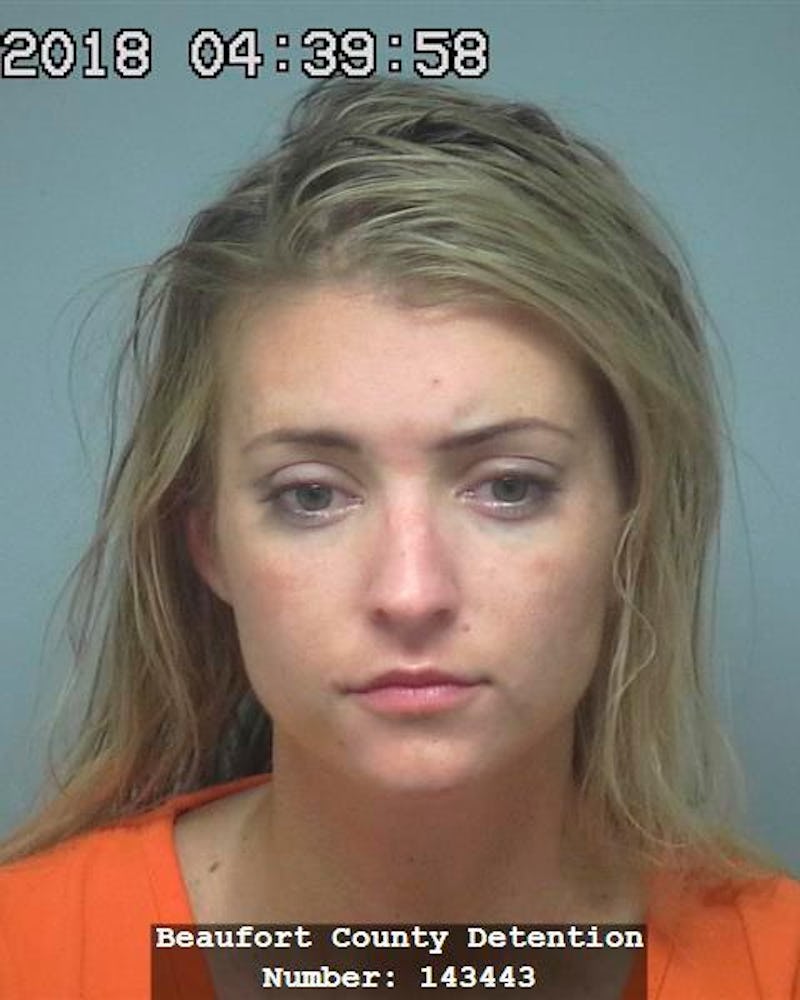 Uncredited/AP/Shutterstock
Over the weekend in South Carolina, a woman pulled over on suspicion of drunk driving pleaded with police to let her go, reportedly telling officers she's a "white, clean girl." According to police, 33-year-old Lauren Elizabeth Cutshaw said she shouldn't be arrested because she's a "thoroughbred," a "pretty girl" and member of a sorority. She was arrested and jailed anyway, the Associated Press reports.
Bluffton Police Department officer Baker Odom wrote in his report that he saw Cutshaw blow through a stop sign at 60 miles per hour in a 30 mile-per-hour zone. He pulled her over, noticed that she appeared and sounded drunk, and administered a breathalyzer test. Cutshaw's blood-alcohol level was more than twice the legal limit, Odom wrote, and he arrested her.
In dashcam footage, Cutshaw can be heard pleading with Odom not to take her to jail, because she "graduated from a really good university," received a 3.8 grade point average in high school, and is physically attractive.
"Don't take me to jail, please," Cutshaw says in the video. "I'm a pretty girl, please don't make me go in there."
According to the police report, Cutshaw continued asking for mercy back at the police station, telling Odom that she shouldn't be jailed because she's a "very clean, thoroughbred, white girl." She then reiterated that she's a "white, clean girl;" when Odom asked her what she meant by that, Cutshaw reportedly replied, "you're a cop, you should know what that means based on the people that come in this room." According to Odom's report, Cutshaw also "repeatedly stated, 'my partner is a cop'" while they were at the station.
Nevertheless, Bluffton police rejected Cutshaw's pleas, and booked her that night on charges of driving under the influence, speeding, disregarding a stop sign, marijuana possession and possession of drug paraphernalia, according to the Washington Post; police found marijuana and rolling papers in her car, the Post reported.
In his report, Odom wrote that Cutshaw's explanations for why she shouldn't be jailed were atypical.
"Making statements such as these as a means to justify not being arrested are unusual in my experience as a law enforcement officer and I believe further demonstrate the suspect's level of intoxication," Odom wrote.
Cutshaw, a real estate agent, can be heard in the dashcam footage telling Odom that she had been drinking wine earlier in the night in celebration of her 33rd birthday. When Odom asked how full the glasses were, Cutshaw reportedly replied, "I mean I was celebrating my birthday."
In addition to being white and pretty, Cutshaw offered several other reasons why she shouldn't be jailed. The dashcam footage depicts her telling Odom that she "was a 4.0 student" and "an all-American cheerleader" who had never been arrested before. According to the police report, she continued back at the station, telling police that she was also a member of a sorority and the National Honor Society, and attended a "high accredited university."
According to jail records, Cutford was booked at the Beaufort County Detention Center; as of Tuesday, she was no longer listed as an inmate there, according to the New York Post.