She Accused A Congressman Of Sexual Harassment & Was Blacklisted. Now, She's Ready To Tell Her Story.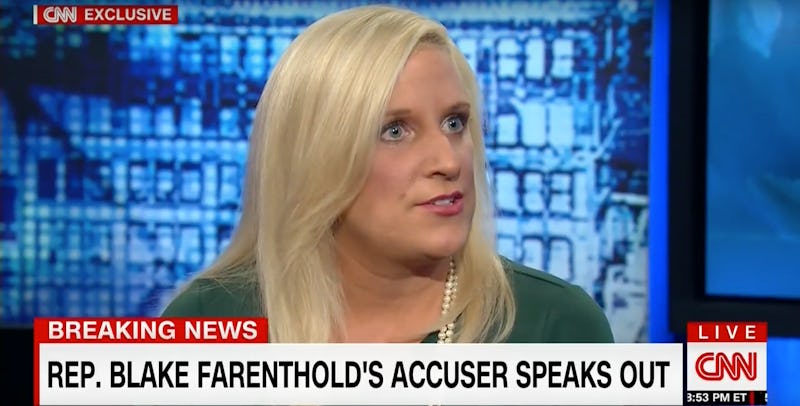 CNN
Back in 2014, Lauren Greene had reportedly been told that accusing her boss, Texas congressman Blake Farenthold, of sexual harassment could endanger her political ambitions. The Capitol Hill staffer came forward with the allegations anyway, and today, Greene says speaking up against Farenthold ruined her career. Though she's since abandoned Washington, her story demonstrates what so many women go through when they choose to report alleged harassment. Farenthold has denied the allegations, insisting to reporters that he "didn't do anything wrong."
While working as communications director for Rep. Farenthold, Greene claims that she was harassed by both her boss and and another male staffer. In the lawsuit filed by Greene, the staffer reports that an aide claimed the congressman said he had "sexual fantasies" and "wet dreams" about her. The former staffer details alleged direct harassment by Farenthold, who supposedly told Greene that he had not had sex with his wife in years, and reportedly made comments insinuating that he was interested in a sexual relationship with her. Again, the congressman firmly denied the allegations. Sitll, Farenthold ultimately paid $84,000 to settle Greene's case with public funds, and finally agreed to reimburse taxpayers for this amount on Monday.
On Monday, Greene spoke with Anderson Cooper about grappling with her decision to come forward with the allegations, noting that it was very important that she stand up for herself despite concerns about her career.
People on Capitol Hill reportedly warned Greene that if she came forward about the alleged harassment, her career would be put in jeopardy. "I was told right away that I would be, quote-unquote, 'blackballed' if I came forward," Greene told POLITICO. "That's exactly what happened."
Three years later, these grim predictions have more or less been fulfilled. As a communications director for a congressional representative, Greene was on track to have a significant career in the U.S. capitol. Now, she works freelance jobs and babysits when she can.
The former Capitol Hill staffer tells POLITICO that she has been denied myriad communications jobs, and she believes it's because there's a stigma attached to being truthful about sexual harassment.
It's a boy's club. I think that a lot of things are just understood and you've got to play by the rules and keep quiet about it. That's just kind of the mentality, from my experience. And so, I feel like the feedback that was given to me was: If I wouldn't stay quiet and fall in line, then my career was over.
Reports about Greene struggling to find a job have triggered discussions about the unforeseen repercussions women in politics face when they come forward with allegations against powerful lawmakers. As congressional reporter Rachael Bade noted, the way Greene has been treated exemplifies the reason so many women working in politics are afraid of speaking out about allegedly being harassed.
But there is hope in the fact that Greene is becoming an inspirational role model for other women who have found themselves in similar positions. Journalist Christina Wilkie wrote in a tweet, for instance, that Greene's decision to confront her employers about Farenthold's behavior "took enormous courage," and expressed dismay that the Congressional staffer was "blackballed from politics" in return.
And Ian Sams, who works in political communications himself, said the supposed situation was "depressing," "disgusting," and "sadly, all too common."
For three years now, Greene has reportedly been out of a job in politics, while Rep. Farenthold remains in office. Even so, the former staffer hopes that the flood of stories that have recently come out regarding powerful men will inspire more individuals to come forward like she did.
As she told Cooper, Greene believes there is a reckoning going on currently in regards to reporting sexual harassment, and thanks to this reckoning, victims have "a more supportive environment to tell [their] story" now.