The Author Of 'Speak' Is Releasing A Memoir About Her Experiences With Sexual Assault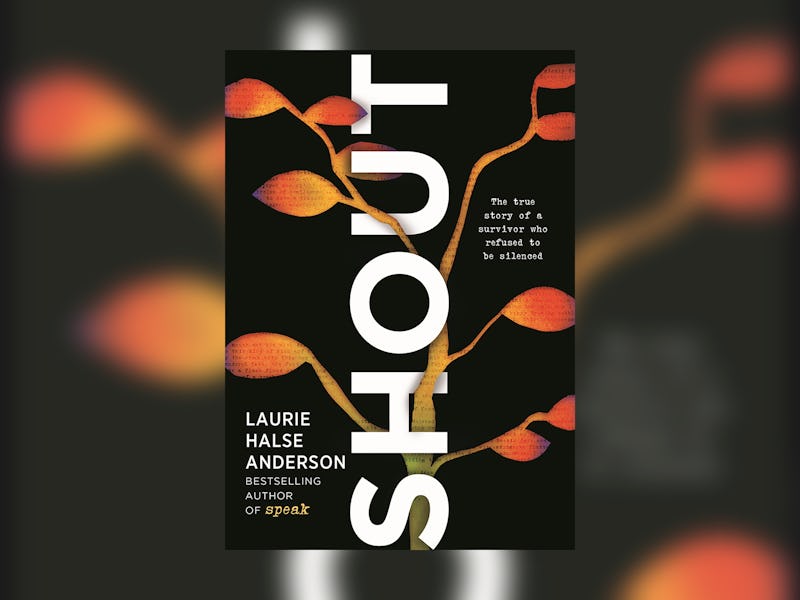 Penguin Teen
Laurie Halse Anderson is done staying silent. She's done whispering. She's done speaking. Now, she's shouting. In her forthcoming poetic memoir, SHOUT, the beloved young adult author of Speak writes with bracing honesty about her own experiences with sexual assault. Bustle has a first look at the cover and one of the poems from the memoir below.
"I finally have the perspective to talk directly about my experience as a rape survivor," Laurie Halse Anderson tells Bustle. "I grew up in a house where silence was more valued than truth — it took a long time to grow out of those restraints."
The memoir is, in many ways, a love letter to all those who have spoken out — whether online, to a trusted friend, to a therapist, to a reporter, or only in their hearts — about their own experiences with sexual assault. Although the #MeToo and #TimesUp movements didn't affect the writing of the memoir, Halse Anderson says she "suspects they will affect the willingness of readers to listen with their hearts."
"This cultural movement has been building since the early 1970s," she says. "It started as a tiny wave in the middle of the ocean, but now it is a tsunami reaching the shore and washing the world with truth."
Anderson — who recently joined RAINN's National Leadership Council — is best known for her 1999 novel, Speak, about an incoming high school freshman, Melinda, who calls the police after she is raped at an end-of-summer party and is subsequently ostracized by the entire student body when she returns to school the following fall. Though she is not physically mute, Melinda barely speaks — not to her friends, not to her family, not to her teachers. And she certainly doesn't speak about her sexual assault. The novel, nearly 20 years old, still rings painfully true for many victims who still feel like they must remain silent about their assaults.
In SHOUT, Laurie Halse Anderson tells her own story, in her own words, through her own poetry.
"Surviving sexual violence, being silenced, and finally finding my voice were marrow-deep experiences," Halse Anderson says. "They didn't just affect me — they defined me. I feel that kind of experience is best translated to the page in poetry."
Bustle has a first look at the stunning cover below:
Click here to pre-order Shout.
"I hope [this book] sharpens the tone of the conversation and lays bare our responsibilities to each other," Halse Anderson says. "We must speak up about human sexuality, healthy intimacy, and consent. We must shout in order to end rape culture and dismantle toxic masculinity."
Below, read an excerpt from Shout, available on March 12, 2019 from Penguin Teen. Please be advised that the poem below may be triggering to people who have survived sexual assault or other traumas.
(c) Laurie Halse Anderson, courtesy of Penguin Young Readers
If you or someone you know has been sexually assaulted, call the National Sexual Assault Telephone Hotline at 800-656-HOPE (4673) or visit online.rainn.org.