Laverne Cox & Airbnb Teamed Up For The Most Inspiring Reason This Pride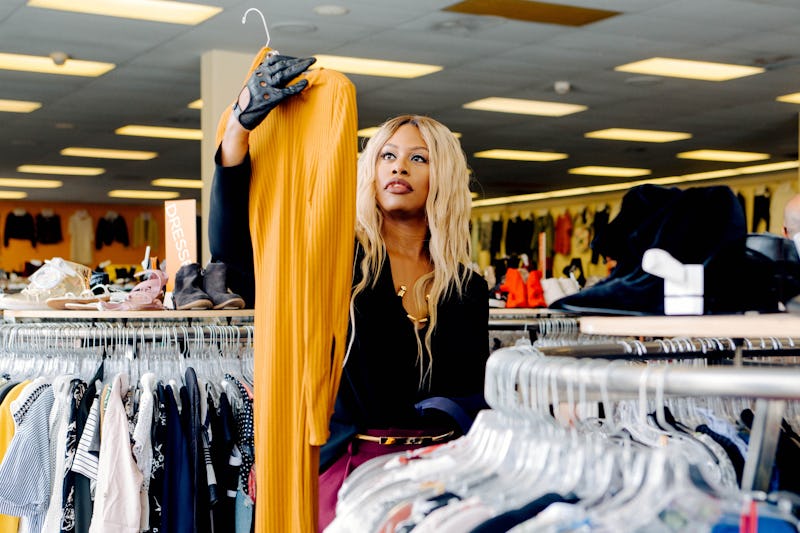 Courtesy Airbnb
For Laverne Cox, wellness is a never-ending journey to keep herself centered in a world of ubiquitous stress. The Orange Is the New Black star recently teamed up with Airbnb to host one of the hospitality company's Social Impact Experiences in celebration of Pride, taking four guests out for a day-long wellness excursion that was about "the sort of things I do, mind, body, soul, spirit, trying to stay well and healthy," she tells Bustle.
All of the proceeds from the day, including each guest's $250 ticket price, went to benefit the newly-opened Trans Wellness Center in Los Angeles. An offshoot of the Los Angeles LGBT Center, the Trans Wellness Center is dedicated to providing comprehensive services to trans folks, including "hormone therapy and transition resources; HIV testing and care; mental and sexual health services and education; occupational training; housing and legal services," according to a press release from the center, as well as a closet for people who need clothes that better express their gender identity, Cox says.
As part of their Experience together, Cox and her guests, two of whom were transgender, helped fill the center's closet by shopping at a local vintage store. Like other elements of the day, vintage store shopping has been "a huge part of my life for many years," Cox explains. She and her guests also tried transcendental meditation together, which Cox says is vitally important for her: "The crazier my life gets, quieting my mind is becoming more and more difficult. Dealing with anxiety and stress has been a huge issue for me."
The concept of wellness came into Cox's life when she started working on her craft, which involved "dredging through all my own personal narratives for acting," and confronting childhood trauma she hadn't yet processed. "I didn't know what to do with all that, so I needed to go into therapy and really work on myself," she tells Bustle. "Part of being an artist has been getting healthier and getting better [...] being in the public eye and having to go into the world with this sense of purpose and centeredness," she says.
Cox says wellness has helped her create a space of surrender for her as an artist, but it's also a source of strength, particularly in the face of something all trans women, especially trans women of color, have to confront: street harassment. "As a black trans woman living in New York — trans people are experiencing this kind of street harassment, that kind of not feeling safe, and that is deeply, deeply traumatizing," she says, adding that she's been harassed hundreds, perhaps thousands of times. "Finding a way to cope with that in a way that I'm not self-destructive, where I don't want to be angry at the world and angry at everybody else, and being a space of healing and transcendence, has been really crucial for me," she says.
One of the core elements of wellness for Cox is that "it's not something I've got," she says. "It's a pursuit for me. It's something I continue to work on, on a daily basis."
The Airbnb Experience Cox and her guests enjoyed is one of more than 50 LGBTQ-specific Experiences available through the app during Pride month, according to Airbnb. And because it was a Social Impact Experience, which helps guests connect with their host community by learning directly from local nonprofits, it was specifically intended to benefit the Trans Wellness Center, which only opened this past spring.
"Honestly, part of the reason I wanted to do this is I wanted to learn more about the work [the Wellness Center is] doing," Cox says. "And for me, it was great to connect with these incredible folks, and I know I grew a lot. So I'm really grateful to Airbnb for this opportunity to spread this love and awareness."