Lea Michele & Darren Criss Are Officially Going On Tour & 'Glee' Fans Are Freaking Out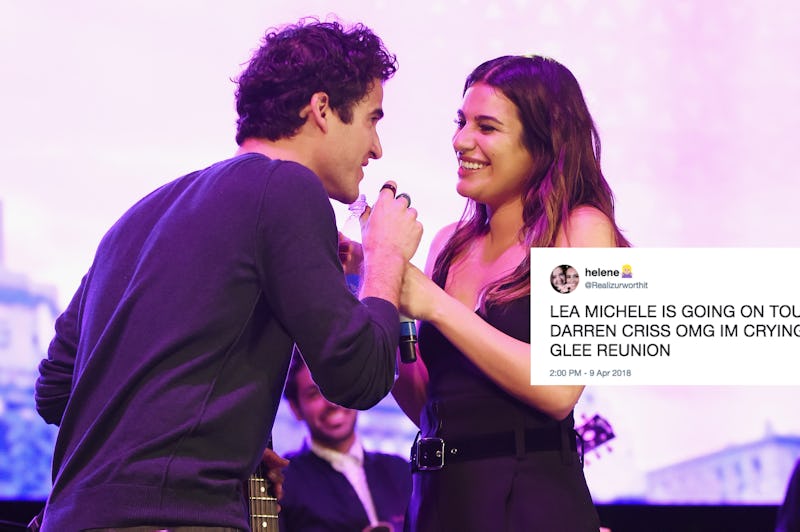 Jenny Anderson/Getty Images Entertainment/Getty Images; Realizurworthit/Twitter
This summer, there's going to be a very mini Glee reunion. Former co-stars Lea Michele and Darren Criss are going on tour, hitting nine different cities in the United States and Canada. The pair of triple threats, who also have individual solo singing careers and Broadway credits, announced the news by singing an impromptu improvised show tune on The Ellen DeGeneres Show on Monday.
"We're going on tour together!" They sang. Criss explained that the tour would include a mixture of music from their young, illustrious careers. "It's a whole lot of stuff," Criss said of the song list. "It's obviously some Glee stuff, some Broadway stuff, some of her stuff, some of my original stuff, sort of a mixture of everything." He added, "We've always played music together, and every time we do we go, 'we should do this more and take it to more cities.'"
According to Entertainment Weekly, here's where Michele and Criss' tour is taking place:
May 30: Nashville, Tennessee at The Ryman Auditorium
May 31: Cincinnati, Ohio at Taft Theatre
June 2: Pittsburgh, Pennsylvania at Benedum Center
June 3: Washington, D.C. at Kennedy Center
June 5: Indianapolis, Indiana at Murat Theatre
June 6: Columbus, Ohio at Ohio Theatre
June 8: Easton, Pennsylvania at State Theatre Center for the Arts
June 9: Newark, New Jersey at NJPAC
June 10: Toronto, Ontario, Canada at Sony Centre
The two previously performed together on television with Glee and on stage at the 2017 Elsie Fest in New York City. The LM/DC Tour will give people an opportunity to see them perform dynamite duets (seriously, watch them sing "Falling Slowly" from Once) and solo songs in cities that include Nashville, Pittsburgh, Indianapolis, Washington, D.C., and Toronto. They're even doing their fictional Glee counterparts a solid with two dates in Ohio.
Criss joined Glee during its second season as a supporting character, Blaine Anderson. He led the Dalton Academy Warblers, an a cappella singing group that was rivals with New Directions (the group Michele's character, Rachel Berry, and most members of the main cast were a part of). Blaine quickly became a love interest to Kurt Hummel (played by Chris Colfer) and transferred to McKinley High, but not before sharing a drunken kiss and an amazing duet with Rachel to The Human League's "Don't You Want Me." Throughout the rest of the series they play good friends.
Michele published a video of her and Criss reprising their rendition of "Don't You Want Me" on her YouTube page last spring. This time it was an acoustic version, which meant their angelic singing voices had a good chance to shine — and could very well serve as a sneak peak at what ticket-holders to their tour might get to see. They also sang a duet of Michele's original song "Getaway Car" with Criss on Piano. Following the song's release, she told E! News, "I had the best time singing with Darren last week." She added, "This cast goes beyond friends. They are my family and we will be in each others' lives forever."
For longtime fans of Glee who have been missing the show since it went off the air in 2015, this is a great opportunity to see two of the series' stars together on one stage. Some Gleeks took to social media to share their excitement.
Though, some people were bummed there weren't tour dates near them.
In addition to their work together on Glee, both Michele and Criss have appeared on Broadway. Michele started her career in theater as a child in Les Misérables, Ragtime, and Fiddler on the Roof and made waves as a young woman in the original cast of Spring Awakening. Meanwhile, Criss has appeared in How To Succeed in Business Without Really Trying and Hedwig and the Angry Inch. Both have also released solo projects, including Michele's 2017 album Places and Criss's 2017 five-track EP Homework.
To find more about the LM/DC Tour dates and ticket information, check out the website here. Pre-sale and V.I.P. tickets go on sale Wednesday, April 11, while general tickets hit the market Friday, April 13.