"Unite The Right" Members Joked About Running People Over With Cars Before Charlottesville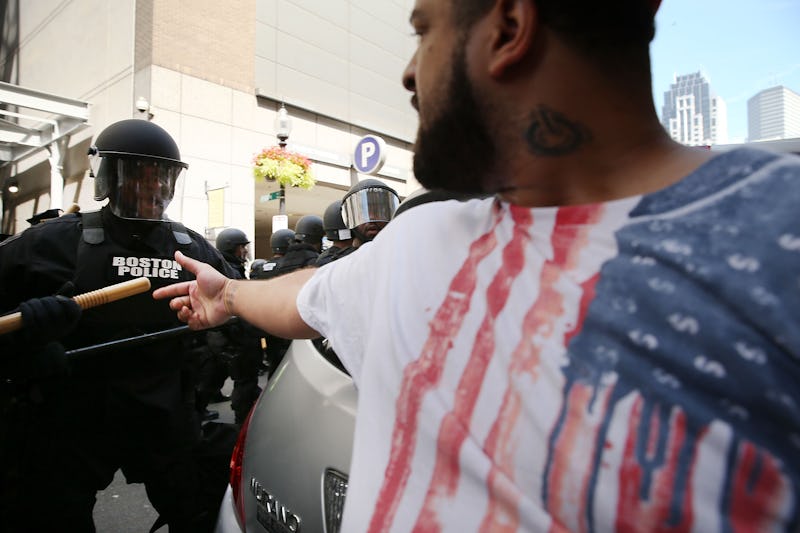 Spencer Platt/Getty Images News/Getty Images
Organizers and self-identified members of the alt-right were busy scheming during the weeks leading up to the huge white supremacist rally in Charlottesville, VA. A series of screenshots from the chat app Discord reveal Unite the Right's violent intentions, and a myriad of jokes suggesting they had plans to attack counter-protesters.
The leaked chat room transcripts were provided by the media collective Unicorn Riot and revealed people posting swastikas and embracing usernames such as "National Socialist Army" and "Führer's Gas Chamber." More notably, however, some of the posts in the now defunct chat showed users posting photos of themselves with semi-automatic weapons or joking about beating counter-protesters with PVC pipes.
However, perhaps the most telling of the posts premeditating white supremacist violence involved Discord users joking about running protesters over with cars. In one meme, a user joked about using a tractor to plough into opponents. Normally, the contents of a meme on its own might seem benign, regardless of the sinister context. However, since a supposed neo-Nazi drove a car into counter-protesters at Charlottesville, killing 32-year-old Heather Heyer and leaving 19 others injured, the contents of these chats bear even more weight.
To add insult to tragedy, shortly after Heyer's death, a user on Discord made a meme of a photo of the car that killed her with the caption "Back to the Fhurer."
Following the eruption of white supremacist violence in Charlottesville, Discord banned the alt-right from using the app, and released a statement condemning the group's actions.
"When hatred like this violates our community standards we act swiftly to take servers down and ban individual users. The public server linked to AltRight.com that violated those terms was shut down along with several other public groups and accounts fostering bad actors on Discord. We will continue to be aggressive to ensure that Discord exists for the community we set out to support - gamers," wrote Discord CMO Eros Resmini in a statement.
While the screen-shotted contents of the white supremacist group chats are deeply disturbing, to say the least, the nearly 1,000 Discord screenshots may provide useful evidence for a lawsuit against Unite the Right organizers. Timothy Litzenburg, the lawyer representing two Charlottesville sisters suing alt-right leaders for the emotional and physical injuries inflicted by the car-crash, says the chats could be crucial in court. Litzenburg told Wired this evidence could be "the crux of the case," since they showcase "a little flavor of how [organizers] totally intended on violence and mayhem."
There are 28 defendants named in the case, including the driver of the car that killed Heyer and 27 other white supremacist leaders. Even if these screenshots don't indict them in court, they certainly further expose them to the public.