Learn Sana Amanat's Name Now — The Future Of Marvel Might Just Be In Her Hands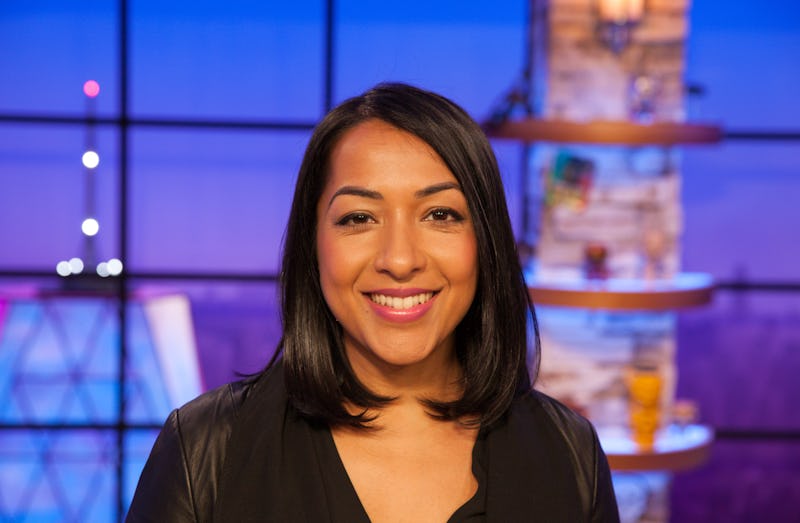 Courtesy of Marvel Comics
A poster of Carol Danvers, aka Captain Marvel, towers over a desk in a tiny office in Midtown Manhattan. Long gone is the barely-there black bathing suit she once wore, meant to inspire feverish lust among fanboys. Instead, she's rocking her recently updated costume and hairstyle, now aimed to show off her strength and muscular physique (pretty damn integral to one of the strongest Marvel characters ever), like any suit Captain America or Thor might don. On her right is an equally large image of Kate Bishop, aka Hawkeye, decked out with her trusty arrows, a purple dress, and matching circle specs, ready to take on criminals in 1960s Venice Beach, California. Below them you'll find Kamala Khan (aka teenage superhero Ms. Marvel) and Justice Ruth Bader Ginsberg (no explanation needed), appearing as two very feminist throw pillows. On the opposite wall sits a foam replica of Ms. Marvel's classic "embiggened" fist, a poster with a lineup of all of Marvel's female heroes, and an image of Krysten Ritter's complex heroine from Netflix and Marvel's Jessica Jones. The idea of converging these forces and minds in one room is downright intoxicating — the power, the brains, the heart are almost overwhelming. And yet in this room, surrounded by powerful, impossibly strong women, Marvel Comics editor and Vice President of Content & Character Development Sana Amanat sits calmly, her expression mirroring those of the heroes around her.
Known for co-creating the first solo comic series to feature a Muslim female superhero (Ms. Marvel), Amanat has found herself in some pretty important rooms since joining Marvel in 2009. The most notable one was a room at the White House, where she presented President Barack Obama with a copy of Ms. Marvel Vol. 1 during a Women's History Month celebration back in 2016. She's also gone on talk shows like Late Night With Seth Meyers and the morning TV circuit to talk about her work at Marvel, and now, she's embarking on a new adventure: Her beloved Ms. Marvel finds herself in a diverse group of teens called Marvel Rising, which seems like a pretty appropriate name for the next generation of Marvel superheroes. While Amanat says she doesn't work on comic book characters with the goal of making them famous enough to star in their own blockbuster movies, the Marvel brand is strong enough that a big screen future isn't out of the question for the teen heroes. But first, they've got to figure puberty (and a few other minor things like, oh, you know, their powers) out. Amanat points out that their less-than-typical powers range from having a tail to Ms. Marvel's goofy-looking stretchable limbs.
I'm here to try to tell my own story and hopefully champion the other people who haven't had the opportunity to do so either.
"They're teenagers, and they do not have like these perfect, pretty powers like a Captain America or Black Widow or Tony Stark/Iron Man have," she says of the comic (which currently has two issues available) and the animation franchise with a film and six episodes coming later in 2018. The group includes Kamala Khan aka Ms. Marvel, Doreen Green aka Squirrel Girl, Rayshaun Lucas aka Patriot, Dante Pertuz aka Inferno, Gwen Stacey aka Ghost-Spider, and America Chavez, but the series will also see visits from Agents Of S.H.I.E.L.D. hero Daisy Johnson and Carol Danvers aka Captain Marvel (who will, of course, see her own Marvel movie debut in March 2019). The group is diverse — in gender, background, ethnicity, and even body type — but what Amanat is really excited about is how fans will get to watch these characters figure themselves out.
"The stories that we should be telling the next generation of fans in general — of Marvel fans, but fans across the board and kids — is the fact that they have this incredible potential within themselves, and they have to find it. It doesn't matter what it looks like, it doesn't matter what it feels like. Their responsibility is to find whatever that weird power is," she offers with palpable passion. Her first major creation — Ms. Marvel and her power to stretch her limbs into giant fists and other useful shapes — will be the "heart" of this new super group, leading that story of self-exploration. "So, you're a teenager, you're brown, you're like Muslim, you're in Jersey, you've got all this stuff you're dealing with it as it is, and then suddenly you get these powers that are not the pretty powers. They're like really clunky powers. And your body's like just bouncing around everywhere, and she has the choice to be able to embrace that and to make something amazing out of these strange powers and that's kind of the source of what Rising is about," says Amanat.
While it is part of her job to preach the gospel of Marvel, there's something infectiously genuine about Amanat and the way she speaks about these characters. Sure, these stories are technically just comics, but that's not how Amanat sees them. And when you look at the history of the company, it's pretty hard not to deny that she's got a point.
For her, Marvel characters are the American equivalent of gods and goddesses — a true "American mythology." When you look all the way back to some of the more famous Marvel heroes — like Captain America, who was created by Marvel predecessor Timely Comics during World War II and debuted as an all-powerful, all-American hero capable of defeating the Axis powers all by himself — that intention is impossibly clear. (Of course, said mythology was also clearly very male and very white, but Amanat is working on diversifying the pantheon as we speak.) "Each of these characters speak to these really big ideas of what it means to be obviously idealistic, to try to push positivity, do great things, be a good neighbor," she says, pointing out the the fact that these heroes uphold the "ideals of the human spirit" — the idea that given great power, we might wield it with great responsibility and care, too. (Yes, you heard that in a Tobey Maguire Spider-Man movie once, but it's got deeper philosophical roots than that, I promise.) It's what makes Marvel so impactful, she says, but it's also a concept Amanat has clearly taken to heart in her role at the company. While she'll be the first to tell you how proud she is of the work she's done there, she'll also be the first to point out that she didn't do it alone.
"I understand that I'm coming into Marvel with a very distinct point of view," she offers. Amanat is Pakistani-Muslim-American and grew up in New Jersey, much like the character she co-created in Kamala Khan, who calls Jersey City her home. "Every single person that's coming to Marvel is going to have that distinct point of view. And I think that everyone needs to make sure that that point of view is shown whether it's accepted or rejected, or you go a different way … I don't believe Marvel is a place where it's just one person."
A lot of people didn't really value my skill set because of the fact that I didn't grow up reading comics the way they did.
She'll also be one of the first people to tell you that the rumors are true, and that as exhausting as it is to write this sentence, it isn't always easy being a woman in the comics industry. (It may have started out more equal, but a recent study found that men outnumbered women nine to one at major comics publishing houses and that 79 percent of the people working on comics there were white). Now, she's a VP at the biggest name in comics and part of a group called Women of Marvel — a sort of extra-curricular endeavor hosted by Amanat and Marvel producer Judy Stephens with podcasts, panels, and a group of fans who follow them dressed in Carol Danvers/Captain Marvel gear (the "Carol Core," as former Marvel writer Kelly Sue DeConnick dubbed them). But if you spoke to Amanat when she left college, you'd never know that this world of capes, stretching limbs, and super strength was where she'd end up — back then, she thought she'd follow most liberal arts majors' paths and become a journalist or lawyer. And when she finally found her way to the comic book world, she was met with what some might call resistance (and what fellow fangirls might call an average Tuesday on Twitter) — so much that she almost quit comics altogether.
"A lot of people didn't really value my skill set because of the fact that I didn't grow up reading comics the way they did. I didn't have long boxes of comics. My brothers did ... And so there was this sense of these rules [I had to follow] to be able to be a fangirl that made me feel a little bit like I wasn't allowed in the club," she says. "And it was hard — this is while I was working in the industry. And it made me feel like, 'Oh, well maybe I'm not really very good at my job and maybe I shouldn't do this.'"
But, like so many temporarily disheartened superheroes, she emerged from that place of self-doubt, ready to change the very space that made her feel unworthy. And though she's more than earned her spot in the comics world — not just because she really paid her dues at her first comics job by walking around a convention with a shirt that said "VIRGIN Comics" ("It was just not a good thing to be wearing at a Comic-Con when you're like one of the few women there," she says with a chuckle) — she still faces some of that distrust, often from a vocal faction of Marvel readers. She sees daily, vociferous criticism from these fans on Twitter and anywhere else they can find her, most often because she works to make Marvel an even more inclusive brand for women and for people of color.
At the end of the day, for me, me embracing my identity, me embracing my brownness, does not mean [I'm] denying their identity.
A quick YouTube search will turn up not only Amanat's various speaking engagements — a TED talk, an interview with Seth Meyers, a New York Comic-Con panel — but vicious attacks on her work with video titles like "Marvel Rising #1: Sana Amanat Makes Gender War Propaganda To Create Future Generations Of Cat Ladies" (unfortunately for us all, this person is entirely serious). There's even a video in which one vlogger claims that Amanat and the head of Lucasfilm, Kathleen Kennedy (who was George Lucas' right-hand woman throughout the production of all the original Star Wars films and the Indiana Jones trilogy) are "diversity hires" who know nothing about the fandom, installed by Marvel and Lucasfilm's parent company, Disney, to push feminist, anti-fan agendas. (It should be noted that easily confirmable facts are not strong with either of these videos.) And this is only the mild stuff.
Still, Amanat says despite some of her detractors' efforts, she's doing just fine.
"The interesting thing is growing up Muslim and brown in America has at least steeled me up for a lot of this. From a very young age, I'm used to people saying terrible things about Muslims. I've seen some really terrible things done to Muslims in my community. I still see terrible things done to Muslims and I understand that there is an injustice happening every single day," she says.
She's resolute: The noise isn't going to stop her from doing what she came to Marvel to do. "People making fun of me or not liking me is literally the least of my problems. Like it just doesn't really affect my day-to-day life. It's unfortunate ... At the end of the day, me embracing my identity, me embracing my brownness, does not mean [I'm] denying their identity. It's about me. And it's the story that I wanna tell. Everyone should have the right to tell their own story, and that's really what I'm here for. I'm here to try to tell my own story and hopefully champion the other people who haven't had the opportunity to do so either. So, that's what I'm focused on. I'm focused on the people who show up at Comic-Cons wearing homemade Ms. Marvel costumes that they made with their parents."
Her work on Ms. Marvel has already had so much influence on young people, and young women especially, throughout the Marvel fandom, and Marvel Rising cannot be far behind. Not only has Ms. Marvel been nominated for prestigious awards, it's reportedly very successful among digital comic book readers, and in the years since her introduction, there's been a notable uptick in young, female comic book heroes among comics publishers. Now, thanks to one slight hint from Marvel Studios head Kevin Feige — his exact words were "We have plans for Ms. Marvel once we've introduced Captain Marvel" — the possibility of Kamala Khan showing up in a Marvel Cinematic Universe, or MCU, property (see: April's Avengers: Infinity War, 2017's Thor: Ragnarok, and July's Ant-Man & The Wasp) is seeming more and more likely.
When the news dropped in May, fans were excited, throwing out dream casting choices and voicing concerns about ensuring their favorite character would be represented correctly. Celebrities like Riz Ahmed, Kumail Nanjiani, and Mindy Kaling became a part of the discussion, starting with Ahmed's suggestion that he, Nanjiani, and Kaling tackle the potential big-screen debut as a team.
Not every fan was thrilled, of course, and it started some heated debates about whether or not a man could properly tell Ms. Marvel's story, and who could be entrusted with such a task at all. Amanat eventually weighed in on Twitter, defending her pal Ahmed, but now that the dust has settled, she's just thrilled that the debate happened at all. After all, this kind of heat around any comic book character is the height of fandom and fame — if people aren't furiously arguing over the right way to handle Ms. Marvel, is she really even a hero?
"All these people love Ms. Marvel, they know Ms. Marvel, they love Ms. Marvel, and, you know, that in and of itself I think is important, because 15 years ago people like them wouldn't exist either," she says, referring to the trio of Hollywood powerhouses. "This wouldn't exist and they wouldn't exist, and now we're at a point where we're all having a conversation and it's spurring another conversation about you know what could this be and people having their own opinions about who should be cast and who shouldn't be cast. And I think for me, at the end of the day, I'm just happy that this is just a part of a cultural dialogue and that [the movie] is a thing that could happen. And that I hope happens."
Of course, while she's beyond excited that Ms. Marvel could possibly join the MCU alongside her top three faves (Black Panther, Thor: Ragnarok, and Captain America: The Winder Soldier, in case you're curious), she's dedicated to spending most of her time focusing on the young fans whose minds are being shaped by their favorite comic book heroes.
"Every single one of us who works on a Marvel character understands that there's a good chance that there's going to be, you know, a second grade student picking up this comic for the first time and interacting with these characters. What are we saying to them? How are we talking to them, how are we educating them, how are we inspiring them?" she asks. "I do believe stories and the media are really the first line of education that a lot of people get and so with stories like this, we have to be really mindful of how we're approaching them."
Before I leave her fortress of feminist strength and power, she tells me a story about a friend whose son faced a bully at school. When Amanat's friend asked her son, "Did you make sure that you said that's not nice and walk away?" his response wasn't what she expected. "He's like, 'No. What I did was that I changed into Ms. Marvel. And I showed him how powerful I was, and then he ran away,'" recounts Amanat as a smile stretches across her face. And when this boy's mom further inquired about why he chose a woman and not "the Hulk or something," his reasoning was simple: "I love Ms. Marvel. I love her stretchy powers."
"First of all, it's the most like gender-specific character because it has the name Ms. in it, but like he looked at her like she was just a hero with cool powers more than anything else," says Amanat. Her grin has now reached entirely across her face, or embiggened, if you will. "We wanna make sure that we tell people that this isn't just for girls. This isn't just for boys. It's for whoever."