Lebanese Artist Uses Wedding Dresses To Protest Marriage Rape Law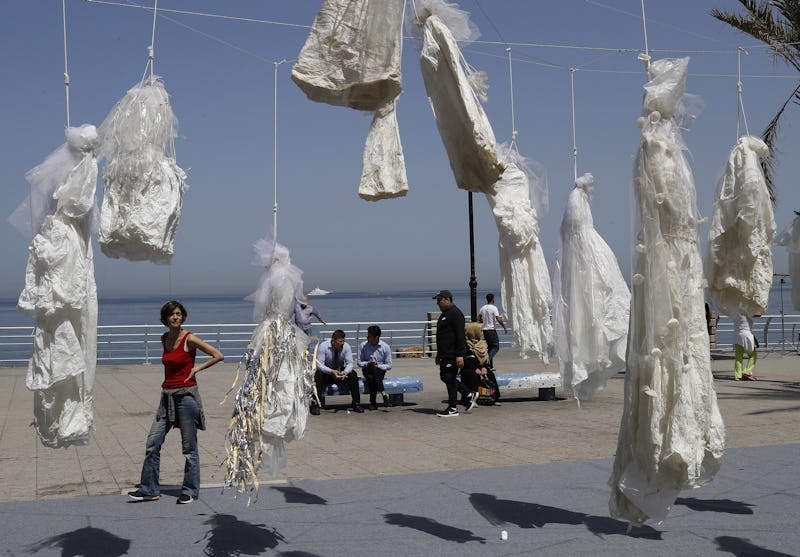 AP/REX/Shutterstock
Lebanese artist Mireille Honein took a creative route to protest Article 522 of the country's penal code, which exonerates a rapist if he marries his victim. The law — which is currently in effect — has generated a heated and controversial debate among activists and citizens about its impact on women. In order to protest the law, Honein and Lebanese activists hung wedding dresses by nooses on Beirut's popular and crowded seafront, the BBC reported.
Popularly known as #Undress522, the installation is supported by Abaad, which claims to be a center providing resources for gender equality in Beirut. According to The National, Honein conceptualized and designed the remarkable installation in Paris and then brought it to Ain El Mraysseh in Beirut. A total of 31 dresses, made of paper, swung by the sea. The choice to hang 31 dresses was a conscious one — Alia Awada from Abaad told the BBC, "There are 31 days in a month and every single day, a woman may be raped and forced to marry her rapist." The number of dresses was intended to point toward that.
Utilizing paper was also a deliberate decision and Honein intended to expose the "ephemeral" nature of matrimony and the legality that surrounds it, she told The National.
A former director of the Jordanian bureau of AFP news agency, Randa Habib, shared a video of the powerful installation that has stunned both viewers online and pedestrians passing by the seafront. In the video, Lebanese minister for women's affairs Jean Oghassabian told reporters, "[Article 522] is from the stone age. It is not acceptable for people to talk about it anymore. How is it reasonable for a woman to be raped and then sold into a prison?"
The effort to repeal Article 522 of the Lebanese penal code was recently supported and recommended by a parliamentary committee. In January, Roula Masri, a senior program manager at Abaad, told Al Jazeera English that the law failed to highlight the criminal nature of rape and ignored the psychological trauma rape carries on a victim. The recommendation by the parliamentary committee must go through the parliament to take effect and could take months to be approved.
Honein's installation is incredible and is an addition in the detailed history of art against rape. For instance, Jenny Nijenhuis and Nondumiso Msimanga hung 3,600 pairs of underwear in Johannesburg, South Africa, to highlight sexual assault and rape in the country. The installation "Dirty Laundry" stretched over 4,000 feet and drew attention to the secrecy and shame around the subject of sexual violence.
Honein's artistic campaign — from the material used to the location chosen — is designed to bring attention to a neglected subject. Perhaps with these ghastly paper dresses swinging in the air on Beirut's well-attended and constantly bustling seafront, people will realize how dire Article 522 is and how it can violently affect a woman's life.