Lena Dunham's Latest Essay Is Empowering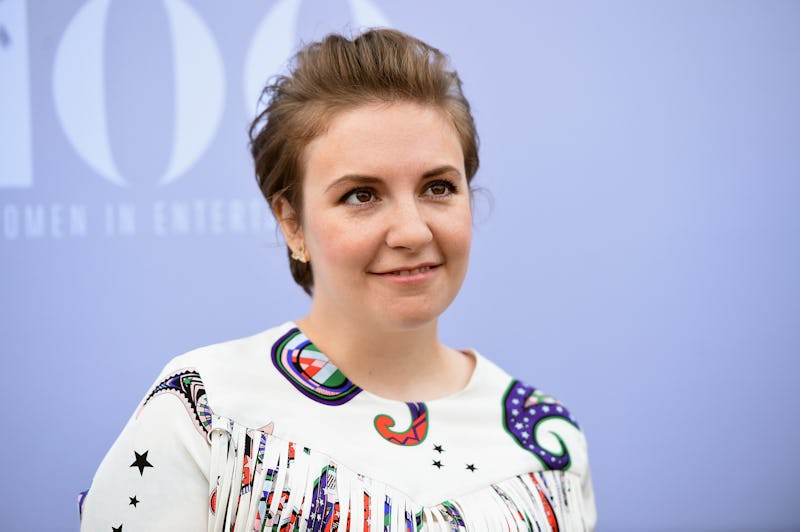 Jason Merritt/Getty Images Entertainment/Getty Images
Since Girls premiered in 2012, Lena Dunham has been incredibly open about her life and her feelings, whether it's through interviews, social media, or even her show. And now, she's opening up about a very personal and intense time of her life, and it could help people who have struggled with feeling powerless like she has. In this week's edition of Lenny Letter, Dunham opened up about her past sexual abuse, and through talking about her experience and how it later changed how she viewed sex, she actually ended up offering some pretty empowering advice for anyone who's feeling lost during such a chaotic time in our country.
In her essay, Dunham wrote that after she was raped, sex changed for her, and she stopped being as active of a participant. When she talked about her fantasies, it was always about pleasing the other person and impressing him instead of imagining someone impressing her. But then, her friend and Girls show runner Jenni Konner pointed out how sad that way of thinking was, and that led Dunham to the very important realization: She's not as powerless as she thought she was, and that she could not only make a difference in the world but also in herself.
Chances are, if you're a woman, the months since last November's presidential election have been difficult for you. Since Donald Trump's inauguration, there's a big threat hanging over us that reaching gender equality could be more difficult than ever before — and then, there are still the executive orders that I and many other Americans don't agree with. It's a scary, crazy time we're living in, and it's easy to feel like so many things are out of your control. I've felt that way a lot lately, so Dunham's words rang especially true to me.
She wrote:
It's hard to know how best to protect yourself right now as an American woman. So much is unclear. So much feels out of our control, like strategy being played out in a remote locked room. So much is up to men who have never seen us and will never see us, who don't even want to see us. We gather to talk about actions to take, about places to donate, about marches and hashtags and urgent causes. It's all important and beautiful. It's all essential and brave.
Dunham is right. Big actions like marches, calling your congressmen, and getting involved in protests are important, but not every action you take needs to be on a large scale. Doing something for yourself — something that will prove you're not powerless after all — can be just as important.
She added, speaking of consensual sex,
But what about a single step of your own, one that doesn't immediately help anyone besides you, yet may in fact save our entire world? What about something that tells a story words can't? What if every time you f*ck for the next four years, you say exactly what it is that you want? You move the hands on your body to the place you need them to be so that you can get off? What if you take control of systems that were put in place a very long time ago to keep you from getting off? What if you never have sex again where you're just lying there wishing you were somewhere or someone else (and if you've never had that kind of sex, genuine and worshipful congratulations!)? What if you always recognize your voice? What if you ask for more? What if, as a result of this asking, you get exactly what you want?
Dunham might be talking in a sexual context, but the words she's saying can apply to any part of your life where you feel like you need to take control. Everything happening in the country plus life in general can get really overwhelming at times, but doing something simple, even just for yourself, can be helpful.
I love that Dunham has always been willing to share the more personal side of herself in order to help others, and even though her essay was about sexual freedom, her words are ultimately about so much more than that. It's hard to ask for what you want, but you don't have to get there overnight. One small step is all it takes.