Lena Waithe Is Set To Receive A Major Honor At The 2018 MTV Movie & TV Awards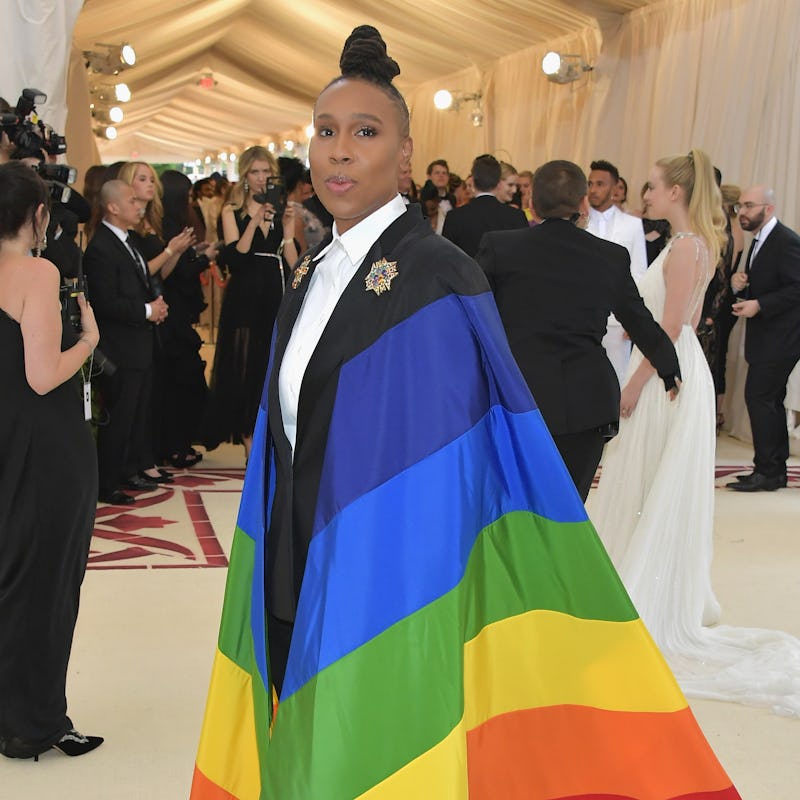 Neilson Barnard/Getty Images Entertainment/Getty Images
This woman is the personification of badass, and just a scroll through her Instagram page will make you feel inspired. It comes as no surprise that Lena Waithe is the Trailblazer Award recipient at the 2018 MTV Movie & TV Awards. Last fall, Waithe made Emmys history as the first woman of color to win for "Outstanding Writing in a Comedy Series." Since then, she's taken her talents to acting, producing, and creating shows (no big deal) while remaining true to her authentic self. Waithe's honor at the upcoming awards show on June 18 just proves this is only the beginning for all that she has in store.
MTV's trailblazers are figures who change the game and remain fearless while breaking the mold. As exemplified by her epic Emmy win last year, Waithe has come into the industry with intention, using her platform to create work with purpose and represent people from all walks of life. After winning the award for co-writing Master of None's episode "Thanksgiving," (side note: she was the only female nominee in the category), Waithe nodded to the LGBT community in her acceptance speech:
"My LGBQTIA family, I see each and every one of you. The things that make us different, those are our superpowers. Everyday when you walk out the door, put on your imaginary cape and go out there and conquer the world, because the world would not be as beautiful as it is if we weren't in it."
Her powerful speech showcased just how dedicated Waithe is to helping change the world through art.
The Chicago native also serves as co-writer, creator, and executive producer (alongside Common) of Showtime's The Chi, which premiered in January. The complex, yet heartfelt coming-of-age story chronicles six interrelated characters in Chicago's South Side. The show was well-received by many critics and was picked up for a second season. The Boston Globe's critic Matthew Gilbert praised The Chi and its relevancy, saying, "It puts very human faces and personalities on the endless flow of generic headlines." Black Girl Nerds' Joelle Monique wrote, "Remarkably cast, expertly written, and flourishing with promise... I look forward to spending more time in Waithe's Chicago."
The work grind is Waithe's expertise. Additionally, she starred in Steven Spielberg's recent blockbuster Ready Player One, and is currently writing/producing TBS' Twenties, which is loosely based on her tumultuous twenties in LA. Given her accomplishments and experiences, she also mentors young, diverse, aspiring writers in a partnership with The Black List.
Waithe knows a thing or two about hustling to come up in the industry. As she told Vanity Fair, she started her Hollywood career in 2006 with "no family, no friends, and no money." Some of her work dates back to 2011, with the short film Save Me, which she wrote and directed, according to IMDB. She's been vocal about the importance of working hard to break the mold, even through her wardrobe. Waithe once wore a shirt on the red carpet with the message, "Keep creating dope ass sh*t until someone notices."
And there's no one more deserving of such success. Waithe's the kind of woman who doesn't take love from fans lightly, and will take the time to respond to their DMs (I know from experience). From meeting and interviewing her since Master of None first premiered, Waithe remains as humble and down-to-earth each and every time I encounter her. It's clear that she's on the grind, but is still true to who she is in the process, and fame hasn't changed that. (Just another reason to want to cheer her on.)
Waithe's Vanity Fair cover story in March was deemed the signal of "a new era" by The Cut. "I am tired of white folks telling my stories," she said in the feature. In addition to her own work, she takes time to give up-and-comers a voice. "I'm just trying to help them learn how to be great writers... help them get representation; and those that have representation, I want to help get them jobs," she said. "That to me is a form of activism. I was doing this before Time's Up was created. I am doing it now. Activism is me paying for a writer to go to a television-writing class."
If you can't wait to see what new paths Waithe will fearlessly continue to blaze through, you're not alone. You can watch Waithe receive her Trailblazer Award during the MTV Movie & TV Awards airing Monday, June 18.