Lenny Kravitz Talked About *That* Scarf Meme, Because The Internet Won't Let It Go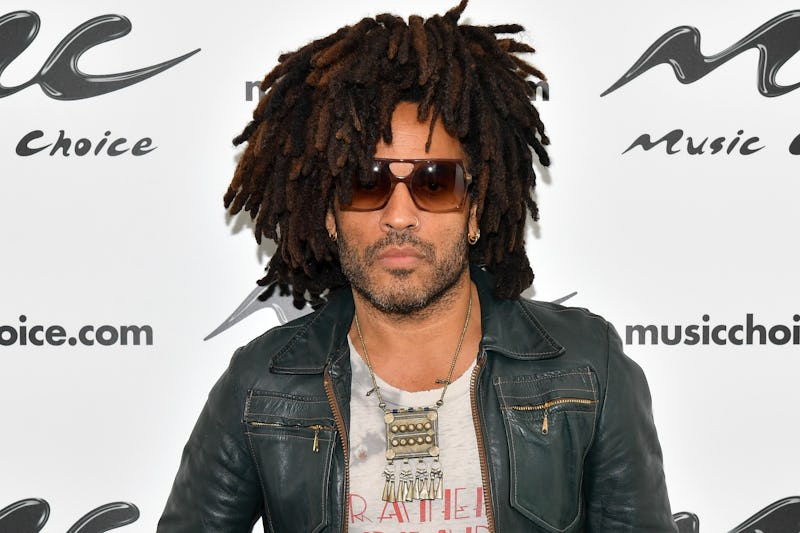 Dia Dipasupil/Getty Images Entertainment/Getty Images
Since it's almost officially fall, that also means that it's almost unofficially scarf season, too. And no one is more aware of that then Lenny Kravitz, the king of the scarf game. During his appearance on The Tonight Show Starring Jimmy Fallon, Lenny Kravitz discussed his giant scarf meme, as People reported. Based on his comments, it sounds as though he's totally alright with the hilarious photo.
On the Sept. 17 episode of the late-night series, host Jimmy Fallon asked the hard-hitting question everyone wanted an answer to: What's the deal with that scarf (or, in other words, that blanket)? Kravitz had some fun with it, though. "I cannot escape this," he said. The singer then explained why he needed such a large winter accessory and it's super relatable for anyone who's also winter-averse:
"I live in the Bahamas, I'm used to hot weather and I had to go to the store, I was buying some groceries and I thought I'd put on a little scarf to protect my throat, and that's the scarf I had."
Fallon wasn't exactly buying that excuse. He said, while showing off the photo in question, "But, Lenny, this is not a scarf, this is a blanket." The host did add, "Only you can pull it off," which is definitely true.
As it turns out, Kravitz explained that the large item was actually a gift handcrafted by one of his friends. While the scarf is on the larger side, which the "American Woman" singer even admitted, Kravitz and Fallon joked about how it has nothing on the size seen in some of the best memes on the internet.
Of course, this isn't the first time that Kravitz has been asked about the meme, which originated in 2012, per People. During an interview with Billboard, which was published in January 2017, the Hunger Games actor was asked about his interesting fashion choice. Like in his Tonight Show interview, he joked about how the joke still hasn't died out, "That thing will not go away!"
He also touched on some similar points brought up in his recent sit-down with Fallon, "What's funny is that they'll blow it up and make the scarf even bigger than it was. It's so funny. That thing just keeps on popping up. But yeah, that was a cold-ass day. I'm in 70-degree weather now. So it's all good. I am not wearing that scarf."
It's great to see that Kravitz can have a little fun with the meme, since he is right in that there's no sign of it dying down. In fact, it almost seems as though it becomes more popular every year, as sources such as E! News throwback to the moment every so often. Aside from publications throwing it back to the iconic fashion move, there are even more users on the interwebs who have made a joke or two about it.
Even though Kravitz did have a very relatable reason for wearing the oversized scarf, it doesn't seem like the internet will let him live down the instantly meme-able moment anytime soon.