Lesbian, Gay, & Bisexual Teens Are At Higher Risk Of Substance Use, A New Study Finds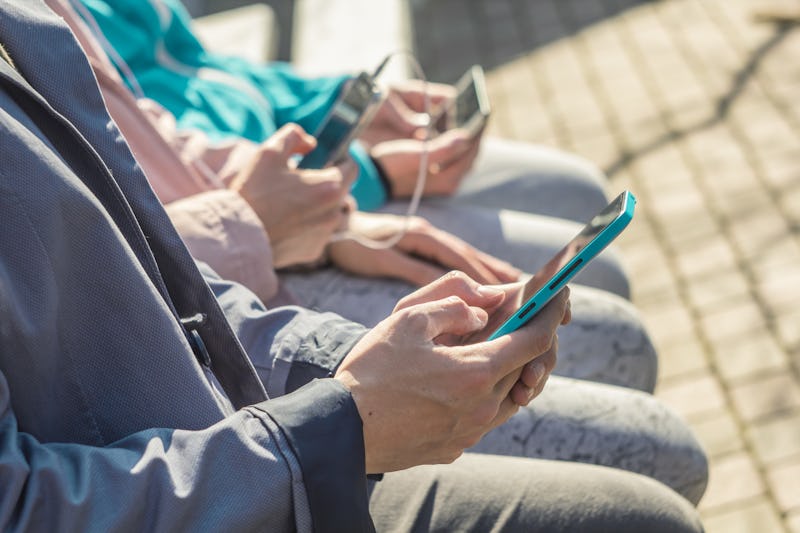 Oleksandr/Fotolia
According to a new study published in Drug and Alcohol Dependence, researchers from Oregon State University found that lesbian, gay, and bisexual youths are at a higher risk of substance use compared to their heterosexual peers. And not only are they more likely to use substances like alcohol, nicotine, and marijuana, according to researchers, but they're also more likely to use multiple substances at once. Why? The researchers suggest that higher substance use by lesbian, gay, and bisexual teens is due in part to the stress of the "discrimination, violence, and victimization rooted in their sexual minority status."
"This data shows definitively that polysubstance use is an issue among many youth who identify as sexual minorities, meaning they are facing added health risks," Sarah Dermody, an assistant professor in the School of Psychological Science in Oregon State University's College of Liberal Arts, said in a news release. Those health risks, Dermody said, include addiction and poor cognitive, social, and academic function.
For this study, researchers focused solely on teens who identify as lesbian, gay, or bisexual, analyzing the results from the Centers for Disease Control's 2015 Youth Risk Behavior Surveillance System and the 2015 national survey of more than 15,000 youth, according to the news release. While Dermody found there are quite a few teens who don't use any substances at all, among those who do, lesbian, gay, and bisexual teens were at the highest risk of substance use. "The findings suggest that it may be good practice for health care providers who serve these youth to do assessments for substance use as part of regular health screenings," Dermody said.
Dermody's findings support past research. According to the National Institute on Drug Abuse, lesbian, gay, and bisexual teens are 90 percent more likely to use substances than heterosexual teens. And as those teens become adults, that substance use continues, with nearly 40 percent of LGB adults using substances compared to 17 percent of heterosexual adults, NBC reports. So why is substance use so much higher in the LBG communities?
"Higher levels of stress can lead to substance abuse and mental illness," Dr. Eric Yarbrough, director of psychiatry at Callen-Lorde Community Health Center in New York City, told NBC News, "and sexual minority adults have often faced rejection, whether from their families, from religious organizations, or through other forms of discrimination. Sometimes they even turn to alcohol or drugs to self-medicate."
What is encouraging, though, is that researchers are starting to pay attention to communities that are in dire need of support
According to the CDC, LBG teens experience violence and discrimination much more than their heterosexual peers. In 2015, says the CDC, 34 percent of LBG teens were bullied on school property, 28 percent were bullied electronically (i.e., through texting or social media), 23 percent had experienced sexual dating violence, 18 percent had experienced physical dating violence, and 18 percent had been sexually assaulted at some point in their lives.
What this new study shows is not a lot has changed for the LGTBQ communities. What is encouraging, though, is that researchers are starting to pay attention to communities that are in dire need of support.
"Organizations have already started addressing this issue by calling for more research and more education for health care providers," Dr. Yarbrough said to NBC News. "Addressing health-related issues that affect the LGBT community is not really taught in medical school or in residencies. Sometimes all you get are two hours of training and that's it. At the very least, health care providers must graduate with a high level of education on these issues."