Leslie Jones' Commentary On Ice Dancers' Outfits Will Make You Laugh So Hard, You'll Cry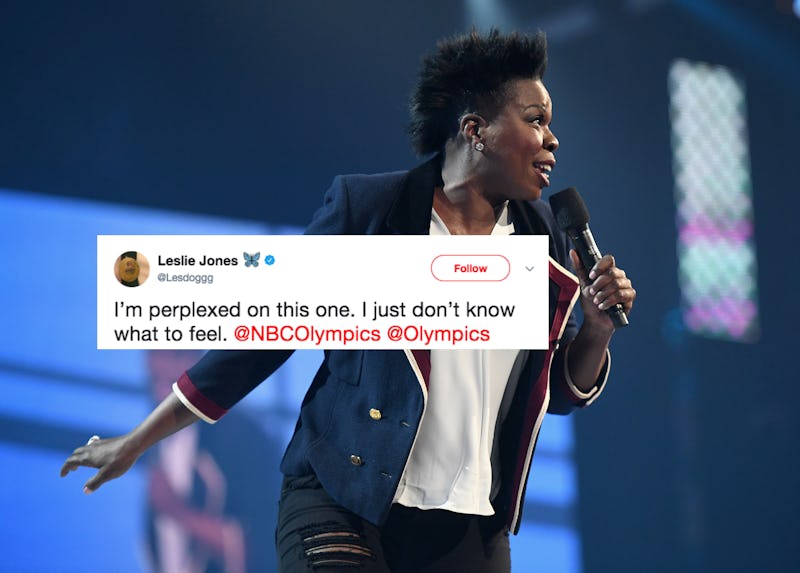 Paras Griffin/Getty Images Entertainment/Getty Images
The only thing more entertaining than watching incredible athletes twirl and jump in the air during the figure skating events at the Olympics is listening to the commentary that accompanies them. Yes, Tara Lipinsky and Johnny Weir are fantastic at providing interesting facts and the perfectly excited atmosphere, but Leslie Jones' ice dancing tweets are really where it's at.
The SNL comedian has been offering up the funniest comments of the Winter Games so far, with fans refreshing her Twitter feed during the events just to see what she has to say. Tonight, Jones is back to acting as the fashion critic of the figure skating world, and her Olympics ice dancing tweets are hilarious.
Jones has been commenting on the fashion choices of the figure skating and ice dancing competitors for a few days now, but it's definitely not a routine that's going to get old any time soon. The sparkly, over-the-top outfits on the athletes are a huge part of the event, and Jones manages to tweet exactly what you're thinking on your own at home — except her thoughts are a lot funnier (no offense). It's hard to focus on the jumps and the technical movements when Jones is making it all about the fashion, but we're definitely not complaining.
So far, tonight's ice dancing ensembles have been, well, pretty elaborate. They're colorful, they're full of cut-outs, and they're embellished. Jones definitely isn't afraid to call them out on it, either:
Next up was a neon outfit that left Jones feeling totally confused... and actually, we get it. She says, "It's like when you see someone in an outfit, and you wanna say you like it, but you hate it, but you do like it... like I like the colors, but I don't know..." Sounds weird, but we do get it.
The below got Jones' seal of approval ... almost.
Okay, this tweet where Jones offers up her stylist has to be one of her funniest tweets from the entire Winter Games:
Here, Jones approves, and she also tells a quick story about she thinks the male figure skater walked in front of the camera while she was filming over the weekend.
We love the creativity behind this outfit. But we also love Jones' tweet about it:
She doesn't mind this one! That's a pretty big compliment from Jones tonight.
We loved her fashion commentary all night, but Jones had opinions on things other than just what the ice dancers were wearing. Like the below tweet, where she voiced what we were all thinking at home: why did every single ice dancer skate to "Despacito?!" She makes such a good point - there are so many other Latin songs they could have chose from! "Despacito" is a great song, don't get us wrong, but hearing it over and over again in a short span of time was a little bit too much. At least Jones agrees!
She also sent out this hilariously random tweet about her Olympics crush. Apparently, Jones met Terry Gannon when she went to PyeongChang, and she admits she thinks she has a "slight crush" on him. Jones got bold and even tagged him in the tweet. This is the kind of confidence we're all trying to have.
Ice dancing is always a fun event to watch, but Leslie Jones really made tonight's event stand out. We're hoping she'll be doing the same with the rest of the events during the Games this year - and if she isn't back for the 2020 Winter Olympics, well... we don't really know how we're going to get through it!