St. Patrick's Day Parades Need To Be Inclusive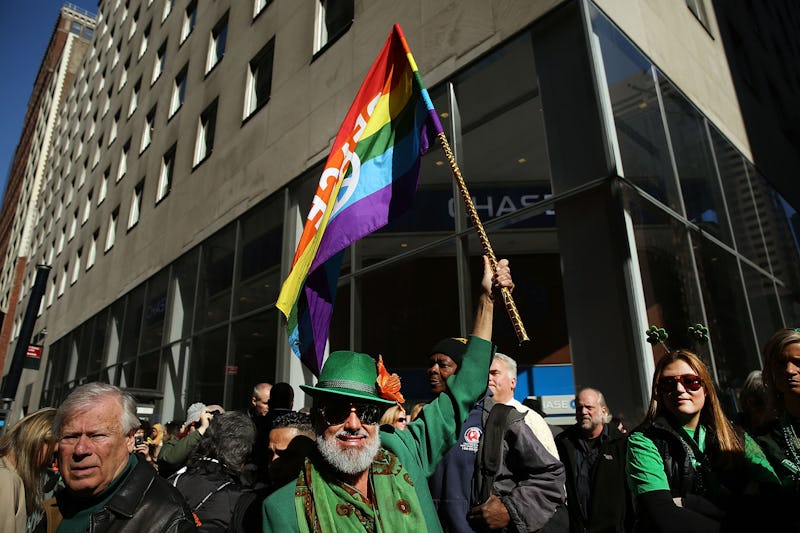 Spencer Platt/Getty Images News/Getty Images
Two years ago, two openly gay organizations marched in the Boston St. Patrick's Day parade for the first time in its history, ending a decades-long, controversial ban that had previously kept them from participating. Now, the organizers of the Boston St. Patrick's Day Parade are telling one LGBTQ group to stay home this year — and it's all because of a multicolored rainbow patch in the group's logo.
OutVets, a coalition of LGBTQ veterans, has been banned from participating in the parade this year after organizers voted 9-4 to exclude them. That's because a rainbow logo that is used in the organization's banners and flags is a violation of the parade's code of conduct, which states that any "advertisement or display of one's sexual orientation" is not allowed at the event.
Although the group had already marched in the parade for the past two years with the same logo, organizers told the group, unexpectedly, that they had been breaking the rules by doing so, according to the New York Times.
Despite the 2011 repeal of the controversial "don't ask, don't tell" policy in the U.S. military, the Boston St. Patrick's Day parade apparently didn't get the memo, and still keeps a similar archaic policy in the books.
Organizers insist that individuals of all sexual orientations are allowed to participate in the event — just as long as they don't announce their status, because it "deters from the basis of which this Parade has been celebrated historically." The parade was founded as a celebration of Irish heritage, organized by Irish-Americans with a strong Roman-Catholic influence.
As you can imagine, this hasn't gone over well in the Boston community. Local politicians have expressed their outrage, with many even vowing to skip the traditional parade that will be held on March 17, including Mayor Martin J. Walsh.
This isn't the first time the parade has faced backlash over its anti-gay policies. In 2014, New York City Mayor Bill DeBlasio famously broke with tradition by refusing to attend the city's parade because of its exclusion of LGBTQ Americans. The first LGBTQ groups marched the following year, but, given the new ban against OutVets, controversy doesn't seem to be dying down anytime soon. Several parade sponsors have started rescinding their contributions, and OutVets representatives are speaking out against the policy.
"They are stuck in this arcane time in history," Bryan Bishop, founder of OutVets, told the New York Times.
The Boston Globe has reported that the organizers of the Boston St. Patrick's Day Parade will hold an emergency meeting on March 10, just a week before the parade date, to reconsider the ban against OutVets.