LGBTQ People Are Also Silence Breakers. Listen When We Say #MeToo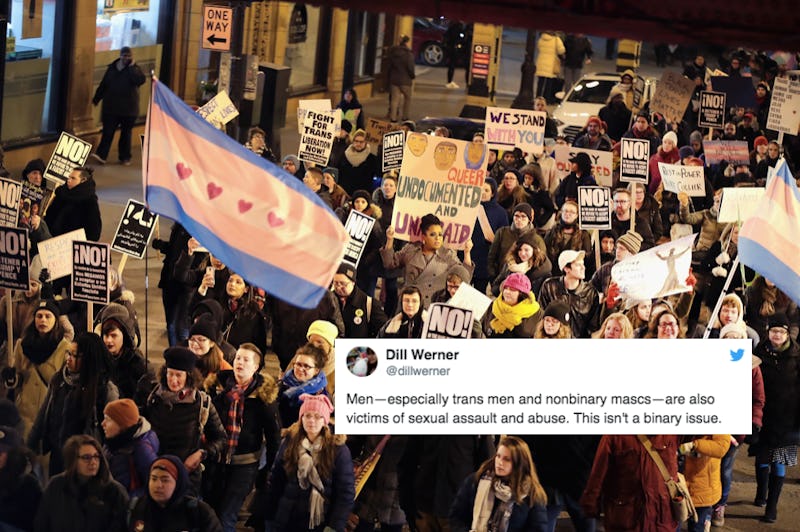 Scott Olson/Getty Images News/Getty Images
Last week, TIME revealed its Person of the Year 2017 to be the "Silence Breakers," a collective title for the people driving the #MeToo movement. In its accompanying piece online, TIME briefly drew attention to something every transgender person is likely already highly aware of: "47 percent of transgender people report being sexually assaulted at some point in their lives," the piece says early on, citing the National Center for Transgender Equality. According to RAINN, cisgender women have a one-in-six chance of being sexually assaulted, and cisgender men have a one-in-33 chance.
It is of the utmost importance that we hear from women who are frequently powerless. The people who are quoted in the main body of TIME's Person of the Year story comprise a diverse group featuring women like hotel housekeepers and migrant workers alongside activist and #MeToo creator Tarana Burke, and celebs including Taylor Swift and Rose McGowan. The piece also quoted from director Blaise Godbe Lipman and featured a photograph of activist Sarah McBride, who are both LGBTQ, in print. But as we continue to discuss how to move the #MeToo movement forward, let's remember that there are other voices that have also been underrepresented — and we need to start listening to them, too.
Critiques of the #MeToo movement have called out the fact that "the centering of cisgender women's experiences of harassment and assault excludes and arguably erases the lived realities of those whose gender identity and expression leave them at their most vulnerable," as Meredith Talusan wrote for them in October 2017. We cannot address sexual assault without recognizing that 37 percent of bisexual men have been raped; that 26 percent of gay men have been raped; and that 46 percent of bisexual women have been raped, with 48 percent of them experiencing that sexual assault between the ages of 11 and 17, according to the Human Rights Campaign. And plenty of members of the LGBTQ community have sought to add their voices to this movement, which has flourished across the great equalizer of the internet.
Even advocates who have emerged as the de facto leaders of the #MeToo movement, since its original creation by Burke, have been criticized for overlooking marginalized perspectives. In October, #MeToo advocate McGowan (who is featured prominently in TIME's piece) tweeted asking Ellen DeGeneres to "speak for women as well plz" when DeGeneres tweeted about gay and trans people's lack of rights in Mississippi. The implication of McGowan's tweet, intended or not, is that no trans or gay people are women, which is just blatantly, objectively false. We have to remember too that there are other groups that are disproportionately impacted and have not been as present in the larger conversation about sexual harassment. Sex workers. Disabled people. Trans people. And people who exist at the intersections of many different, diverse identities, for whom representation is a rare and radical thing.
Here is the core of it: #MeToo began as a movement against men who have long preyed on vulnerable people. It is a movement against the culture of silence, the culture of deal-with-it-if-you-want-to-keep-your-career, the culture of "they let you do it." But it is not a women's movement. It is not a movement exclusive to straight, cisgender, female survivors, and therefore, the voices that represent it cannot primarily feature straight, cisgender, female women.
If you think it is, if you think it should be, too bad. Because #MeToo. #MeToo, from a nonbinary trans person. #MeToo, from a biromantic asexual person. #MeToo. I am one of millions of queer and trans people who has been sexually assaulted. I am one of millions of people who too often see their experiences, their rightful part in #MeToo, distilled down to a single cited statistic: 47 percent of transgender people say they've been sexually assaulted.
Like millions of other trans people, I am speaking out about my experiences. I have spoken out before, using #MeToo and other hashtags. And each time I do, I wonder before I hit send on my tweet or post on my Facebook if someone will show up in my mentions or comments accusing me of "taking the spotlight off women." Until people as a whole recognize and embrace that a meaningful conversation about sexual assault cannot be constrained to only supporting heterosexual, heteroromantic, cisgender folks, trans and queer people are stuck on the outside.
Listen to us when we speak. We're silence breakers, too.
If you or someone you know has been sexually assaulted, call the National Sexual Assault Telephone Hotline at 800-656-HOPE (4673) or visit online.rainn.org.