Liam Payne Is Tired Of Being Romantically Linked To Any Woman He Spends Time With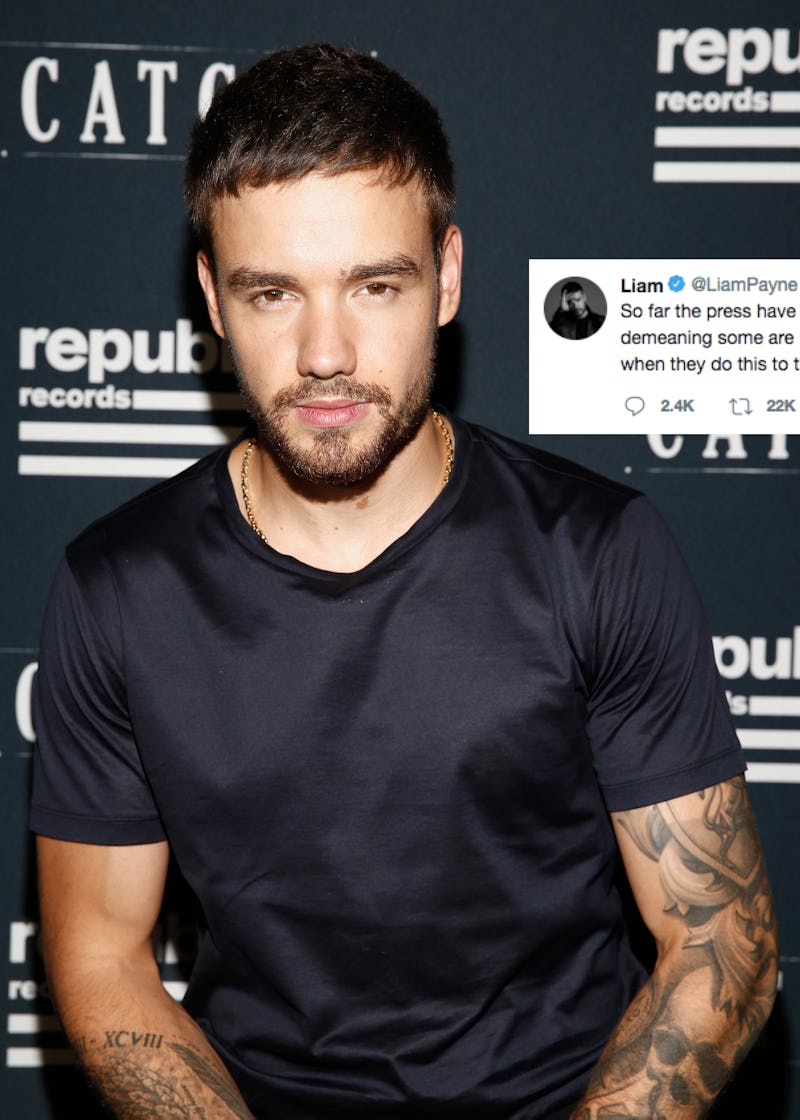 Brian Ach/Getty Images Entertainment/Getty Images; Liam Payne/Twitter
The work that women do can often be devalued, and one singer is taking a stand. Liam Payne is sick of sparking dating rumors with the women he works with, and tweeted that overall women deserve more respect. The tweets were in response to a story published in the U.K.'s Daily Mail, featuring a picture of Payne arriving at the Rosewood Hotel in London with his team. The publication called his staff member a "mystery girl," insinuating the star was involved with the employee romantically. This isn't the first time a photograph has started a relationship rumor, and the singer took to social media to demand better for the women he works alongside.
On Sunday, Payne called out the press in a short Twitter thread. In response to the initial story, he wrote,
"My team is full of talented, smart professional women. I find it wrong that they are reduced to being linked to me romantically in the press just for simply standing next to me. Isn't it time we treat women with a bit more respect?"
He continued by pointing out that he was sick of this trend, which inadvertently diminishes the work that his "talented, smart professional" employees do. Payne wrote in a follow-up tweet,
"So far the press have done this with every female member of my staff it's demeaning some are in relationships and it complicates there work environment when they do this to them ... I think it stops here."
Bustle reached out to the Daily Mail for comment on Payne's tweets, as well as their story, but did not receive an immediate response.
The former One Direction star's frustration is understandable. It's unfair for women's identities to be reduced to the men they spend time with, especially when they're in a professional space. The article in question also seemed to pry into Payne's personal life, speculating on the circumstances of his breakup and current relationship status. In July, Payne split from Cheryl, his longtime partner, with whom he has a son named Bear. The couple confirmed their separation on social media.
At the time, Payne asked for the press and fans to respect his privacy during the difficult time for the sake of his son. He wrote,
"Cheryl and I are sad to announce that we are going our separate ways. It's been a tough decision for us to make. We still have so much love for each other as a family. Bear is our world and we ask that you respect his privacy as we navigate our way through this together."
After Payne's latest tweets, his fans agreed that it was unfair for the women he worked with to be treated this way, and they were supportive of his message.
Another fan responded that they did not believe the gossip and thanked him for standing up for his team, writing:
There were plenty of other responses praising Payne as well, with most calling for the press to be more respectful of the star's privacy, as well as that of his team.
It makes sense that Payne would speak out against rumors, given how tabloids have consistently mischaracterized his relationships with women he works with. Next time, a publication may think twice before publishing romantic speculation about the star. It's clear these stories impact more than just Payne, and it's admirable for him to look out for the well-being of the women he surrounds himself with.