The Writers Of Lifetime's Harry & Meghan Biopic On Their Favorite Feminist Meghan Moments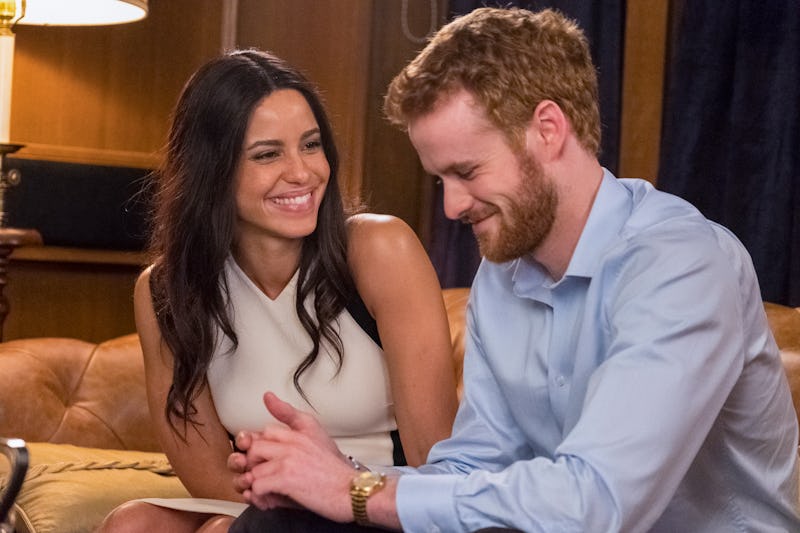 Courtesy of Lifetime
The courtship between Prince Harry and Meghan Markle has been quite the blockbuster affair, and in addition to their nuptials being broadcast for the world to see on May 19, the happy couple is getting their very own Lifetime movie. But with so many memorable moments in the couple's courtship, how do you decide what to include? According to screenwriters Scarlett Lacey and Terrence Coli, it was important that their script for Lifetime's Harry & Meghan: A Royal Romance embraced Meghan Markle's feminism.
"I think it's one of the many reasons why she's such a huge success, even within the family, because she knows when to be vocal, and she knows when to be gracious," Lacey tells Bustle at a recent event at The Peninsula Beverly Hills. "I think she knew she could do more to empower women from the position of being part of the royal family."
While researching Prince Harry and Markle for the film, Lacey and Coli found themselves inspired by the portrayal of Queen Elizabeth II on Netflix's The Crown and Markle's 2015 U.N. Women's Conference speech on gender equality. It was that video that informed several scenes in A Royal Romance, including the dramatization of the couple's first argument in the movie.
"When I saw that Meghan had given this speech at the U.N. as an advocate for the empowerment of women and leadership, I was like, holy crap," Lacey says. "That's going to have to have come up in their interactions and what is her role going to really be? So that's actually where we had one of their arguments. What does it mean to be a princess? As we know, she's going to be a duchess, but the idea of what's a woman's role [still resonates]."
In the 2015 speech, real-life Markle recalled feeling discouraged by a dish soap commercial that implied only women should be concerned with washing dishes when she was 11 years old. She detailed how her father encouraged her to write letters to the company, as well as powerful figures such as then-First Lady Hillary Rodham Clinton and Nick News journalist Linda Ellerbee. It led Markle to an appearance on Nick News, and the soap company eventually changed the wording of the commercial to include both men and women.
Eleven-year-old Markle's Nick News appearance also served as a source of inspiration for A Royal Romance's portrayal of her, but Lacey and Coli lamented that they weren't able to include it in the movie. "I wish we could have used the real footage of Meghan, aged 11, speaking truth to power because to me, Harry must have seen that at some point, and I'd love to have seen Harry watching that because you so rarely get to know who your beloved was at that age," Lacey says.
Lacey and Coli are both writers on the E! TV series The Royals who teamed up to write A Royal Romance for Lifetime soon after Markle and Prince Harry's November 2017 engagement announcement. Lacey and Coli wrote the script within two weeks, drawing information and inspiration from many sources, including Markle's former lifestyle blog The Tig, and Prince Harry's appearance in the BBC documentary 7 Days about Princess Diana's death.
Lacey, who is British, also drew on her real-life experience with the royal family. During a panel at The Peninsula Beverly Hills event, Lacey recalled how she attended the same polo and croquet matches as Prince Charles and Princess Diana during her childhood. "Growing up in Britain as a young girl, and rubbing shoulders with that young crowd, I knew it was going to be really tricky for [Markle]," Lacey says. "She's so strong and yet so gracious and I was excited to try to put her into the world that I grew up with to sort of see how she's gonna react to those inevitable moments."
While those moments may be fictional and dramatized in A Royal Romance, it sounds like the screenwriters took inspiration from a lot of real-life sources. We'll see how the Lifetime versions of their real-life counterparts fare when A Royal Romance premieres on May 13.