If You Have Big Boobs, You Need To Check Out This Swimsuit Line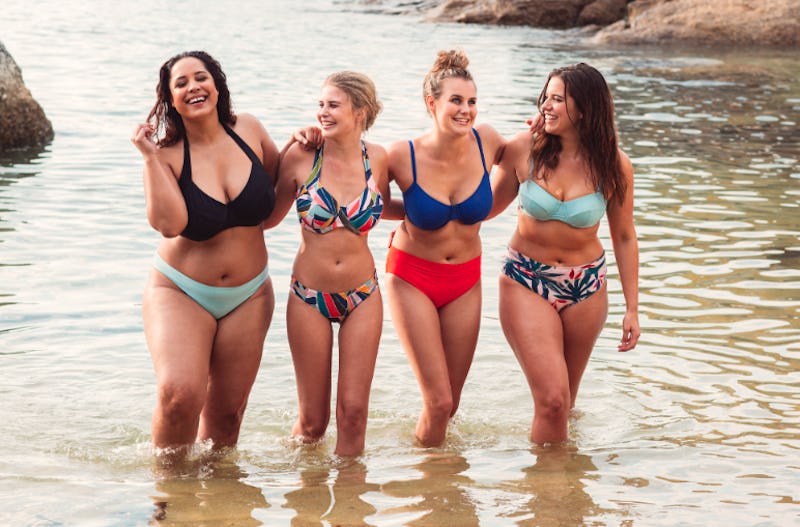 Although I generally tend to think that the best way to get a bikini body is to have a body and a wear a bikini, there's no denying that shopping for swimsuits for big boobs can be a daunting task. As cute as low-backed one-pieces are, they're not exactly practical if you're a D cup or bigger. That's why I'm always so excited to see lines like Lilly & Lime, a swimwear company designed solely for D+ cup chests.
Emma-Jane Hughes and Ashleigh Hill created the swimwear line in 2016 because they saw that women with large chests were underserved by the swim market in general. They tried and failed to find stylish, supportive suits, so Lilly & Lime was born. The company's 2017 collection is full of tropical prints and even more styles and sizes than before, which will be music to the ears of people who have struggled to find suits that fit their chests.
So what's the size range of Lilly & Lime suits? Cup sizes in the tops range from 28D to 38HH, and bottoms from sizes 4 to 14. All the pieces are sold separately, which helps you ensure you get the perfect fit no matter what your measurements are. And the best part? These suits are seriously cute.
This is Lilly & Lime's classic underwire bikini, which is available in full-cup, underwire halter, and balconette styles. The bottoms come in a bunch of different patterns, and are available in bikini and high-waisted styles.
The new collection also includes some new styles, like this adorable tankini.
I'm dying over this one-piece as well — love the stripes.
Finally, how cute is this mesh one-piece? It's designed to wear a bandeau under, and I love the sheer but supported look. The entire summer 2017 collection isn't available on the Lilly & Lime website yet, but stay tuned to see when it's added — I know I will be.
Check out the "Style Inspo" stream in the Bustle App for more stories just like this!