Lilly Singh Didn't Become A Boss By Waiting For Permission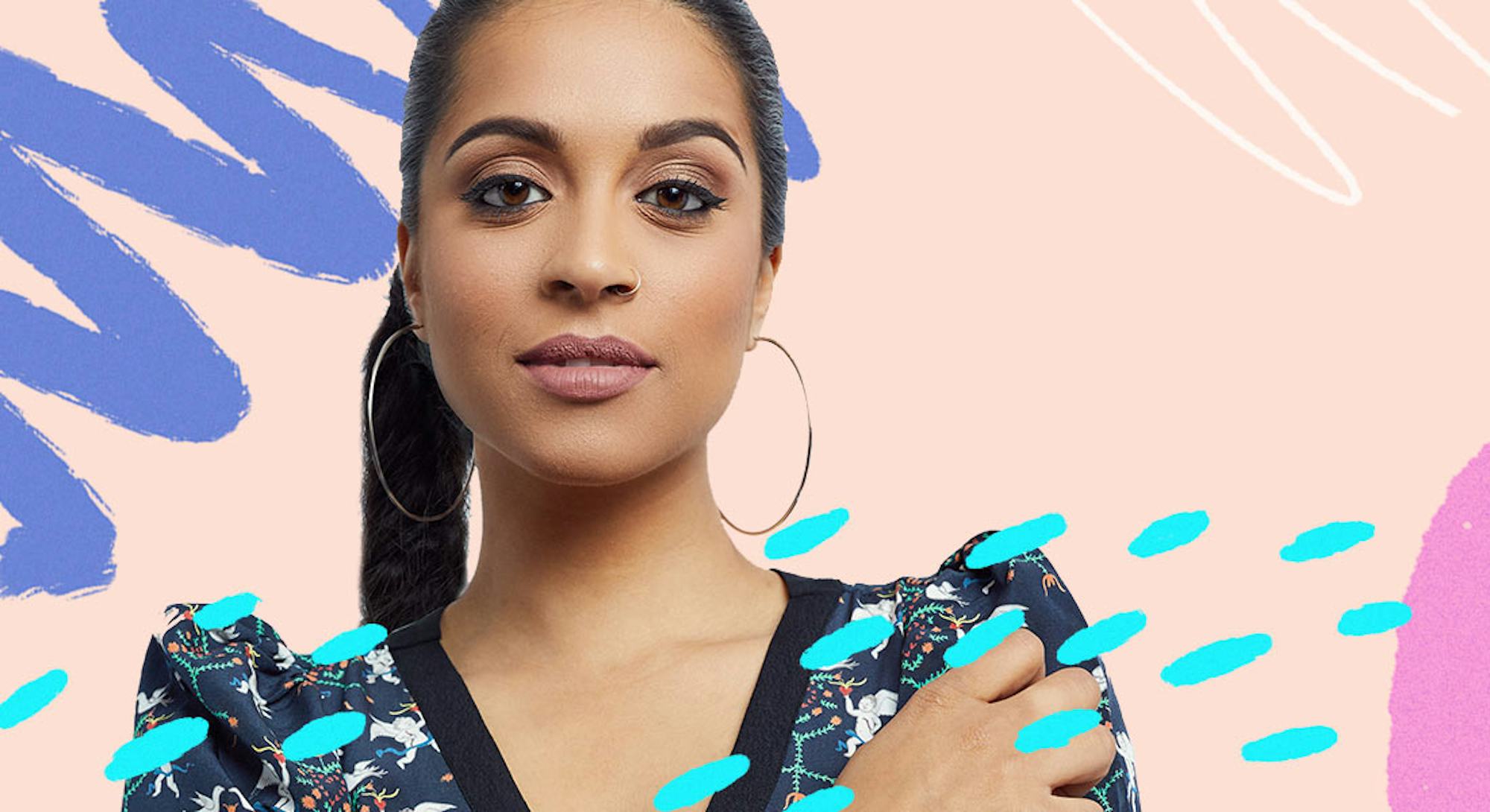 Photo: Ashley Batz/Bustle; Design: Bry Crasch/Bustle
Throughout July, Bustle's Comedy IRL package is featuring photoshoots, profiles, and stories of the women in comedy who are using their craft to elevate female voices and speak out on important issues. Comedy is powerful as hell, and we're toasting the women who prove it. Check out the whole package here.
Lilly Singh is waiting patiently for a cup of tea. With her hair pulled back into a tight braid, her heather grey winter coat wrapped around her, and a polite, warm smile on her face, Singh more closely resembles an executive at booming startup somewhere in Brooklyn than a YouTube star. She's relaxed, yet her command of the room is apparent. This woman is a boss.
This persona is quite different from that of her goofy YouTube personality, iiSuperwomanii, who uses her host of characters (her parents, brother, and a stylized version of herself) to get real about tough issues and relatable topics ranging from things every woman does, to what it would be like if dudes got their periods, to touchier stuff like how racism works. In her most recent series-within-a-series — created thanks to demand from fans who adore Singh's loving impressions of her Indian-immigrant parents — pits her "parents" against popular, often highly sexual music videos.
Singh's iiSuperwomanii woman burst onto the VOD comedy scene in 2010 and now boasts 11 million subscribers, 6.6 million Instagram followers, and the number three spot on Forbes' list of the highest paid YouTubers (this also makes her the highest paid woman on YouTube). iiSuperwomanii was not so patient, leaping into the comedy world via its least traditional (and in many cases least respected) medium. And while fans of Singh have likely heard the story of her starting her YouTube channel as nothing more than a way to cheer herself up, they may not know just how impatient and unrelenting Singh has had to be in order to be taken seriously outside of the YouTube space.
"When I started YouTube in 2010, it was much worse. No one really knew what YouTube was or if it would stand the test of time," she says, when we speak in February at Bustle HQ. The tea has since arrived, but she's now waiting patiently for it to reach an acceptable temperature. "Still, every day in my career there's hurdles of traditional Hollywood taking what we do seriously."
Singh laments that while brands and executives now know the worth of her devoted audience, many of them want to leverage that group without recognizing how much work it takes to create that fanbase. Because while, sure, making YouTube videos is fun, it's also a full time job for Singh. You don't earn millions of dollars a year, a book deal (for her debut How To Be A Bawse, naturally), and millions of devoted fans who hang on your every word without putting in some elbow grease. Singh's videos are highly produced, scripted, and even to the average viewer, created with great attention to detail. And that's not even taking into account everything else she does to maintain her brand.
"I always say I didn't want a nine-to-five job and now I have a 24/7 job," she says, laughing for a moment before getting back to business. "I think people see a five-minute video and think it takes five minutes to record, but it is a lot of work. I do two script pieces of comedy a week and a daily vlog, so it's nine videos a week. It's exhausting."
All that exhausting work has started to pay off though, beyond the traditional dollars and cents. Despite Hollywood's stubborn stigma about YouTube stars, Singh is once again shirking her patient side and busting on through. Her yearly "12 Collabs of Christmas" (she teams up with other YouTubers and Hollywood celebs to create a string of new videos for the holiday season) have seen high profile celebs like Gina Rodriguez and The Rock cross over into the YouTube space, and in turn, helped break down that wall a bit.
"It's way easier for me to connect with these people because I think they respect the digital space a lot more now. So now I can message Charlize and say 'Charlize, I'm doing something'" — she pauses to clarify that this Charlize is indeed Charlize Theron — "'I need you to do something for me, can you do it?' and she'll be like 'yeah, sure.' There's just that mutual respect that I think is way more evident than previously before."
Things are definitely changing, Singh notes, and not just between her and high profile celebs. The industry is starting to follow, and by industry, I mean money. In 2016, a study by Advertising Perceptions found that 38 percent of marketers planned to pull money from their broadcast television budgets to pour money into marketing to audiences on digital platforms like Hulu, Facebook, and oh yeah, YouTube. Tl;dr: Digital video is becoming increasingly profitable and with that, hopefully comes overdue recognition of the creators who pioneered it.
"We're still kind of fighting this battle, but I feel really optimistic and excited right now," she offers. "I feel like less and less I'm having to define myself as a digital creator versus a traditional creator, I feel like those definitions are gonna be obsolete pretty soon, I feel like it's just going to be 'content creators.'"
Of course for Singh, once the stigma dragon is slayed, there's another one behind it that she's got her eye on: "I want the conversation of sex and race to be over."
In fact, in Singh's videos, she seems to be striving for that world already. At no point in her videos does she roll in declaring "it's about time we get our spotlight, ladies." In fact, in one of her most popular videos ever, "Girls On Their Periods." she explains the monthly chore to the men out there, not as if doing so is revolutionary, but as if these dudes are seriously behind on the times for not knowing all about the "game of God of War down there."
And as someone who says she started out being unrelentingly referred to as "the Indian girl on YouTube" it would make sense that she's kind of had it with her race or her gender always being focus points. "I want [the industry] to be so diverse in every aspect where people forgot that conversation was even a thing and people no longer feel the need to bring it up all the time because, of course it's such an important issue, but I'm just like, why is it still an issue?" she says. "No more like, congratulations you had a role and there was someone who was diverse, we're gonna give you an award now. Like, it should be common sense."
And as she sips her tea, after having waited for the moment to be just right, Singh seems confident that the time for that conversation to be long forgotten is not only possible, but imminent. She's tired of waiting for it.