Lily Collins Dyed Her Hair BLONDE & The New Look Is A Total Classic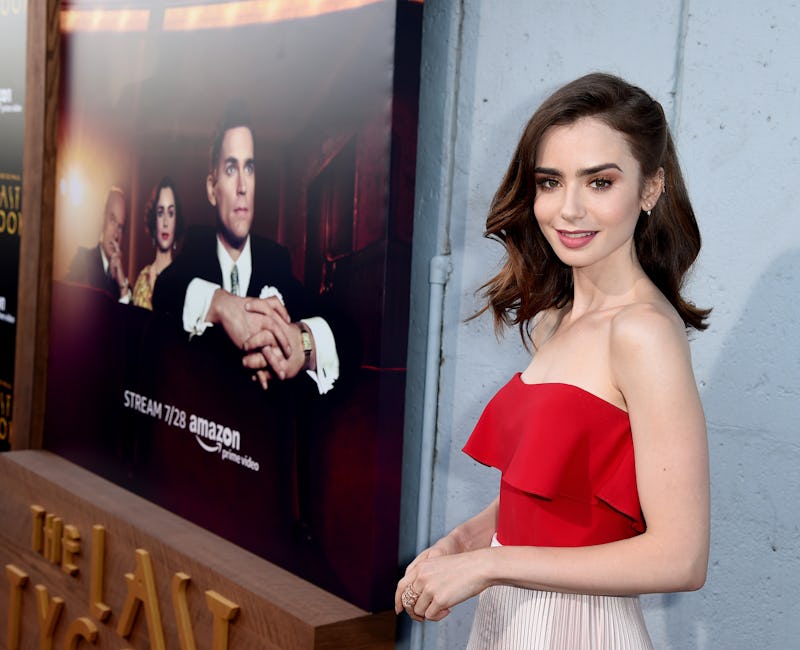 Kevin Winter/Getty Images Entertainment/Getty Images
"Not sure if it's the blonde or this city, but I really am having more fun..." wrote actress Lily Collins when she debuted her new blonde hair on Instagram on Thursday. The 28-year-old swapped her usual brunette locks for a fresh blonde look, but kept her thick, trademark eyebrows the same dark brown color.
With "likes" climbing upward to 1 million on her Instagram post, commentators have compared her to Daenerys Targaryen from Game of Thrones and Selena Gomez, another celebrity who traded her dark brown hair for creamy "Nirvana blonde." Fun fact: Emilia Clarke, the actress who portrays Daenerys Targaryen, is also a natural brunette.
This isn't the first time Collins has shaken up her look. In 2016 Collins dyed her hair cherry red for her role as an extreme activist in Okja, a Netflix original movie. "Too many colors in the rainbow to stay the same," she captioned the Instagram post where she first revealed her short, wispy red hair. She immediately went back to brown after the filming, though. "I've kind of lost track of my natural color," Collins said in an interview with The New York Times. "I just got back to brown from watermelon-red. That was for a role. I was shooting a movie in Korea, and my character's name is Red. It's nice to be back to brown because I know the makeup colors that work."
Other than coloring, Collins said her hair goes through a lot of changes, such as curling her hair for period pieces. Detailing her favorite hair products and beauty regimen to The New York Times, Collins said she uses a mix of Kératase and Bain Force for care and repair. For extra volume she reaches for She Uemura Fiber Lift. And when it's been a couple days without a wash, Collins is a fan of Oribe hair sprays, including beach spray and dry shampoo.
On the red carpet, Collins likes to experiment with her appearance, whether it's a classic Audrey Hepburn look, a messy lob, or a sleek middle part. "Romantic" tends to be her style sweet spot and she's not timid when it comes to dark lipstick.
The fashionista also makes regular front-row appearances at Fashion Week. Here she is in October 2017 at Givenchy's Paris Fashion Week show with a delicate updo, dewy face, and semi-sheer silk dress.
But acting is what Collins is best known for. This year she had roles in two major indie film hits. Along with Bong Joon-Ho's action-adventure film Okja, a Cannes Palme d'Or nominee, Collins starred in Netflix original movie To the Bone directed by Marti Noxon. Collins portrays the main character, a 20-year-old college dropout who is battling anorexia. The Los Angeles Times film critic Justin Chang praised her subtle performance. At the film's Sundance premiere, Collins went public about her own history with eating disorders.
In January Collins was nominated for a Golden Globe for Best Actress in a Musical or Comedy based on her performance in Rules Don't Apply. The Warren Beatty flick features Collins as a small-town beauty queen, devout Baptist, and aspiring actress working for eccentric billionaire Howard Hughes while in a forbidden romance with one of Hughes's employees.
The British-American actress, daughter of musician Phil Collins, is currently filming Tolkien, a biopic of author J.R.R. Tolkien where Collins with play Tolkien's wife alongside Nicholas Hoult as the titular character. The film chronicles Tolkien's return from World War I, an event which would serve as inspiration for The Lord of the Rings. Collins's character, Edith Tolkien, would also serve as inspiration for characters in Tolkien's books.
Outside of acting, Collins advocates for positive body image and anti-bullying. She serves as the first celebrity ambassador for Bystander Revolution, an anti-bullying organization.