Lin-Manuel Miranda Rips Trump For Trashing San Juan's Mayor: "You're Going Straight To Hell"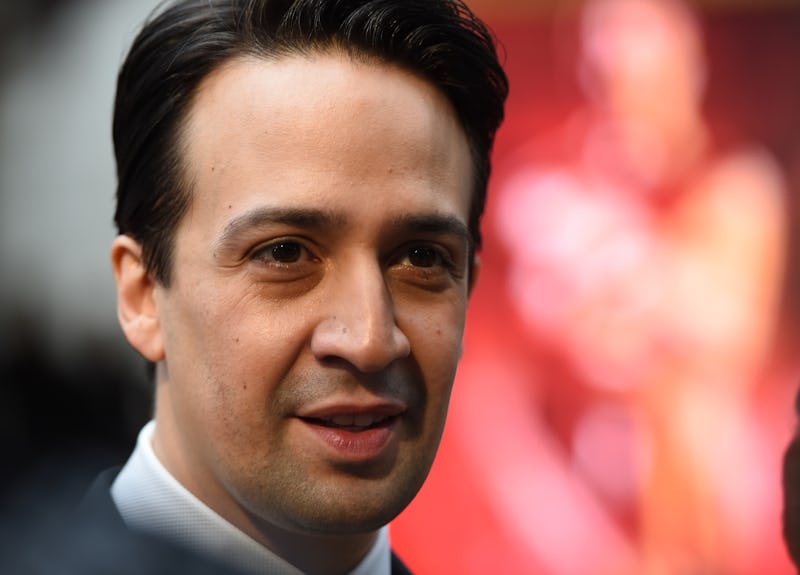 ROBYN BECK/AFP/Getty Images
President Trump set off a firestorm of controversy on Saturday after he attacked the mayor of Puerto Rico on Twitter as the island struggles to recover from Hurricane Maria's devastation. Millions of residents have limited access to food, water, shelter, and electricity, and Trump saw it fit to criticize San Juan Mayor Carmen Yulín Cruz's "poor leadership" as he heads to his golf resort this weekend. The backlash was swift, and one Puerto Rican celebrity had some particularly strong words in response. Hamilton creator Lin-Manuel Miranda said Trump will go "straight to hell" for his remarks in a fiery tweet storm that criticized the president's leadership.
"You're going straight to hell, @realDonaldTrump. No long lines for you," Miranda tweeted on Saturday morning. "Someone will say, "Right this way, sir." They'll clear a path."
Miranda, who has been actively fundraising and raising awareness for Puerto Rico in recent weeks, didn't stop there. "She has been working 24/7," he continued. "You have been GOLFING. You're going straight to hell. Fastest golf cart you ever took."
Both of Miranda's parents were born in Puerto Rico, and he has been urging his millions of Twitter followers to donate to relief efforts in the area. He has also stated that he has been reaching out to "every famous Puerto Rican singer I know and several I don't" to raise money for the island.
President Trump has been criticized for what many have called a delayed response to Puerto Rico's relief efforts, which some argue have been much different from the President's concerned response to similar recent natural disasters in Houston, Texas, and Florida. In a tweet sent last week. Trump seemed to almost blame Puerto Rico for the devastation it is currently enduring.
"Texas & Florida are doing great but Puerto Rico, which was already suffering from broken infrastructure & massive debt, is in deep trouble," the President said on Sunday. He continued, "It's old electrical grid, which was in terrible shape, was devastated. Much of the Island was destroyed, with billions of dollars owed to Wall Street and the banks which, sadly, must be dealt with."
Despite these comments on the desolation of the island — which seemed to depict the Puerto Rican relief effort as more of a burden than anything else — the Trump administration continued to insist that they were responding appropriately. Trump's acting secretary of Homeland Security, Elaine Duke, even called the administration's actions in the area a "really a good news story," a statement that provoked rebuke from Cruz.
"Maybe from where she's standing it's a good news story," Cruz told CNN on Friday. "When you're drinking from a creek, it's not a good news story. When you don't have food for a baby, it's not a good news story. When you have to pull people down from buildings — I'm sorry, that really upsets me and frustrates me."
Apparently, this remark sent Trump over the edge, leading to one of his infamous early morning tweet storms in which he attacked Cruz and other Puerto Rican officials. He even, somewhat bizarrely, suggested that Democrats are to blame for her criticism.
"The Mayor of San Juan, who was very complimentary only a few days ago, has now been told by the Democrats that you must be nasty to Trump," the President tweeted. He went on to say that Puerto Ricans "want everything to be done for them when it should be a community effort," despite the fact that the island could be without power for months and residents are running out of cash.
This isn't the first time Miranda has criticized Trump's leadership, but it's certainly his most fiery rebuke yet. His remarks will likely do little to change the President's mind about his response to Hurricane Maria, but Miranda is doing plenty on his own to offer assistance to the devastated island. He is urging his fans to donate to the non-profit Hispanic Federation, and is currently working with other celebrities on a charity single that is set to be released next month.