Lin-Manuel Miranda's Plea For Help In Puerto Rico Is One You Need To Hear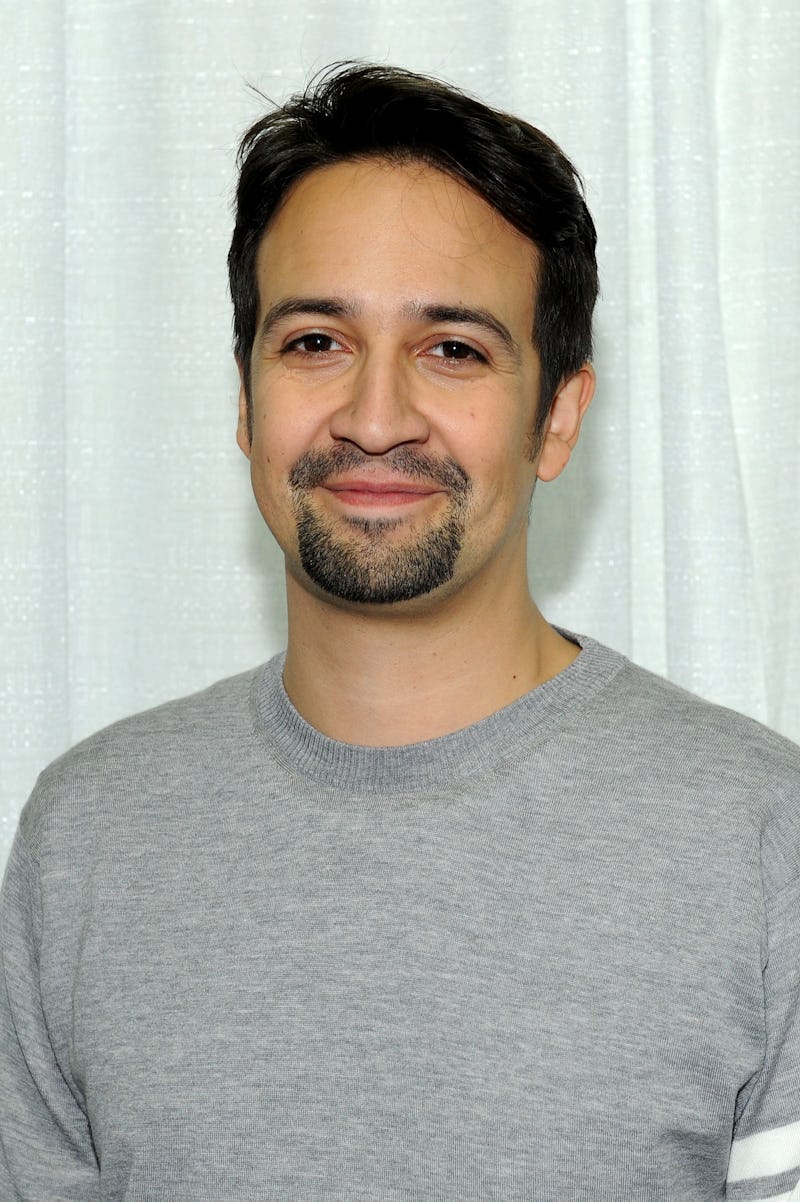 Craig Barritt/Getty Images Entertainment/Getty Images
On Wednesday, The Hollywood Reporter published a letter from Hamilton star Lin-Manuel Miranda asking for help for Puerto Rico following Hurricane Maria. It's been almost a week since the hurricane left the island in devastation. According to the Washington Post, the territory's 3.4 million residents are living without power, are lacking forms of communication, and have limited access to food, water, and fuel, among many other crises due to the horrific hurricane. Miranda is hoping others will hear the cries from his homeland and extend a helping hand to the millions in need, including his family members.
He begins his essay by writing about his cousins, Daniela and Camila, a prospective veterinarian and doctor, respectively, his Aunt Yamilla, his Abuelo Guisin's "wooden dream home," which is now destroyed, and his uncle's concrete home, which Miranda has dubbed "Noah's Ark" and which provided shelter to his loved ones. Thankfully, as Miranda writes, his "family is very lucky" compared to others who are also facing devastation. His description of what his family went through, alone, should open the eyes of many and persuade them to help in some way, shape, or form, but, if not, here is where Miranda's plea should really hit home. He writes:
I tell you my family's story to give you just a glimpse of what our island is going through. There are 3.4 million stories on this island, all struggling in the aftermath of this storm, and they need your help.
This letter isn't just about the three-time Tony winner's family, but everyone affected. As he points out, his family's story is just one of millions and shows only a small portion of what the island is going through. Puerto Rico is a U.S. territory, which is something many have forgotten about or gloss over. Miranda also writes, "Puerto Ricans need supplies and resources just as badly as their fellow Americans in Texas and Florida, and this need is magnified by their geographic isolation from the mainland."
There has been much controversy surrounding the Trump Administration's response to Hurricane Maria's aftermath. On Monday, White House Press Secretary Sarah Huckabee Sanders answered a question about the criticism the federal government has received for what many have deemed as a "slow pace of federal assistance." To that, she responded, "The federal response has been anything but slow. In fact, there has been an unprecedented push-through of billions of dollars in federal assistance that the administration has fought for." She later added, "Our focus is still continuing to be on the lifesaving efforts in the immediate disaster response efforts, which are still currently underway," before stating they are "still in that kind of fact-finding process" that will eventually "determine what additional funds are needed."
Donald Trump has also faced backlash for taking time to discuss how NFL players should be fired for protesting during games, rather than focusing on Puerto Rico's current troubles.
Like Miranda, there are other celebrities speaking out on behalf of Puerto Rico. For example, Jennifer Lopez and Marc Anthony, who are both Puerto Rican-American, launched a humanitarian disaster relief initiative on Tuesday. According to Entertainment Tonight, "Somos Una Voz (We Are One Voice)" is setting out to raise awareness and humanitarian aid for areas that have recently been affected by natural disasters, including Puerto Rico, Mexico, Florida, Texas, and more.
There are also other ways to help, as Miranda suggests in his THR piece, like donating to the Hispanic Federation. The organization is giving 100 percent of its donations to Puerto Rico recovery efforts. "With so much to be done and such great urgency before us, let's use our own winds of change to help Puerto Rico dig out and rise up," he writes. "Do it for Daniela and Camila and their dreams. Do it for your fellow citizens."
The Moana composer makes many great points throughout his letter, but if you take away anything from it, remember that Puerto Rico is currently filled with millions of American citizens who are desperately in need of relief.