Lin-Manuel Miranda's 2-Year-Old Painted Him & Gave Him Quite A Look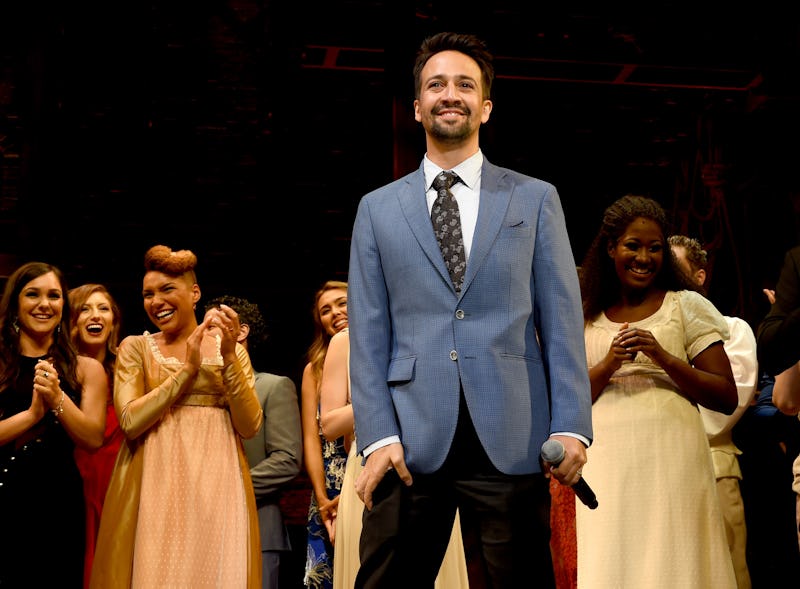 Kevin Winter/Getty Images Entertainment/Getty Images
The creator of Hamilton isn't the only one in his family who is artsy. Lin-Manuel Miranda's son painted him and the actor posted a photo of his artwork on Twitter. The picture was created "in collaboration with his teacher" and it highlights the Tony winner perfectly. Miranda also likes it so much that he made the painting his new profile pic.
When you think of Miranda, you may think of Hamilton, In the Heights, or just Broadway in general. He became one of the biggest figures in the theater world after Hamilton became a smash success and won 11 Tony Awards in 2016. His son's drawing could indicate that there will be some artistic success in his future. Yes, he's not even three yet — he'll turn three in November — but it's such a cute drawing!
Miranda is known for being hilarious and relatable on social media. This latest post is no exception. Miranda and his wife, Vanessa Nadal, who have been married since September 2010, welcomed their son Sebastian in November 2014. Miranda frequently posts pictures of his family on social media. He can't help but be a proud father, especially when his son's artwork is so adorable. He captioned the image: "My son painted this, in collaboration with his teacher. She said, 'Sebastian says Daddy's eyebrows are important.'"
This isn't the first time that Miranda has boasted about his family. In a People interview, Miranda talked about his routine with his family post-Hamilton. When asked whether his son speaks Spanish, Miranda said, "He's fully bilingual ... And it's adorable to see him sense who he's talking to and translate." He also says that his "favorite thing to do" when he isn't working "is walking my dog and taking my kid to the park." Miranda's a total family man.
Sebastian's adorable piece of artwork isn't the only snap that Miranda's posted on social media that highlights his family. Check out some of the most adorable pics that Miranda's shared.
Miranda & His Favorite Person
Miranda shared a pic of himself and Nadal that looks like it was taken shortly after their September 2010 nuptials. Miranda wrote, "7 years ago today I married my favorite person. Lucky lucky lucky lucky lucky".
Tennis Watching Buddies
Miranda seems to be a tennis fan. He shared a photo of himself and his son watching the U.S. Open. He captioned it with, "Just stressed, watching Federer". Whenever Miranda posts a picture of his son, he doesn't show his face (other than one exception, as you'll see below) probably in order to protect his privacy.
Getting Silly With It
Miranda and Nadal aren't afraid to get a little silly sometimes. He posted this photo and said, "The night before we got married. So far so good. So good." He's right. Things are so good for the pair. They just celebrated their seventh wedding anniversary.
Tobillo's New Job
Miranda's dog, Tobillo, also makes frequent appearances in his fun posts. He shared that, "Tobillo got a summer job as a lifeguard..."
Hairstylin' With Sebastian
Sebastian was helping his dad get ready for the day here. Miranda posted a video of his son combing his hair and said, "Good morning! Getting my hair combed by a 2 year old, be right with you". Miranda's face pretty much says it all in this.
Act One: Sebastian
Sebastian's first appearance on his dad's Twitter account included a reference to Miranda's Broadway background. He got creative with the caption and wrote, "[The screams reach a frenzied pitch. SEBASTIAN MIRANDA enters. He is 7 pounds 10 ounces.] End of Act One."
Clearly, this family has always been super adorable, even since day one.