'Lincoln In The Bardo' Just Won The Man Booker Prize, So Add It To Your TBR As Soon As Possible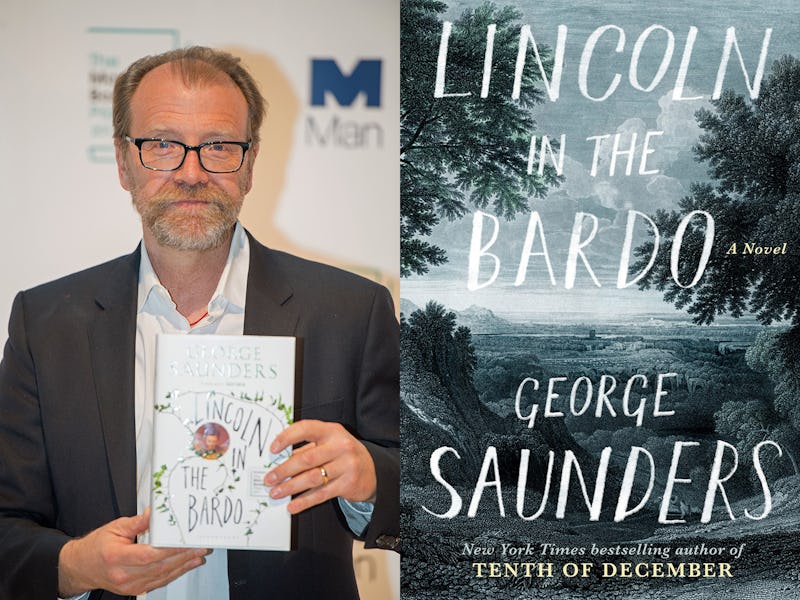 CHRIS J RATCLIFFE/AFP/Getty Images
On Tuesday evening, Lincoln in the Bardo by George Saunders was announced as the winner of the 2017 Man Booker Prize, a prestigious literary fiction award that comes with a check worth £50,000, or about $65,000. George Saunders is the second American to win in a row; last year's prize went to Paul Beatty for The Sellout.
Winner George Saunders beat out five fellow nominees: Paul Aster (4 3 2 1), Emily Fridlund (History of Wolves), Moshin Hamid (Exit West), Fiona Mozley (Elmet), and Ali Smith (Autumn) to take home the award, which is presented in London every October. The winner was selected by a team of five judges, led by Chairperson Baroness Lola Young, head of culture at the Greater London Authority and a former chair for the judging panels of the Orange Prize for Fiction and the Caine Prize for African Writing.
Lincoln in the Bardo is the first full-length novel from acclaimed short story writer and essayist George Saunders, a professor at Syracuse University. The historical fiction novel centers upon Abraham Lincoln, a president in mourning over the death of his 11-year-old son Willie Lincoln.
"Gosh, the winner stands out because of its innovation, because of the way in which its written," Young explains in a video released by Man Booker. "One of the judges described it as being like fireworks that light up the sky and make you rethink how you thought about things like death and grief and bereavement."
As the title suggests, the novel takes place in the "bardo" — a place believed in Tibetan Buddhism tradition to be the space between life and reincarnation. As you would expect of a novel that takes place between death and rebirth, the novel is filled with hundreds of ghost. It is these ghosts, including the ghost of Willie Lincoln, who push the narrative forward.
Lincoln in the Bardo by George Saunders, $17, Amazon
As Young explains in the video below, the novel is not an easy one or a traditional one. "You might be a little bit disconcerted by the way its laid out, and the format and the way the characters speak," she says. "but once you get into it, it's like watching or being part of a carnival of many, many different characters."
If the cacophony of characters sounds like a bit too much to read on a page, perhaps you might try the acclaimed audiobook, which was narrated by over 164 people, including Nick Offerman, David Sedaris, Lena Dunham, Ben Stiller, Rainn Wilson, Don Cheadle, and more.
The author received the Man Booker Prize from The Duchess of Cornwall and his check from Man Group Chief Executive Luke Ellis at a ceremony in London on Tuesday evening. George Saunders has previously been the recipient of a MacArthur Fellowship (aka a "Genius Grant"), and has won a World Fantasy Award, a Folio Prize, a Story Prize, and the PEN/Malamud Award.