Lindsay Lohan & Ron Weasley Are Teaming Up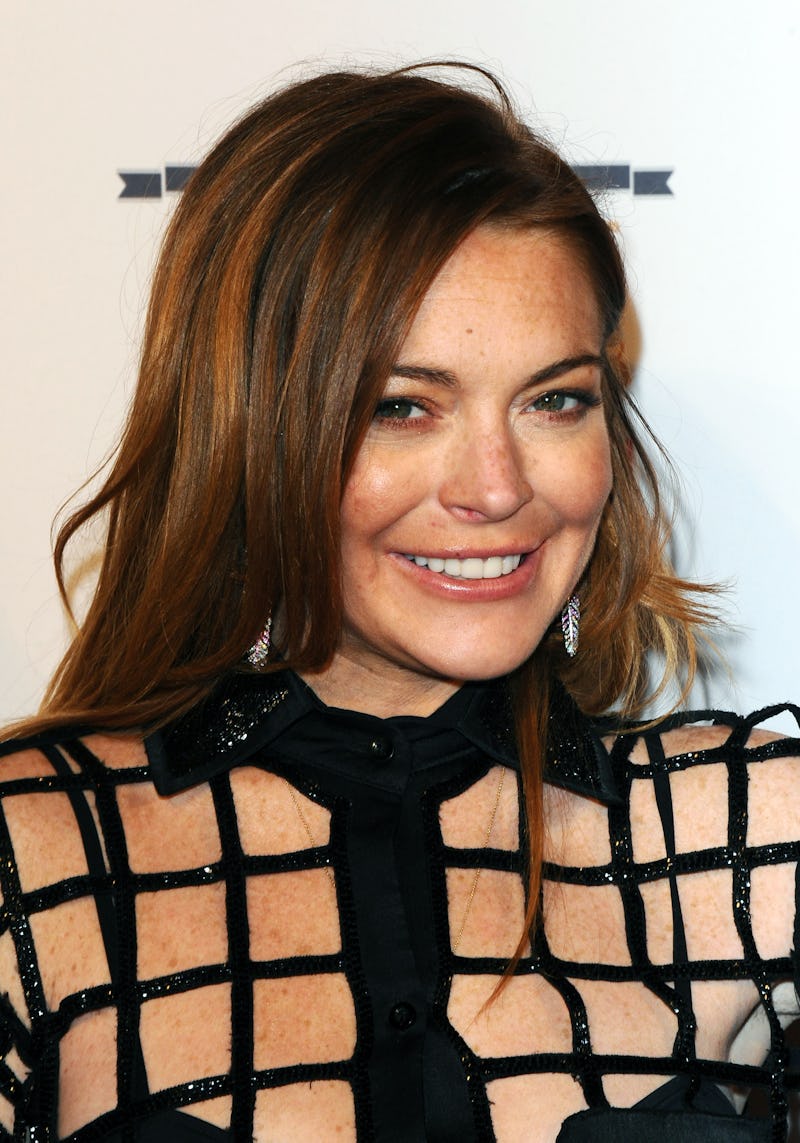 Stuart C. Wilson/Getty Images Entertainment/Getty Images
It's been a few years since Lindsay Lohan appeared on screen. The actor's last role was in Till Human Voices Wake Us, a 2015 short film, and it's been quite a while since she's worked in television. But on Monday, the actor revealed her return to TV. Lohan will join the cast of Rupert Grint's series Sick Note for it's second season. The unexpected casting was announced in an Instagram post on Lohan's account, where she appears alongside Grint and Nick Frost, who also stars. It's a surprise to see two actors from such different career backgrounds working together, especially on a relatively unknown series from the U.K. The unlikely acting pairing could makes for some great television, however, and this show is definitely one to keep an eye out for.
Lohan's return to acting is long overdue, and it's no surprise that this guest starring role on Sick Note caught her attention. Grint stars as Daniel Glass, an insurance representative misdiagnosed with a terminal illness. Down-on-his-luck and looking for change, Glass hides his clean bill of health from his friends and colleagues. The lie spirals out of control, and there are many comedic repercussions. Frost plays the insurance rep's overbearing boss, and in the show's second season Lohan will appear as his daughter, Katerina West. It's not yet clear what the role will entail, but the idea of Grint and Lohan acting alongside each other is enough reason to be curious.
In Lohan's Insta post, she and her co-stars appear in costume. Grint wears running gear, but Lohan and Frost are dressed in professional attire. Based on this, it seems likely that these two characters will run into each other in the workplace, but there are no real details available yet on what their relationship might be.
According to Variety, the first season of the show will premiere on the U.K. channel Sky and Sky Now's TV streaming service in the fall. "One lie leads to the next in this unsettlingly brilliant comedy that will hook viewers in and have them on the very edge of their seats," Sky Head of Comedy Jon Mountague told the publication. "Filming for series two is already under way and we're delighted to confirm Lindsay Lohan will be joining Rupert and Nick in this stellar comedy cast."
Lohan isn't the only star whose kept a lower profile as of late; it might have been a while since fans saw Grint in a role that isn't Ron Weasley. Unlike Lohan, however, Grint has quietly taken on many characters in independent films and television series in recent years. The actor has proved himself a versatile actor, starring as a band manager in Moonwalkers, a food worker superhero in Super Clyde, and the criminal Charlie Cavendish in the television series Snatch. Grint's come a long way from Ron, and it will be exciting (and so weird, wasn't HP like ten seconds ago?) to see him in a true adult role for anyone who hasn't kept up with him so far, but is finding themselves intrigued by this Lohan news.
The last time Lohan made a guest appearance on a show was in 2014, when she popped up briefly on 2 Broke Girls and Eastbound and Down. She's been living in London since then, so her British accent should be ready for the screen.
It's difficult to say what exactly the Lohan-Grint pairing will bring, but it's definitely a trip to see two iconic actors from your youth starring in the same television show. If you've ever wondered what would happen if Cady Heron and Ron Weasley met as adult muggles, this show is definitely one to put on your watch list.