John McCain's Best Friend Tweeted Such An Emotional Tribute To Him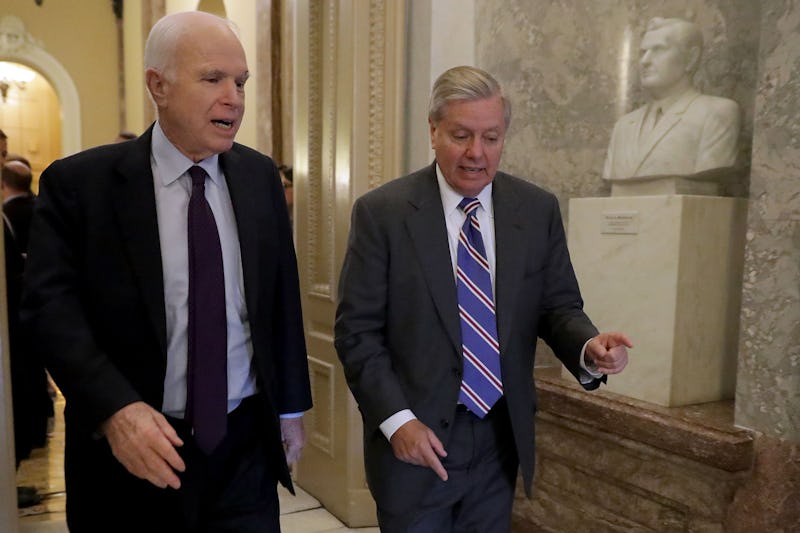 Chip Somodevilla/Getty Images News/Getty Images
News of John McCain's death has spurred an outpouring of tributes and condolences from the Arizona senator's congressional colleagues. Among those reaching out to honor the late politician is South Carolina Sen. Lindsey Graham, whose friendship with McCain reportedly dated back to the impeachment of former President Bill Clinton in the late 1990s. In an emotional statement shared after McCain's death, Graham referred to him as both a "mentor" and "one of [his] dearest friends."
"America and Freedom have lost one of her greatest champions," Graham said of McCain on Twitter. "And I've lost one of my dearest friends and mentor."
But Graham and McCain's close friendship was often viewed as a triumvirate involving former Sen. Joe Lieberman. In fact, the trio's reputation for palling around together eventually earned them the nickname "the three amigos."
"They were the three amigos," Gen. David H. Petraeus, who came up with the triumvirate's nickname during their frequent travels to Afghanistan and Iraq, once told ABC News. "They were three inseparable friends. At some point, I just started saying we had the three amigos coming in again."
It was a nickname the trio didn't appear to mind. Shortly after he was diagnosed with an aggressive brain tumor known as gioblastoma, McCain shared a photo of himself, Graham, and Lieberman on a hike in Arizona, noting "the three amigos [are] together again!"
"I will need some time to absorb this, but I want Cindy — and the entire McCain family — to know they are in my prayers," Graham wrote of McCain's passing in a follow-up tweet on Saturday.
At a CNN town hall last year McCain revealed that his friendship with Graham began in the late 1990s when Graham, then a member of the House of Representatives, argued for impeaching Clinton in a presentation to senators. "Congressman Graham, on the most solemn occasion, said, 'You know, where I come from, any man calling a woman at 2 a.m. is up to no good,'" McCain said. Graham's joke was a reference to reports of late-night phone calls made from the White House to Monica Lewinsky.
"I knew right then that Lindsey Graham was a guy I wanted to spend time with," McCain told the town hall, according to CNN.
Following Graham's election to the Senate in 2002, the pair became two of the Republican Party's most outspoken foreign policy hawks with McCain once noting they shared "common ideals" and "common goals for our country."
But Saturday wasn't the first time Graham has publicly praised McCain. The two men got visibly emotional at a CNN town hall back in March of 2017 when asked about their friendship. "He is loyal to his friends," Graham said of McCain, according to CNN. "He loves his country. And if he has to stand up to his party for his country, so be it. He would die for his country."
"I love him to death," the South Carolina senator said as McCain, who sat beside him, wiped away tears.