This Lingerie Brands Created A Pool Floatie That Has A Hole For Your Boobs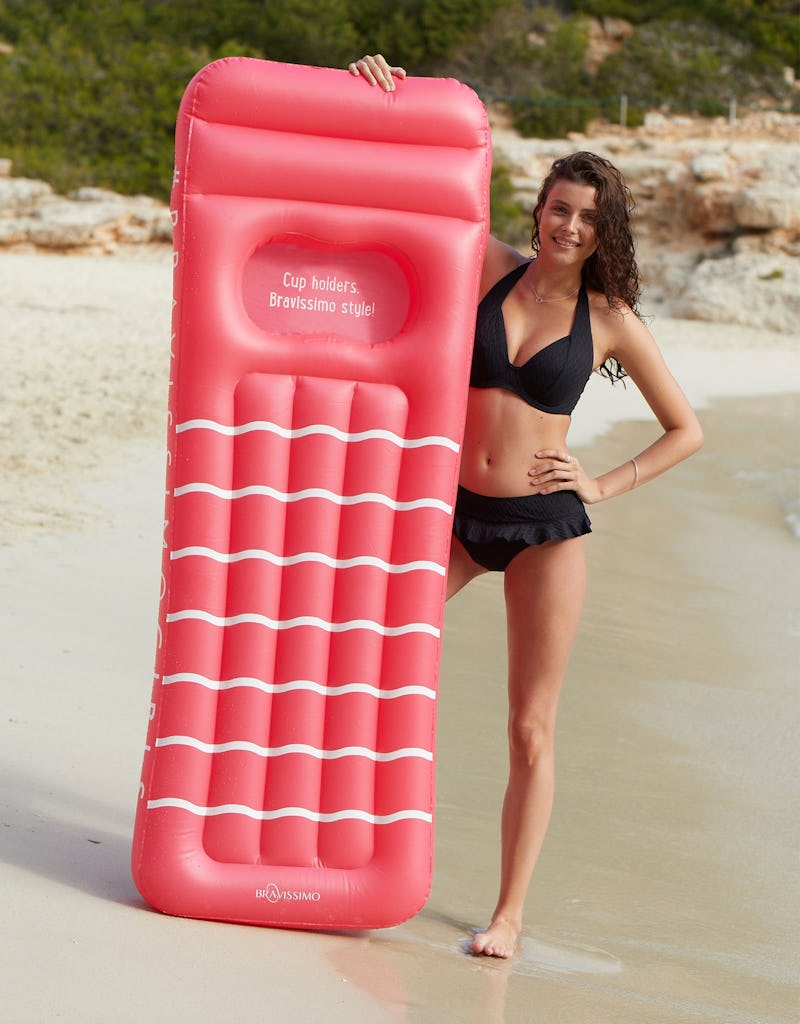 Bravissimo
Imagine this scenario. You're swimming in the summer heat and go to grab a raft to float on. You roll onto it and miraculously don't squish your boobs. Well, that can now be your reality. As People Style found, the lingerie Bravissimo created a pool float for big chested babes. The design has cup holders. You know, to make sure your boobs have some room to rest too.
Earlier this year, the brand posted on Facebook the exact same pool accessory that you can buy right now, but with two words at the end — April Fools. The two large "cup holders" are on the front to make sure ladies with big boobs are comfortable. Although Bravissimo's Lilo Pool Float started as an April Fools Day prank, it is very much a reality for summer.
So many people posted that they wished a pool float like this really existed that the brand decided to make it a reality. You can buy the product on the Bravissimo website right now for $45. Yes, the exact one that was shown in April.
"Back in spring, we posted an April Fool's joke on social media to say that we were developing a lilo with room for your boobs so Bravissimo girls would be able to relax on their front in comfort," the wesbite reads. "It had made us giggle in the office, and made the bigger-boobed among us sigh… if only!"
Bravissimo prides itself on providing bras and lingerie for women that have a larger chest. The website offers items in sizes 28D to 40L — sizes that traditional brands can tend to forget about. So it only makes sense that they came up with a way for big busted women to relax in the pool, too.
"As we hope you know, our absolute favourite thing is when we can provide something that big-boobed women want and has never been available before… so as we watched your comments stack up in our inbox, it dawned on us that we really had to give this a go," it says on the website. "Although we're clearly not experts in lilos (!), we couldn't miss the opportunity to kit you out with it in time for summer… so we dived head-first into developing an inflatable that would be the hol(e)y grail for Bravissimo girls."
According to the brand, hundreds of women commented on the April Fools Day post saying that they would use the item. Naturally, Bravissimo gave the people what they wanted (read: needed) and made the accessory a reality just in time for summer.
As of June 27, there are still plenty of Lilos to go around. Oh, and you can get one sent to you in the United States no problem, even though the brand is based in the United Kingdom. All you have to do is pay $5 for shipping or $10 for express. Either way, you should get yours just in time to use all summer long.
This is the first accessory that the brand has made thus far. Bravissimo already offers lingerie, swimwear, sleepwear, clothing, and sportswear for big-boobed women. Basically, the pool float makes a whole lot of sense, and people seem to be loving it.
You can stock up on a bathing suit to go with your new floatie too. Because you're going to want to live in this pool float all summer long. There has never been a better excuse to shop than for comfort and need, which Bravissimo's items — including the Lilo — definitely have.
There's no telling how fast these will sell out or how many are available, so you should stop reading this and go get to shopping. After all, a pool float this perfect doesn't come around very often.