Mike Shinoda Pays Tribute To Chester Bennington On Instagram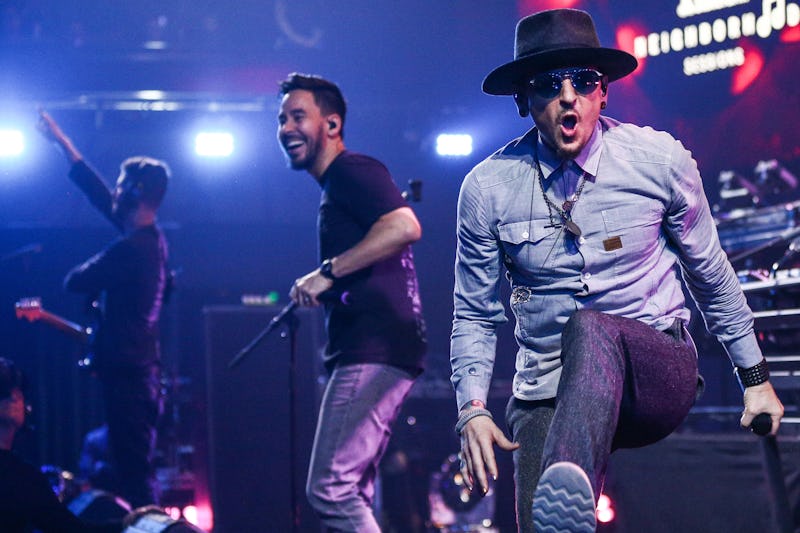 Rich Fury/Getty Images Entertainment/Getty Images
Just a few days after the incredibly sad passing of Linkin Park frontman Chester Bennington, his former bandmate Mike Shinoda posted a touching tribute to Bennington on his Instagram on Monday, July 24. The photo, taken in the late '90s, shows the members of Linkin Park as young men still in college. Shinoda not only posted the photo, but he also took the time to write out an explanation of the photo. In doing so, the picture he paints is of the then-young men of Linkin Park coming together and clearly excited about the journey they wanted to take as a musical group.
On his Instagram, Shinoda captioned a photo of the young members of Linkin Park as thus:
1997 or 1998...I think this was the first photo we ever took together. We had just told Chester that we wanted him to join the band. He said he was ready to move out from Arizona to L.A. We went to a pizza place near UCLA to hang out and talk about what to do next. The band was called Xero at the time, and we probably had less than a half a dozen songs. No flame tattoos yet, no red hair yet, most of us were still in college.
While he makes no mention of Bennington's passing in the caption, it's evident that Shinoda misses his bandmate and close friend. In opening up and sharing this memory, those who looked up to Bennington, Shinoda, and Linkin Park may be able to connect with the Linkin Park frontman over this memory and find some solace in this memory.
When the news broke about Bennington's death on July 20, Shinoda confirmed the news on his Twitter. Shortly thereafter, Warner Bros. Records CEO and Chairman, Cameron Strang, released the following statement to Bustle:
"Chester Bennington was an artist of extraordinary talent and charisma, and a human being with a huge heart and a caring soul. Our thoughts and prayers are with his beautiful family, his band-mates and his many friends. All of us at WBR join with millions of grieving fans around the world in saying: we love you Chester and you will be forever missed."
Additionally, Linkin Park canceled the North American leg of their tour, One More Light, as well as their co-headlining tour with Blink-182. For now, it appears the band is still processing this loss, which is completely understandable.