Murkowski's Response To Trump Mocking Christine Ford May Not Bode Well For Kavanaugh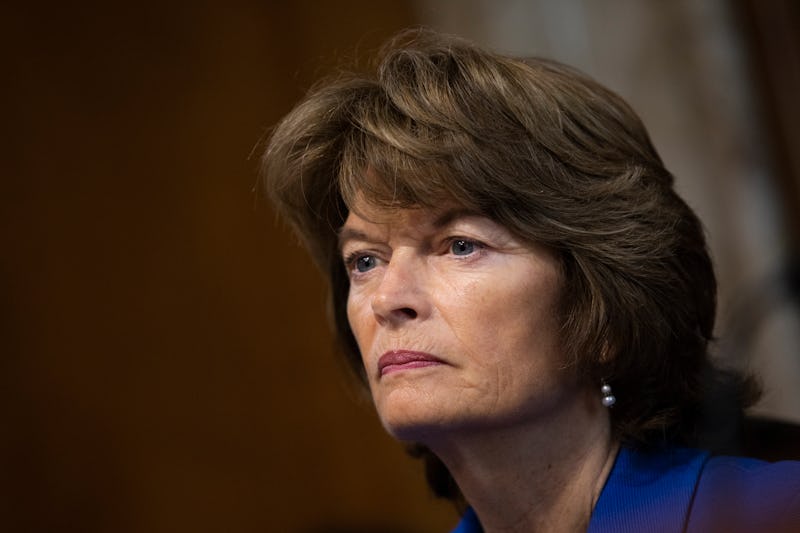 Drew Angerer/Getty Images News/Getty Images
On Tuesday, President Donald Trump ridiculed California professor Christine Blasey Ford, who claimed she was sexually assaulted by his SCOTUS nominee when she was a teenager. Backlash was swift, and on Wednesday, Republican Alaska Sen. Lisa Murkowski rebuked Trump for mocking Ford at his rally the day before, calling it "unacceptable."
At an event in Southaven, Mississippi, on Tuesday, Trump brought up Ford's sexual assault allegation against Kavanaugh. He mocked her for being unable to recall certain details about the alleged encounter, such as not remembering how she got to the party in the first place. "I had one beer," Trump imitated Ford as his audience laughed. "Well, do you think it was — nope, it was one beer."
The president also said, "How did you get home? I don't remember. How'd you get there? I don't remember. Where is the place? I don't remember. How many years ago was it? I don't know." The crowd applauded him.
According to CNN correspondent Jim Acosta's tweet, Murkowski said, "I thought the president's comments yesterday mocking Dr. Ford were wholly inappropriate, and in my view, unacceptable ... I am taking everything into account."
The California professor claimed that Kavanaugh sexually assaulted her when they both were teenagers at a party in Maryland in the 1980s. Kavanaugh has categorically denied Ford's allegation. On Thursday, both of them appeared before the Senate Judiciary Committee to testify about the alleged incident.
The president continued mocking Ford in additional remarks. At one point, he said, "I don't know. I don't know. What neighborhood was it in? I don't know. Where's the house? I don't know. Upstairs, downstairs. Where was it? I don't know. But I had one beer. That's the only thing I remember."
Prior to his mockery during his visit, Trump appeared to praise Ford. On Monday, he dubbed her a "good witness" and said that he respected "her position." The president said, "With all of that you cannot say that we've done anything but be respectful, and I do. I respect her position very much. I respect her position very much."
But on Tuesday, Trump went on to defend Kavanaugh and said that the SCOTUS nominee's "life is in tatters" and that a "man's life is shattered" and "his wife is shattered, his daughters." He didn't stop there. During his speech, Trump said, "I don't even know him. I met him for the first time a few weeks ago. I don't even know him. So it's not like, 'Oh, gee, I want to protect my friend.'"
The president told his crowd in Mississippi that worst things were on their way as they would have to fend for their sons in the wake of such allegations. Trump said that he had "many false allegations" against him as well.
"Think of your son. Think of your husband," Trump added. He also went on a diatribe about a non-existent man who worked at General Motors or IBM and was supposedly accused of sexual assault without substantial proof. "What do I do, mom?" Trump said of this hypothetical man. "What do I do, mom?" Dubbing it a "damn sad situation," Trump said that "we better start as a country getting smart and getting tough." His audience cheered for him.