This Surprising Fact About Collins & Murkowski Is Evidence We Need More Women In Government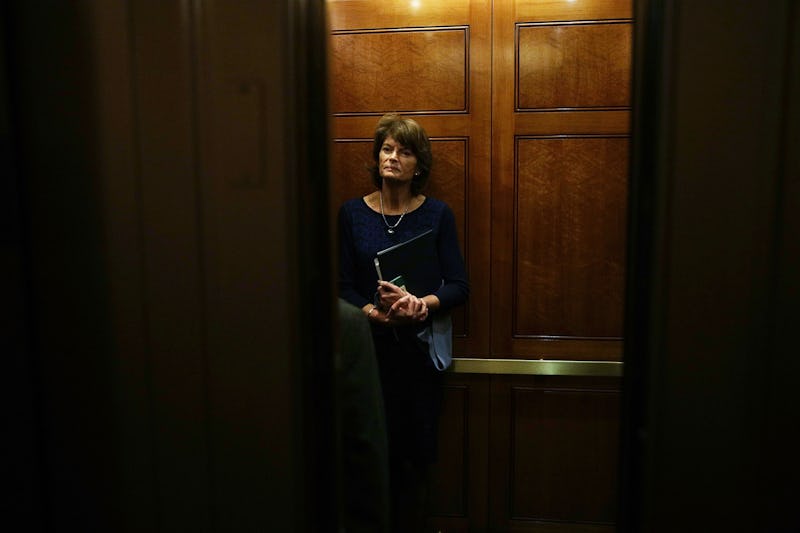 Alex Wong/Getty Images News/Getty Images
As the health care debate grew increasingly contentious this week, two female Republican senators remained steadfast in their opposition to their party's latest effort to repeal the Affordable Care Act despite receiving openly hostile threats from their fellow Republicans. While Sen. John McCain's unexpected "no" vote was the dramatic moment of Friday's pre-dawn vote, it was the consistent opposition — and courage —of Sens. Susan Collins and Lisa Murkowski that helped kill the GOP's "skinny repeal" bill. And there's one surprising fact about Collins and Murkowski that highlights why we so desperately need more women in elected offices.
That only three GOP senators joined Democrats in casting "no" votes against their party's skinny repeal bill means that less than 6 percent of Republican senators were willing to break with the party line. If you break down the math along gender lines, as Twitter user Samuel Sinyangwe did in the wee hours of Friday morning, Collins and Murkowski's opposition votes amount to 40 percent of female Republican senators while McCain's "no" was just 2 percent of the male Republican vote.
Take a moment to let that soak in. Two women make up 40 percent of all female Republican senators. How insane is that?
While women make up more than half of the country's overall population, they remain woefully underrepresented in Congress, totaling just 19.4 percent of the legislative body. And Republican women make up an even smaller percentage of that. Women comprise less than 10 percent of Congress' Republican caucus, compared to the roughly one-third women make up of the Democratic Congressional caucus. Although the GOP does draw fewer women than the Democratic Party — 38 percent of eligible female voters identify as Republican compared to the 54 percent who are or lean Democrat, a 2016 Pew survey found — its female members still seem absurdly low.
Women's representation in government increases slightly when you look at the state level where women make up 24.8 percent of state legislators and 12 percent of governors, according to data from the Pew Research Center and NPR, respectively. Overall, while more women hold more elected offices now than they did 20 years ago, they still remain the minority at both state and national levels.
Yet, that could change in the next few years, according to organizations aimed at helping women run for office. EMILY's List, Emerge America, the Center for American Women and Politics, and IGNITE have all reported higher numbers of interested potential female candidates following Trump's election, meaning we may see more women not only campaign for office, but take it in the coming years.
It's impossible to say whether Collins and Murkowski would have had more support in their opposition to the "skinny repeal" bill if there were more women in their party's congressional caucus (all three of the GOP's other female senators voted in support of the legislation). However, perhaps it would have, at the very least, kept them from being berated, intimidated, and, in some instances, threatened with physical violence by members of their own party.
Collins and Murkowski were the only Republicans to oppose the motion to move legislative efforts to repeal and replace Obamacare to the Senate floor for debate. And to say their continued opposition to the GOP's multiple efforts at repealing and replacing earned them the ire of many of their male colleagues is a gross understatement.
In opposing their party's repeal and replace efforts, they have faced insinuated challenges to take it outside for a duel (for real, that happened). Rep. Buddy Carter advocated for someone to "go over to that Senate and snatch a knot in their a-s" in an interview with MSNBC, slang for hitting or striking someone as a form of punishment or retaliation. Murkowski was openly bullied and intimidated by the president, who reportedly threatened to retaliate against her by targeting Alaska, the state she represents, in future policy directives and other endeavors.
This year marks the centennial anniversary of women's participation in Congress. Yet in 100 years, women have failed to gain equal representation in the nation's most important legislative body. Moreover, as we've learned with Collins and Murkowski's recent votes, they continue to face threats of violence and retaliation, which highlights exactly why more women are needed in elected office now more than ever.