Lisa Murkowski Says She's Moved On From Her Kavanaugh Vote — And So Should The GOP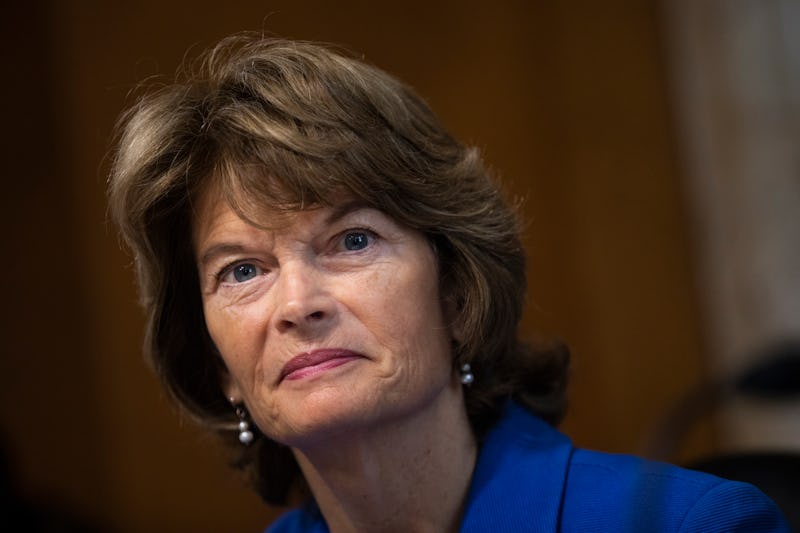 Drew Angerer/Getty Images News/Getty Images
After the contentious Senate vote on Saturday that ultimately confirmed Brett Kavanaugh to the Supreme Court, those who voted for and against him have received varying amounts of praise and criticism. Among those to receive backlash over their Kavanaugh vote was Sen. Lisa Murkowski from Alaska, who became the only Republican to vote against him. But in remarks to reporters, Murkowski suggested that she was content with her position — and that she was moving on to other issues.
The senator told reporters on Tuesday evening that she was satisfied with her decision, regardless of the negative reactions from those in her party. "I took the vote that I took," Murkowski said, according to The Hill. "And I'm good with it and I'm moving forward. I think we all need to be, so I'm not going to dwell on the 'what ifs.'"
Murkowski's comments come after Kavanaugh, who was accused of sexual assault by multiple women (allegations he categorically denies), was confirmed to the Supreme Court on Saturday. On Sept. 27, Kavanaugh and one of his accusers, California professor Christine Blasey Ford, appeared in front of the Senate Judiciary Committee to testify about Ford's sexual assault allegation against Kavanaugh.
In the Senate on Saturday, Murkowski took advantage of an obscure Senate procedure that allowed her to "pair" her vote with another senator. During the vote, Murkowski withdrew her "no" vote, changing it to "present" instead, effectively pairing it with Republican Sen. Steve Daines' absent vote (he was attending his daughter's wedding in Montana that day). It didn't change the result, but it did cancel out Daines' absence.
While speaking to the press on Friday, Murkowski said, "I have extended this as a courtesy to my friend. It will not change the outcome of the vote. But I do hope that it reminds us that we can take very small, very small steps to be gracious with one another and maybe those small, gracious steps can lead to more."
Even though Kavanaugh didn't end up needing her vote to get confirmed, Murkowski riled many in her party who supported his confirmation. Even Donald Trump blasted Murkowski for her position, calling it "really unacceptable." But in her statement explaining her vote, she said that although she thought Kavanaugh was a "good man," she "could not conclude that he is the right person for the court at this time. And this has been agonizing for me with this decision. It is as hard a choice, probably as close a call as any that I can ever remember."
Murkowski already had touched upon the divisive nature of the Kavanaugh issue, saying that, "And I hope, I hope and I pray that we don't find ourselves in this situation again. But I'm worried. I am really worried that this becomes the new normal, where we find new and even more creative ways to tear one another down."
While the president certainly bashed the senator for her vote, some of her colleagues in the Republican Party have said that Murkowski, like any other senator, had the right to believe — and vote — the way she chooses.