Sen. Lisa Murkowski Sent A Strong Message To Her Republican Colleagues About Kavanaugh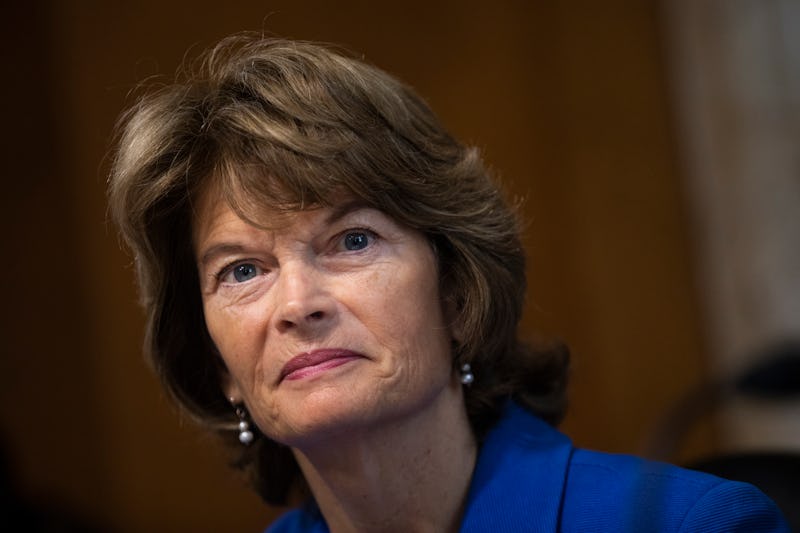 Drew Angerer/Getty Images News/Getty Images
While Brett Kavanaugh's Supreme Court confirmation remains in limbo, all eyes are on those Republican senators whose votes may decide whether or not he makes it to the bench. One of them is Alaska Sen. Lisa Murkowski, who responded to allegations against Kavanaugh on Monday to The New York Times, saying that she believed the women behind them needed to be taken seriously. Kavanaugh has been accused of sexual assault by two women, both allegations he has denied.
"We are now in a place where it's not about whether or not Judge Kavanaugh is qualified," Murkowski told the Times. "It is about whether or not a woman who has been a victim at some point in her life is to be believed."
She also told reporters that she supports the idea of an independent FBI investigation into the allegations. "It would sure clear up all the questions, wouldn't it?" she said.
Murkowski is among four Republican senators who may carry decisive votes when it comes down to deliberating whether or not to confirm Kavanaugh. The other key senators are Susan Collins, Jeff Flake, and Bob Corker, per Vox.
In her comments Monday night, Murkowski distanced herself her party's leadership, many of whom who have rejected than an FBI investigation is necessary, and who have said they that they want to continue moving Kavanaugh's nomination forward as usual.
"We need to be able to listen," Murkowski said, per the Times. "We have to listen to what she will say on the record, under oath, and what Judge Kavanaugh will say on the record, under oath."
Many Republicans, including President Donald Trump, have cast the allegations against Kavanaugh as part of a smear campaign meant to derail the Supreme Court confirmation process.
"The Democrats are working hard to destroy a wonderful man, and a man who has the potential to be one of our greatest Supreme Court Justices ever, with an array of False Accusations the likes of which have never been seen before!" Trump tweeted Monday night, referring to the allegations against Kavanaugh.
The accusations against Kavanaugh come from two separate women. One, Christine Blasey Ford, alleges that Kavanaugh sexually assaulted her at a party while the pair were in high school. First reported by The Washington Post at the beginning of last week, Ford claims she and Kavanaugh were teenagers at the time of the alleged incident. Kavanaugh has repeatedly denied these allegations.
"This is a completely false allegation. I have never done anything like what the accuser describes — to her or to anyone," Kavanaugh said in a statement."
The second woman to accuse Kavanaugh of sexual assault is Deborah Ramirez, who went public with her accusation in a report published by the New Yorker on Sunday. Ramirez alleges that Kavanaugh put his penis in her face after a group drinking game while the two were students at Yale University. She says that other people were in the room, and that she touched his penis when she went to push him away. She also described feeling deeply embarrassed that the alleged event took place at all.
Kavanaugh denied this allegation.
"This alleged event from 35 years ago did not happen," he said in a statement to the magazine. "The people who knew me then know that this did not happen, and have said so. This is a smear, plain and simple."
Though Murkowski said that the women accusing Kavanaugh should be taken seriously, she hasn't revealed how she would vote during his confirmation. Much could transpire between now and an eventual vote, and like everything else, how she votes will be a wait and see.