'RHOBH's Lisa Vanderpump Just Cleared Up All That Drama About Dorit & A Rescue Dog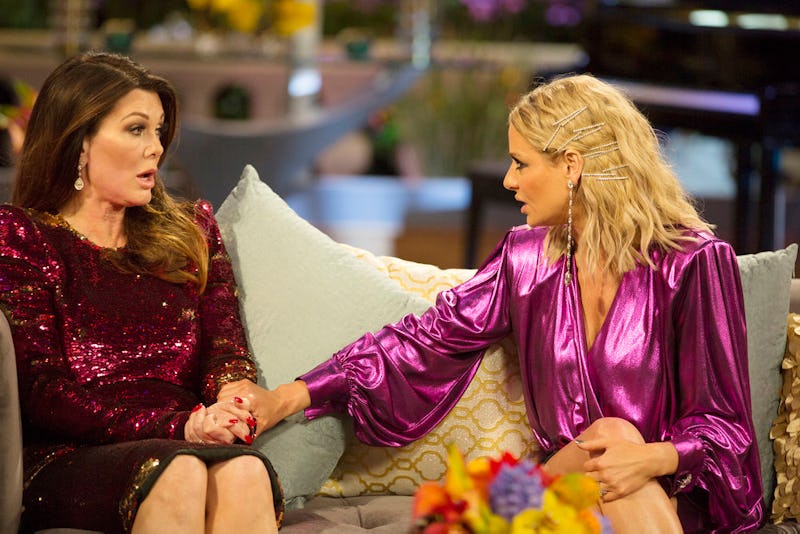 Isabella Vosmikova/Bravo
The drama in the Real Housewives world is never-ending. If you haven't heard, there's been quite the situation involving two Real Housewives of Beverly Hills stars. On Wednesday, Lisa Vanderpump defended Dorit Kemsley after reports circulated involving the co-stars and a dog Dorit rescued from Vanderpump Dogs. Well, Lisa is setting the record straight once and for all, while also clarifying that she and Dorit are still very good friends. (Bustle has reached out to Dorit's rep for comment, but did not receive an immediate response.)
The founder of the Vanderpump Dogs Foundation, a dog rescue organization, told TMZ,
"Leave this alone. It didn't happen the way it's being reported, and I won't have that said about my friend."
On Sept. 11, Radar Online reported Lisa and Dorit were at odds after the Beverly Beach designer reportedly dropped the dog she adopted from the Vanderpump Dogs rescue center off at another shelter. According to Radar Online, the dog reportedly bit one of her kids, which prompted the Housewife to remove the dog from her home.
However, Lisa told a different story to TMZ. She said very matter of factly,
"Oh, she did not give it to a shelter. Yeah, I am going to set the record straight with that. That's not true at all. She gave it to somebody who really wanted the dog who assured it was going to a loving home and that's what Dorit really thought. She would not drop the dog off at a shelter."
According to the animal activist, Dorit gave the dog to a woman she knew who she thought would treat the dog lovingly and respectfully. Lisa also said the woman was not someone in "the Housewives family."
"It was unfortunate and we have stringent rules in place and we have microchips, because, ultimately, all the dogs that we adopt out belong to the Vanderpump Dogs Rescue Center," Lisa explained to TMZ. "So, we were alerted, the situation was resolved very quickly. This was weeks ago, I don't even want to focus on this."
Lisa added,
"Dorit did nothing wrong. She believed the dog to be going to a good home. End of story."
An insider also informed People on Sept. 12 that Radar Online's story was false. However, the source claimed the dog bit Phoenix, Dorit's 2-year-old daughter. The source also told the publication that Dorit and her husband, PK, decided they would find a good home for the pup and they also reportedly informed Lisa of their decision. People reports Lisa gave the Housewives couple her blessing. According to People's source, Dorit and PK were unaware the dog had been taken to another shelter after they found it a home.
After TMZ inquired about whether or not Dorit had to inform Lisa she was giving away the dog before she did, Lisa ignored the question and said, "You know what, she gave the dog to somebody she thought would love it and give it a great home, OK?"
People also reported that despite the co-stars talking through the situation, there was still tension between Dorit and Lisa. However, Lisa told TMZ she and Dorit were "cool."
This all sounds like quite the situation. Lisa has tried to clear up any and all confusion, in addition to making sure Dorit's name doesn't get dragged through the mud.