Lisa Vanderpump Just Paid Tribute To Her Late Brother In A Touching Instagram Post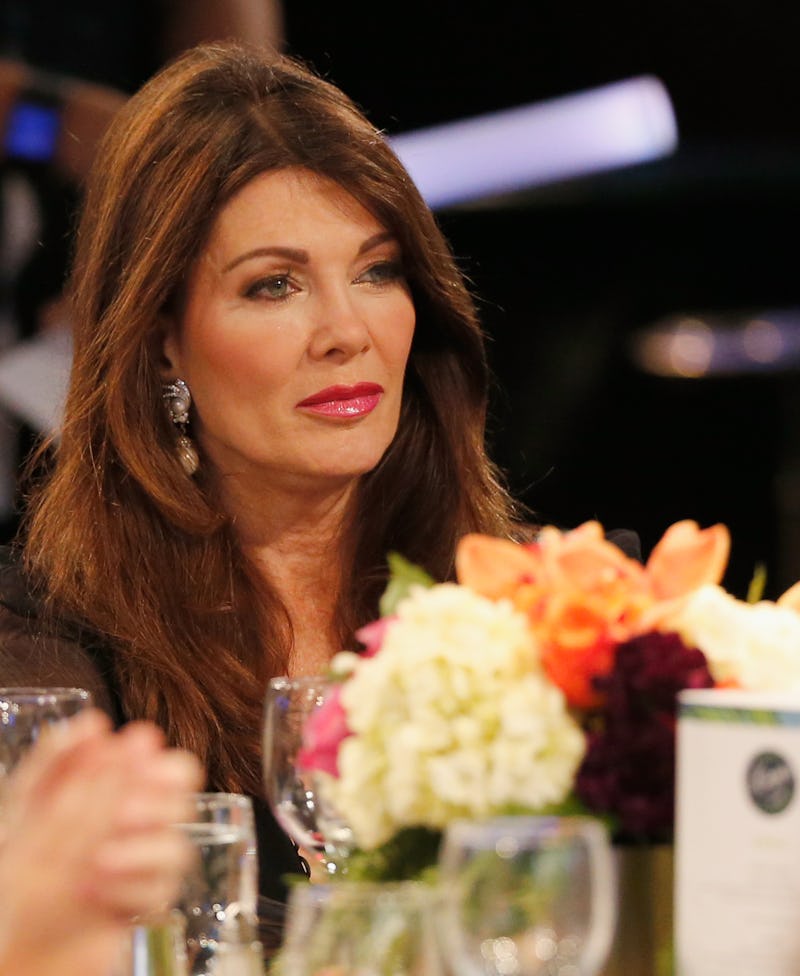 Rich Polk/Getty Images Entertainment/Getty Images
On May 13, several news outlets reported that Lisa Vanderpump's brother Mark had passed away at age 59 on April 30. Late on Tuesday, May 15, Lisa Vanderpump posted a tribute to her brother Mark on Instagram. On May 13, Vanderpump issued the following statement to The Daily Mail, regarding Mark Vanderpump's passing:
This has come as a shock to us all. My brother and I had connected the day before this tragedy and I was completely unprepared for this. He was my only sibling and I am shocked and saddened by his passing. I am trying to be supportive to his two young sons that he has left behind, and help them get through this tragedy. We appreciate your consideration in this private and extremely difficult family time.
On May 15, the Real Housewives of Beverly Hills star posted a photo of herself and Mark to her Instagram account and wrote the following in the caption:
Rest in peace big brother [heartbroken emoji]
It's a simple, yet poignant post from the reality star, who had been noticeably absent from social media since April 30. The photo of herself and Mark is significant because it was originally posted by her brother on Twitter in 2015. "See, London suits you," he wrote in the tweet, directed at his sister @LisaVanderpump.
In another IG post on May 15, LVP posted a photo of herself dressed in black on one of her horses. She thanked her fans for their support in the caption:
It's been a devastating couple of weeks... one day at a time... I thank you all from the bottom of my heart for all your love and support. Love Lisa xo [hearts emoji]
According to People, Mark Vanderpump worked as a DJ in the United Kingdom for years, and he was found at his home in Gloucestershire, England on April 30. Lisa and Mark grew up in London, UK. According to Lisa's Bravo bio, she has also lived in Monte Carlo and the South of France before moving to Los Angeles, where she currently resides. Lisa and her husband Ken Todd are renowned restauranteurs who own 26 bars and restaurants. Three of those properties are in Los Angeles: Villa Blanca, PUMP, and SUR, which is the subject of the hit Bravo reality TV series Vanderpump Rules.
In addition to Pump Rules, LVP has been a longtime cast member of the Bravo reality TV series, Real Housewives of Beverly Hills, and she has appeared on the series since 2010. Vanderpump Rules is a spinoff series, focusing on Vanderpump and the current and former staff members at SUR.
Ken often makes appearances on Vanderpump Rules, but Lisa hasn't made many on-screen mentions of her brother. On social media, though, Mark posted photos of his visits with his famous younger sister on either sides of the pond. In 2014, he posted the following tweet, along with a photo of Lisa on the phone:
Blue sky 72 deg. Caviar, salmon & quinoa salad, Bloody Mary & chilled Evian. Lunch with 'lil sis. #stayforever
In 2015, Mark tweeted a photo of himself and Lisa at PUMP Restaurant in the West Hollywood area of Los Angeles. He wrote in the tweet:
Here with my gorgeous sister @LisaVanderpump celebrating her successes @pumprestaurant love you
Lisa certainly deserves her privacy during this time and she didn't have to update her social media and her fans during this difficult time for her family. But her sweet tribute to her brother and the update for her fans seem to be much appreciated by her many followers on Instagram and beyond.