When The Steve Bannon News Broke, NYSE Traders Cheered Like Crazy (& Stocks Went Up Too) — VIDEO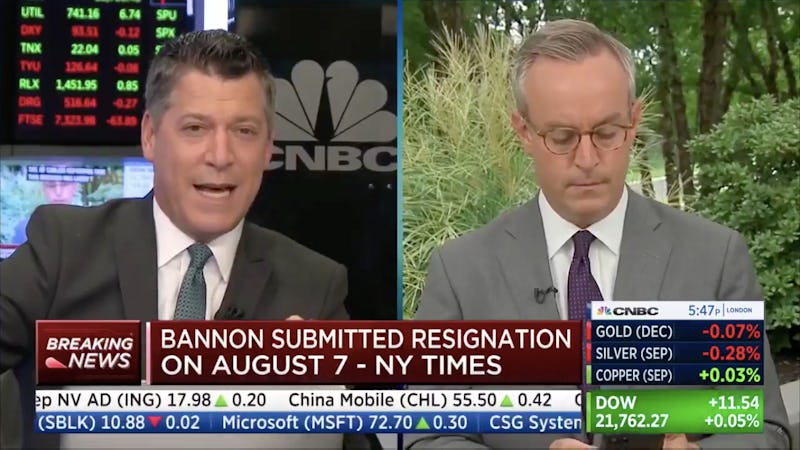 CNBC
Here's who probably wasn't thrilled about the news Steve Bannon is leaving the Trump administration: Steve Bannon. Donald Trump. Far-right Republicans. Here's who was probably over the moon: Jared Kushner. Breitbart. And a ton of NYSE traders, apparently, who were caught on CNBC joyfully cheering Steve Bannon's exit from the White House.
During a "Power Lunch" segment on CNBC discussing The New York Times' scoop that Trump had fired Bannon — Bannon's camp has pushed back on this narrative, insisting that the ex-chief strategist had handed in his resignation to Trump before Charlottesville and the push against white nationalism that followed — the hosts' conversation was interrupted by wild cheering in the background.
Apparently, New York Stock Exchange traders were nothing short of overjoyed upon hearing the news that Steve Bannon would be leaving the White House, presumably out of excitement for stocks bouncing back after a dismal Thursday. They were right: Following news of Bannon's abrupt exit from the White House, stocks recovered after a painful Thursday and Friday morning.
"Listen to this: Traders on floor of the NYSE break out in cheers and applause upon news of Steve Bannon's ouster," tweeted Andrew Kirell of the Daily Beast, which published an article about the accidental CNBC catch.
So, yes, Friday marked a dark day for Bannon (at least, if you believe the high-ranking administration officials who told press that Bannon did not leave of his own volition).
That said, for many, it was the ideal way to kick off the weekend: Breitbart (reportedly) gained back its guiding force. Liberals everywhere sighed in relief. Somewhere, Jared Kushner high-fived Ivanka. And the New York Stock Exchange got its dearest wish. What's not to like?