Celebrities Are Paying Tribute To Little Richard After His Death At Age 87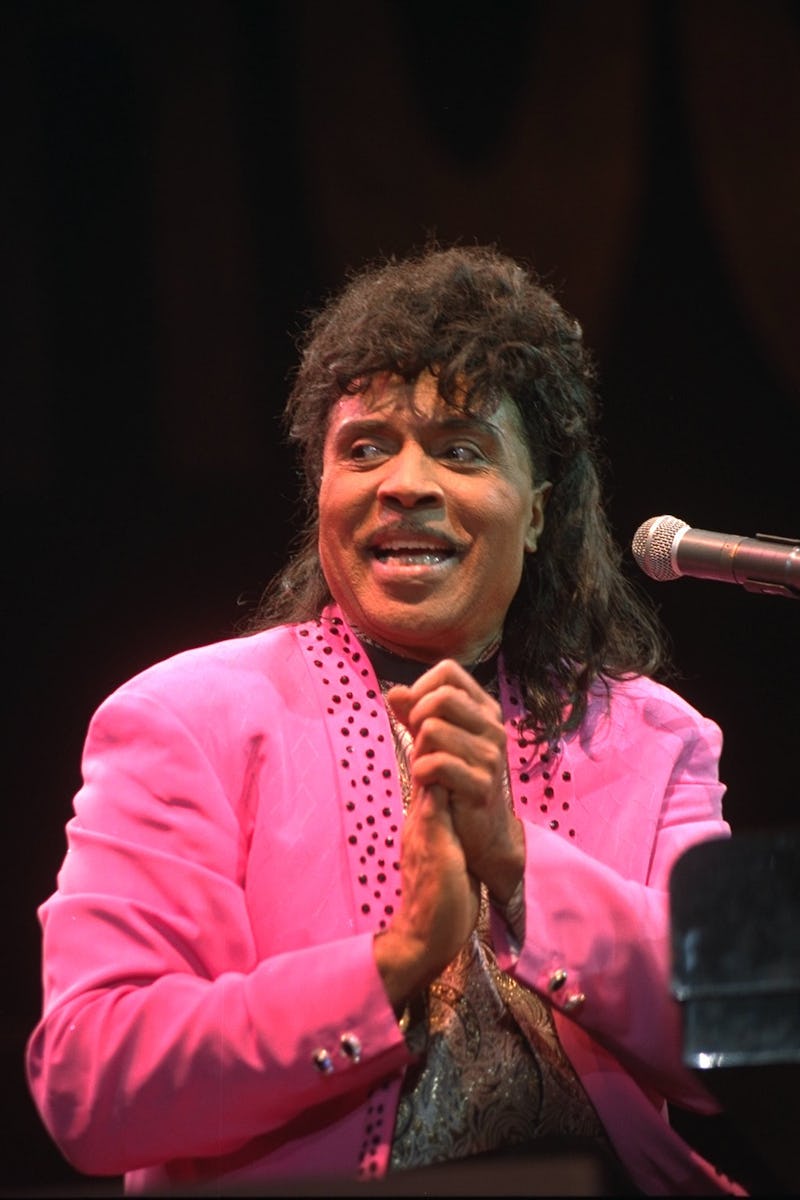 Mathieu Polak/Sygma/Getty Images
Pioneering rock and roll icon Little Richard has died at age 87, the musician's son, Danny Penniman, confirmed to Rolling Stone on Saturday, May 9. Penniman said his father's cause of death was unknown. (The New York Times later reported that Little Richard had cancer.) The larger-than-life figure behind such hits as "Tutti Frutti," "Long Tall Sally," and "Good Golly Miss Molly" has been credited with inspiring the careers of everyone from The Beatles and Elton John to James Brown and Prince.
Fans and celebrities alike have been quick to celebrate his undeniable legacy on social media. The Macon, Georgia native (born Richard Wayne Penniman) was awarded a Lifetime Achievement Award at the 1993 Grammys, after having previously been inducted as one of the 10 original inductees into the Rock and Roll Hall of Fame. His last known recording was in 2010, when he contributed a song to a Dottie Rambo gospel tribute album.
Little Richard also famously broke down the barriers of sexual stereotypes in rock & roll. Although the musician had denounced homosexuality as "contagious . . . not something you're born with" in Charles White's 1984 biography The Life and Times of Little Richard, he revealed to Penthouse in a 2011 interview that he had been "gay all my life," according to Rolling Stone. Later in life, he described himself as "omnisexual," attracted to both men and women, also per the magazine.
Viola Davis, Chance the Rapper, Bette Midler, Gene Simmons, Spike Lee, Brian Wilson, and Jeffrey Wright were among the first celebrities to pay tribute to Little Richard on Twitter. "The Originator. The innovator. The musician, performer who influenced generations of artists....has left. You were AWESOME #LittleRichard!!! Your talent will reverberate forever. Well done sir. Rest well," Davis tweeted on May 9.
Added Midler: "#LittleRichard was a genius, pure and simple. He paved the way for (code for he was ripped off by) so many artists. Watch his YouTube performances to see what I mean. I met him on "Down and Out in Beverly Hills", in which he was hilarious. What a legacy. God bless you, Richard."
Meanwhile, Simmons wrote that the founding father of rock And roll's "contributions simply can't be overstated." Wilson posted that Little Richard "showed us all how to rock and roll." For his part, Chance the Rapper added that he'd just recently learned "how he developed The Beatles and saved The Rolling Stones." After noting he was of "the greatest generation," Wright aptly concluded his tweet: "(2020, chill.)"
Countless musicians also incorporated elements of his style in their own acts over the years. "I heard Little Richard and Jerry Lee Lewis, and that was it," Elton John told Rolling Stone in 1973. "I didn't ever want to be anything else. I'm more of a Little Richard stylist than a Jerry Lee Lewis, I think. Jerry Lee is a very intricate piano player and very skillful, but Little Richard is more of a pounder."
As Midler noted in her Twitter tribute, Little Richard appeared as Orvis Goodnight in the 1986 film Down and Out in Beverly Hills alongside the Oscar nominee, as well as actors Nick Nolte and Richard Dreyfuss. Throughout the '80s and '90s, he also guest starred in such TV shows as Miami Vice, Martin, and Full House.
A true showman, Little Richard's undeniable legacy will surely live on.