Lizz Winstead Made This Anti-Choice Law Hilarious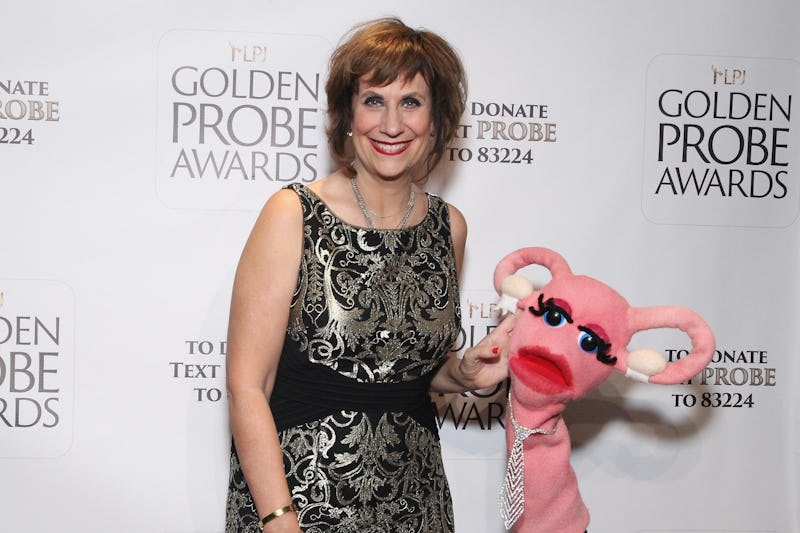 Astrid Stawiarz/Getty Images Entertainment/Getty Images
Lizz Winstead is not afraid to fight monsters. "You need to point out to your Republican friends that somebody like [Republican Ohio Gov.] John Kasich, who seems 'normal,' is a monster," Winstead told Bustle. "[Republican North Carolina Gov.] Pat McCrory is a monster." The writer, comedian, radio host, and co-creator of The Daily Show spoke with Bustle following the release of the latest video from Lady Parts Justice, a comedy-based reproductive rights advocacy group co-founded by Winstead.
Titled "Snark Tank: Texas," Lady Parts Justice's most recent project shines a light on Texas anti-abortion advocate Carol Everett, who has been at the forefront of the push to legally require funerals for miscarriages and abortions.
"Part of our mission is trying to explain hard issues through the lens of something that folks maybe wouldn't necessarily assume that they were going to get information from," said Winstead.
"Snark Tank: Texas" is a parody of the reality show Shark Tank, which puts aspiring entrepreneurs against a panel of brutally honest investors, whose takedowns can be swift and harsh. In the video, Everett (portrayed by actress Katherine Keener) pitches her fetal funeral law to a panel of investors. "I have convinced the State of Texas to impose a regulation to bury or cremate any abortion or miscarriage that happens in a Texas health facility," the Everett character says. "And my pitch to you is partner with you and expand this law to all fifty states."
Winstead explained that the choice to use the frame of Shark Tank was inspired by the show's method of interrogating the proposals of the entrepreneurs. "Let's have a bunch of people who are always looking at ideas through a practical lens challenge the holes in [Everett's] argument," Winstead said. "Shark Tank is full of characters, it's full of buzzwords and catchphrases. ... If you have the right actors who assume the postures and look like the people on the show, you instantly understand what you're seeing."
In "Snark Tank," the investors initially seem intrigued by Winstead's proposal, but quickly turn on it when they realize its only goal is to end abortion. "Google yourself. You're a mess. I'm out," says one of the investors.
I don't even know how to talk about this year. Why is it that we live in a spot where you can just say 'grab somebody's p*ssy' and 'we're gonna ban Muslims,' and 'we're gonna build a wall'?
The video concludes with footage of the real Everett putting forth her scientifically bogus theory that HIV and sexually transmitted diseases in the fetuses could end up in the water supply. "We wanted the real Carol Everett at the end… so it shows, 'We're not making this up, this person exists in Texas, and not only does this person exist in Texas, this person probably exists in your state,'" Winstead said.
Using comedy as a vector for political education and turning that into action points is central to Lady Parts Justice's goals. Winstead explained that "it's a good way for people to debate the issue, debate the practicality, and also just debate the lunacy of it."
"Using the real Carol Everett really doubles down on the reality that the extremists play and the influence that they have," Winstead added. "Once you've riled people up, I think it's really important to give them an action point."
For Winstead, who is hosting a year-end review in Minneapolis, called Controversy — which can also be watched online with a donation to Lady Parts Justice League — talking about 2016 in a funny way is tough. "I don't even know how to talk about this year," she said. "Why is it that we live in a spot where you can just say 'grab somebody's p*ssy' and 'we're gonna ban Muslims,' and 'we're gonna build a wall'?"
I think it's important to say [to anti-choice activists], 'You're counting on our apathy, and we're going to prove you wrong. We're paying attention, we see you, and we're not going to sit back.'
Asked if anything positive came out of 2016, Winstead did come up with at least one small silver lining, the extent to which white people, especially white liberals, had to recognize their own fragility was beneficial. "White progressives had to all of a sudden wake up and feel some sh*t in a real way," she said. "Thinking about the fact that you can't always assume that everything that Donald Trump did and said was going to be perceived as egregious was a wake-up call."
Winstead said she remains focused on encouraging people to take action: the "Snark Tank" video ends with a link to an ACLU petition that is fighting fetal burial laws. "I think it's important to say [to anti-choice activists], 'You're counting on our apathy, and we're going to prove you wrong. We're paying attention, we see you, and we're not going to sit back.'"
Ultimately, Winstead wanted to make it clear that the key to fighting monsters is being persistent and reminding Americans of the truth behind some of their veiled language; think about what is behind the anti-choice buzzwords and rhetoric. "When they say, 'this is for the dignity of the fetus,' think about what that really means. It doesn't have anything to do with the dignity of anybody," Winstead said. "That they don't care about women is really crucial to be reminded of constantly."