This University Will Let Students' Dogs Live With Them In Their Dorms Soon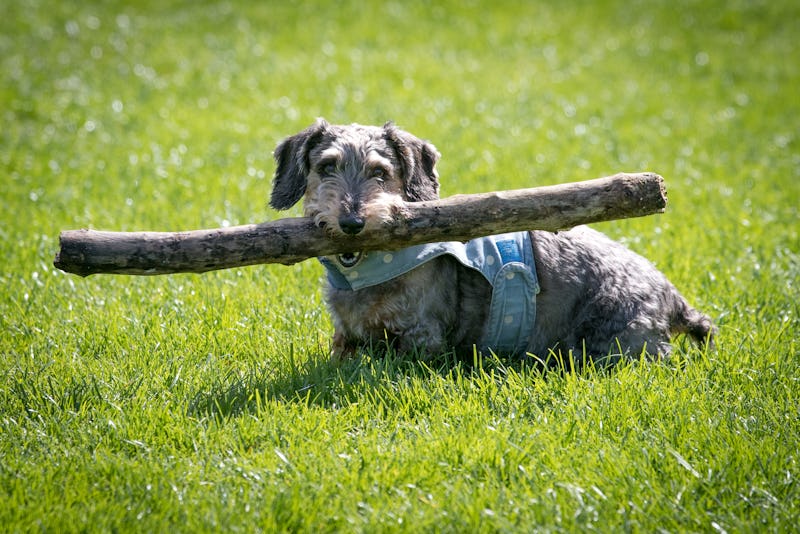 Matt Cardy/Getty Images News/Getty Images
There are so many factors that go into picking a college that it can be completely overwhelming. Class size, programs, location, pet policy. Wait, what? That's right: some colleges actually allow pets, so you don't have to leave your animal bestie behind. And now Lock Haven University's new pet friendly dorms are the first of their kind in the state's university system, according to PEOPLE. Starting in the spring of 2019, says PEOPLE, the Pennsylvania university will have a pet-friendly residence hall that will let students live with a school-approved pet that is more than six months old and that the student has owned for at least three months.
"Studies show that students who feel at home on campus are the students that thrive both socially and academically," Emmy Borst, LHU North Hall resident director, said in a statement released by LHU.
Pets will only be allowed in North Residence Hall, and only cats, dogs under 40 pounds with breed restrictions, rabbits, hamsters, gerbils, guinea pigs, and fish, will be permitted, CBS Philly reports. LHU did not specify what the dog breed restrictions are in its official statement. Students must submit an application that includes a photo of the animal and current vaccination records and spay and neuter records for dogs and cats, says CBS Philly.
Besides feeling more at home with a pet by their side, pets can actually be a great ice-breaker when trying to make new friends, says John Sullivan, dean of admission and financial aid at Eckerd College in Florida. "Students can bond over their pets, and I think that can be a way to meet some additional people on campus. It adds friendliness to a campus," Sullivan told U.S. News & World Report.
Eckerd College also allows students to live with pets, says U.S. News & World Report; there are three student complexes on the Eckerd campus where students can have fish, snakes, and cats and dogs under 40 pounds. Students can also have small, caged animals at Case Western Reserve University in Cleveland; 10-gallon fish tanks at Lehigh University in Pennsylvania; cats at the Massachusetts Institute of Technology; pets that can be kept in cages or aquariums at Principia College in Illinois; and some small pets at Monroe Hall at Washington and Jefferson College in Pennsylvania, according to U.S. News & World Report. But big-dog lovers should look to Stephens College in Missouri, says U.S. News & World Report, because their Searcy Hall doesn't have a weight limit for their pets, and they even have a Doggie Daycare.
According to CNBC, there are only 40 pet-friendly colleges and universities across the country. But the Americans with Disabilities Act does require schools to allow service animals on campus, and the Fair Housing Act requires schools to allow service and emotional support animals in dorms, says CNBC. College staff can legally ask you if your pet is a service animal, according to CNBC, but they cannot ask you to prove or explain your need. However, they can ask for documentation from a doctor for an emotional support animal, says CNBC.
With Lock Haven University's new pet-friendly dorm policy, students will have greater access to support from their animals. Hopefully more colleges and universities will enact policies that make it easier for students to get the support they need.