Meet The $65 Dutch Oven That's "As Good As Le Creuset," According To Reviewers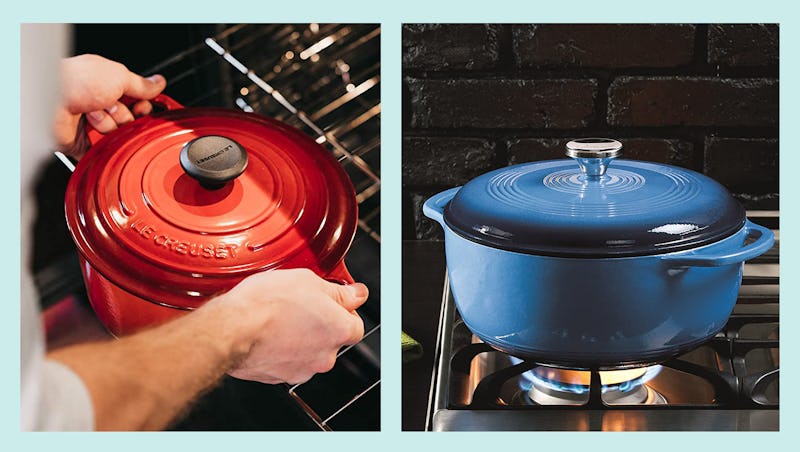 Amazon/Bustle
Dutch ovens are among the most versatile pieces of cookware you can own, capable of doing everything from braising to baking bread. But shopping for a Dutch oven can be a little unnerving. Two of the most popular brands, Le Creuset and Lodge, each make Dutch ovens with hundreds if not thousands of glowing reviews. But, if you're looking into buying a Dutch oven and evaluating the Lodge vs. the Le Creuset, there are a few things worth knowing.
Firstly, both are made from cast iron with vibrantly-colored porcelain enamel coatings. The one glaring difference? Cost. The Lodge is priced modestly below $100, and a Le Creuset will run you well into the hundreds, depending on the capacity.
We only recommend products we love and that we think you will, too. We may receive a portion of sales from products purchased from this article, which was written by our Commerce team.
Of course, budget is a key consideration when making any purchase, but there are some other things to look at when deciding which of these Dutch ovens is right for you. Below, I'll take a look at the differences between the Le Creuset and the Lodge Dutch ovens, namely price, weight, and the range of size options they offer.
But, first, a quick word about the Lodge and Le Creuset featured below: For the purposes of this review, I'll compare the 5.5-quart Le Creuset Dutch oven and the 6-quart Lodge Dutch oven. For most cooks, a 5- to 6-quart Dutch oven will give you the most flexibility in the kitchen. (For background: This size offers enough capacity to make classic recipes like stews, sauces and braises, and can even fit a small chicken or bake a loaf of bread.)