YouTuber Logan Paul Posted A Video Of A Dead Body & People Now Want Him Banned From The Site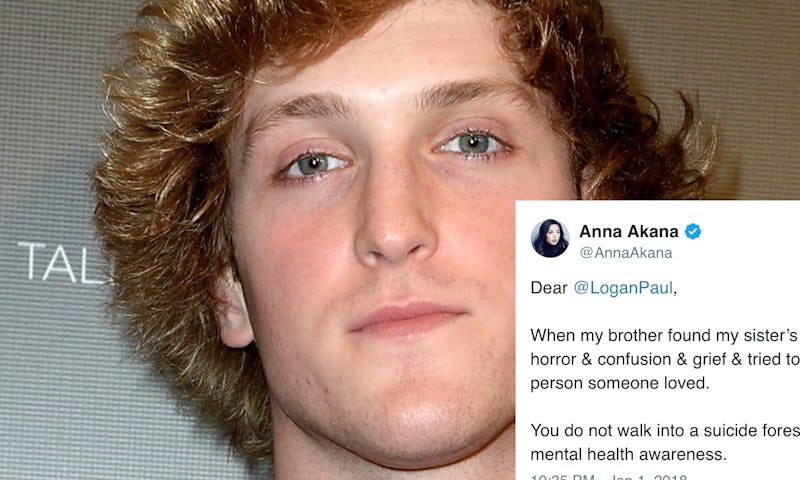 Gustavo Caballero/Getty Images Entertainment/Getty Images
People are calling for YouTube star Logan Paul to be banned from the site after he shared a video of a dead body that received widespread condemnation. The vlogger, who has over 15 million subscribers on YouTube, visited Aokigahara Forest in Fujikawaguchiko, Japan, and uploaded a video on Dec. 31 recapping his experience with a warning posted at the beginning. In the video, which has been taken down, Paul and his friends come across the body of a person hanging from a tree. After the video was posted, people took to social media to express their outrage and call for him to be banned from the site. Paul shared an apology via his Twitter account on Monday night, saying he "intended to raise awareness for suicide and suicide prevention" with the video and "was misguided by shock and awe." People criticized the written apology for not seeming genuine. On Tuesday, he uploaded an apology video to YouTube and Twitter and apologized to "the victim and his family." Paul also said his actions "do not deserve to be defended." Bustle has reached out to Paul for comment, and we will update when we hear back.
A YouTube spokesperson tells Bustle the video violated its community guidelines. "Our hearts go out to the family of the person featured in the video. YouTube prohibits violent or gory content posted in a shocking, sensational or disrespectful manner," the spokesperson tells Bustle. "If a video is graphic, it can only remain on the site when supported by appropriate educational or documentary information and in some cases it will be age-gated." The spokesperson added that YouTube works with groups like the National Suicide Prevention lifeline in creating its Safety Center, as well.
In response to the original video, actor Aaron Paul tweeted, "How dare you! You disgust me. I can't believe that so many young people look up to you. So sad. Hopefully this latest video woke them up. You are pure trash. Plain and simple. Suicide is not a joke. Go rot in hell." Paul's rebuke received nearly 200,000 likes in 10 hours.
Others criticized Logan Paul for filming the forest in the first place. Aokigahara Forest is at the base of Mount Fuji and a tourist destination. Aokigahara is sometimes known as the "suicide forest" because about 100 people die by suicide in the forest each year.
Others blamed YouTube for not suspending Paul's account. According to Metro, Paul has a net worth of $6 million. While he reportedly receives five-figure sums for sponsored posts on social media, he makes a significant amount of money thanks to YouTube ad revenue. According to the Washington Post, Paul demonetized the video and didn't make any money from it. Filmmaker and author Charles Stuckmann was one of the YouTube stars who asked the site to do something. "Movie reviewers get their videos demonetized for no reason," he wrote. "Logan Paul films the hanged body of a suicide victim and his channel is fine. @YouTube... are you for real?"
Several people have floated the idea of a YouTube boycott until the company bans Paul. Other people are defending Paul and saying the 22-year-old simply made a mistake. Model Chrissy Teigen shared a tweet that began "Re: Logan Paul" asking whether we should "accept the apology, personally make a choice to stop watching, and move on."
The way Paul approached the topic of suicide was very troubling to many people both on the internet and offline. If you or someone you know is dealing with suicidal thoughts, call the National Suicide Prevention Hotline at 1-800-273-8255, or go to their website, suicidepreventionlifeline.org.