Superman Will Return For The Arrowverse Crossover & He's Bringing A Friend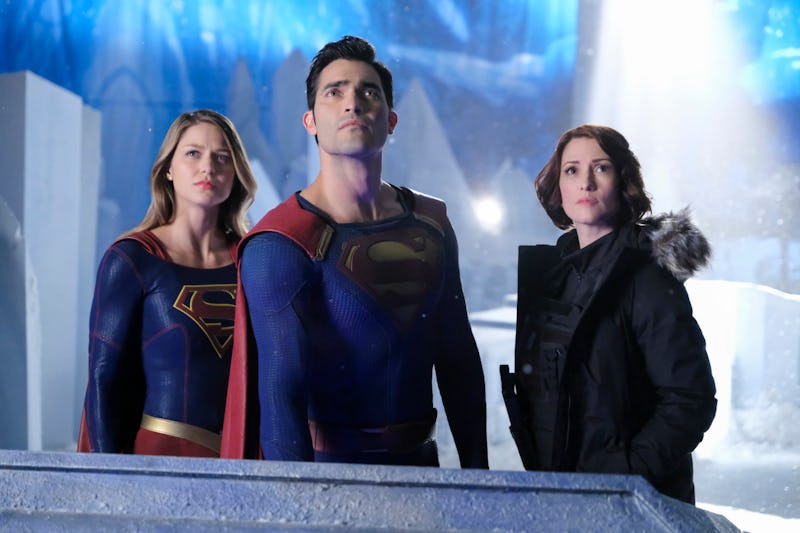 Bettina Strauss/The CW
Every year, The CW's Arrowverse, which consists of their DC TV shows, get together in a big reunion, usually to fight some threat of the end-of-the-world. It's a big event that stretches over the course of three or four episodes and brings together over a dozen superheroes. And this year, there's a few big names joining the event. In addition to bringing on Batwoman, the Arrowverse crossover will also see the return of Superman, but that's not the most exciting news. No, the big news is that Lois Lane will make her debut in the Arrowverse crossover event, and her appearance could mean big things for Supergirl.
In a statement released Wednesday, it was announced by Supergirl executive producers Jessica Queller and Robert Rovner that Lois Lane would be joining the crossover event. It will mark the character's first appearance in the Arrowverse, as reported by The Hollywood Reporter:
"We couldn't be more excited to introduce Lois Lane to the Arrowverse. This dogged, determined and brave reporter will make for a strong partner to Superman and amazing addition to our universe of DC characters."
For fans of Supergirl, it's been a question for a little while when the Girl of Steel (Melissa Benoist) would get to meet her cousin's love interest, at least on screen. Back in Season 2, Superman, played by Tyler Hoechlin, made his first real appearance on the show, although he had been talked about since the premiere of the series, and since then Superman has appeared in four episodes, only making the occasional trip over to National City. And though he alluded to his relationship with Lois, fans have yet to meet her. (Her sister, Lucy Lane was a recurring character in Season 1, as played by Jenna Dewan, and her father, General Lane, has also appeared in a handful of episodes.)
Now, as Supergirl heads into Season 4, it looks like it's finally time to bring in one of the biggest characters in all of DC history and, presumably, put her in a room with the Green Arrow, the Flash, and more. It's a pretty iconic and big deal in the grand scheme of things.
Lane's arrival in the Arrowverse could hint that Supergirl will be taking center stage in this year's crossover, as she's a major character for the Supergirl show. And that's not the only reason fans think that the Girl of Steel will be at the center of this year's big DCTV event. When the Arrowverse shows begin their new seasons this fall, Supergirl will air on Sundays, Arrow on Mondays, and The Flash on Tuesdays. However, according to Supergirl's official Twitter account, this year's Arrowverse crossover will start with The Flash on Sunday, continue with Arrow on Monday, and conclude with Supergirl on Tuesday. (Legends of Tomorrow and Black Lightning, which has not really been established as part of the Arrowverse despite being a DC property, are not participating in this year's crossover.)
The fact that the crossover event will end with Supergirl suggests that she — or at the very least, her Earth — will be at the center of the story. Furthermore, the Lois Lane and Superman news hints at a big Supergirl-oriented plot. Earth-shattering events have happened on previous crossovers, and they never ventured for The Man of Steel's help before. Odds are, the big bad this time around will be concentrated on Earth-38 (where Kara and Clark Kent reside). The Green Arrow and the Flash are from Earth-1.
Another character being added to the Arrowverse in the crossover event is Kate Kane, aka Batwoman, as played by Ruby Rose. This may also add to the notion that Supergirl will take center stage this crossover, because Batwoman is most likely going to be a resident of Earth-38, too. It's a known fact — almost a running gag — at this point that Batman does exist in the Arrowverse, so there are multiple versions of The Caped Crusader. The fact that Superman is on Earth 38, and he and Bruce Banner have some serious beef (at times), points to the fact that the main Batman — and now Batwoman — will be from Earth-38, aka Supergirl's realm.
While the plot isn't known for the third annual Arrowverse crossover, with all this news and new characters, it's shaping up to be one for the books.