Fatalities From London's Grenfell Tower Fire Have Been Confirmed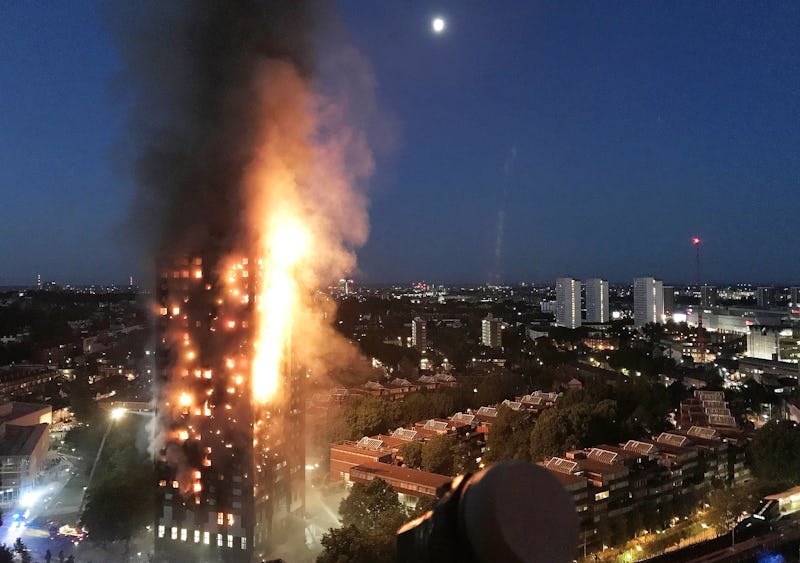 Getty Images/Getty Images News/Getty Images
A horrendous fire tore through an apartment building in London last night and, sadly, reports are beginning to emerge that confirm fatalities. While the exact death toll from the London Grenfell tower fire is not yet known, officials have confirmed that there are "a number of fatalities" as well as dozens of injuries.
Grenfell Tower is a 24-story high-rise apartment building located in West London, containing around 120 units. On Wednesday at around 1 a.m. BST, reports of a large fire began to emerge. About 40 fire engines and 200 fire fighters were sent to the scene to fight the blaze, which eventually engulfed nearly the entire building. Police also cordoned off the area around the building and evacuated at least 30 nearby flats. The cause of the fire has not yet been identified.
The blaze was mostly contained around 5 a.m. BST, though smoke reportedly poured from the building for hours after. Witnesses to the fire reported hearing and seeing people screaming for help throughout the night and expressed fears that some individuals could still be trapped inside the building.
The British Ambulance Service reported that, thus far, around 50 people have been taken to the hospital to be treated for injuries resulting from the fire. Sadly, at around 8 a.m. BST, London fire commissioner Dany Cotton confirmed that there have also been "a number of fatalities" from the fire, though "due to the size and complexity of this fire," the exact number of deaths cannot yet be confirmed.
Cotton added that the Grenfell fire is the worst she has ever seen in her career.
In my 29 years of being a firefighter I have never ever seen anything of this scale. This is a major fire that has affected all floors of this 24 story building, from the second floor upwards.
Reports indicate that at least several hundred people resided in Grenfell Tower. Thus, many families will have been affected by the blaze and some are still anxiously awaiting news about the status of their loved ones. Indeed, several family members have posted on social media trying to ascertain the whereabouts of their loved ones whom they have not been able to contact since the fire broke out.
If you are in London and wish to help those affected by this devastating tragedy, you can donate food, toiletries, clothing, and other household items to one of several drop-off points that have been established. You (and those outside the UK) can also share this police emergency hotline via social media: 0800 0961 233. Individuals who need assistance and/or who are looking for family and friends should call the number. Finally, you can also donate to one of several websites that are gathering funds to assist the victims of the Grenfell tragedy.