'Long Island Medium's Theresa & Larry Caputo Just Announced Their Split & Fans Are Devestated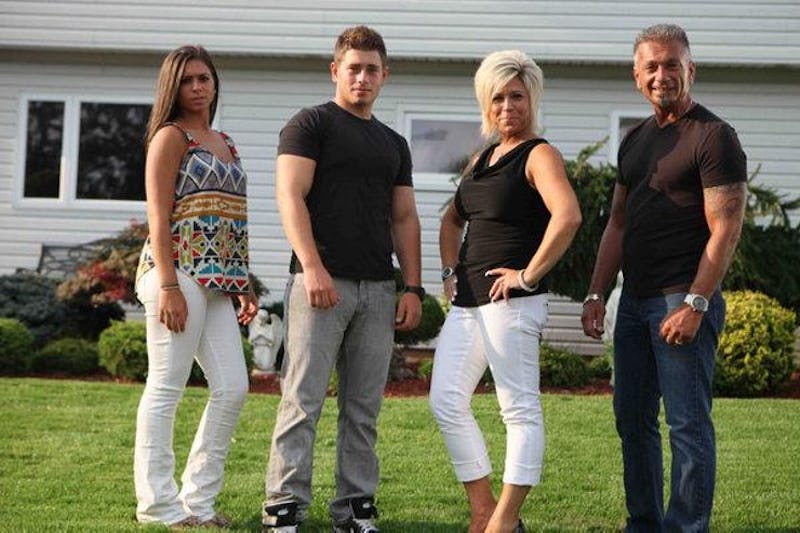 TLC
It's been a pretty tough day for Long Island Medium fans. On Sunday, Dec. 3, the show's star Theresa Caputo and her husband Larry announced they are splitting after 28 years of marriage —and just one look at social media shows that fans are devastated by the news.
Theresa and Larry released a statement to Us Weekly on Sunday that reads,
"After 28 years of marriage, we have decided to legally separate. We will always love each other and our two wonderful children. We are united in supporting each other and our family. Please respect our privacy during this time."
The couple has been married since 1989 and share two children together, Victoria and Larry Jr., both of which have previously appeared on her show Long Island Medium. The series, which airs on TLC, follows the 51-year-old New York native who claims to be able to communicate with the dead. Each episode focuses on Theresa as she sets up private meetings with clients to mediate between said clients and their lost loved ones. The show was introduced in 2011 and it gained a pretty big following; it's now on its eighth season.
In addition to the couple's two children, Larry has also previously appeared on the show, causing lots of fans to be drawn to their relationship. Now, since news of their split has hit web, it seems that not everyone is taking it too well.
Some people really have no idea how to remain relaxed.
Others are making it clear that Theresa and Larry were one of the few couples they assumed would be together forever.
There are those who are in denial.
And then there are people who are giving up on love altogether.
On the most recent season of Long Island Medium, Theresa has opened up about the troubles she and Larry faced in their marriage, and she admitted in an episode that aired just last month that they were "both not happy." She explained during a scene in which she shared a meal with a friend,
"Since the last season of Long Island Medium and through a period of time, Larry and I's relationship has changed. We've been there for each other, you know, through thick and thin, you know, good times, and right now are not such great times. I don't understand it. I lay in bed, and I say to myself, 'How did this happen? How did I get here?'"
Caputo has also admitted in the past that her job as a medium has put a strain on several of her relationships. She said in that same episode during a confessional,
"I sometimes interpret it as growing apart. I've changed and he has changed. We're both not happy and, you know, it's hard to try to work through that. It's not easy for me to sit here and to talk about this, to talk about my feelings, to talk about how my marriage is, but you know, things do change."
The 51 year old has been pretty transparent about her marriage and family on the show from the very beginning, but this past season saw fans questioning if the couple would make it through their marital struggles. The Caputos haven't made it clear just what it was that ultimately made them decide to call it quits and are requesting privacy at this time.
The news of their split is definitely a bummer, and if Caputo decides to open up about her divorce in a later season of Long Island Medium, it'll be interesting to see how the show handles it. Regardless, let's all pour one out for one of our favorite reality TV couples.